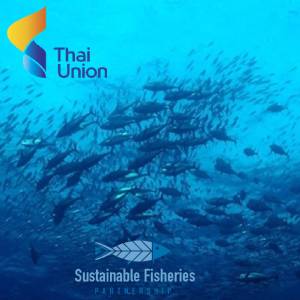 SFP study finds dramatic loss of biodiversity in longline tuna fisheries.
World's Largest Tuna Company Leads Call for Restoration of Endangered Species

(UNITED STATES, 3/17/2023)
Thai Union Group PLC, one of the world's leading seafood producers and one of the largest producers of shelf-stable tuna products, has announced its commitment to only source from vessels that are implementing best practices to protect ocean wildlife from bycatch. Thai Union's action is based on research by Sustainable Fisheries Partnership (SFP) on the risks to sharks, seabirds, turtles and other marine wildlife in the fisheries that supply the company and an analysis by Key Traceability of Thai Union's tuna fishery improvement projects and in the highest risk fisheries that were identified in the audit.
Adam Brennan.
"Environmental organizations are pointing to the biodiversity and species loss crisis that the planet is facing. The report by SFP notes the significant loss of ETP species in the Western Central Pacific Ocean region," noted Adam Brennan, group director, sustainability at Thai Union. "We want to do more to ensure that we are sourcing from vessels that are doing everything they can to avoid and reduce bycatch."
Thai Union is known for top-selling, household-name tuna brands, including Chicken of the Sea and John West. As part of a panel at Seafood Expo North America, the largest seafood trade show in North America and second in the world, Thai Union highlighted a new 2030 commitment for its fisheries, building on its larger seafood sustainability efforts over the past seven years.
Specifically, Thai Union will:
By 2030, all vessels to implement best practices to protect endangered, threatened and protected (ETP) species; and

Fulfill its existing commitment (by 2025) of 100 percent observer coverage (human or electronic) on tuna vessels through direct work with its suppliers and service providers.
Kathryn Novak.
"Biodiversity loss is the greatest threat to fisheries sustainability," said Kathryn Novak, biodiversity and nature director at SFP. "Thai Union is setting new expectations for the seafood industry to protect endangered, protected and threatened species by looking at their supply chains and only sourcing from vessels actively working to address bycatch."
A recent report by SFP on the impacts of commercial tuna longline fishing in the Western Central Pacific Ocean on ETP species found a profound loss of nature and the decline of an estimated 70 percent of several species of shark, seabird, and sea turtle populations.
This region provides more than 50 percent of the world's tuna production, most going to North America and Japan. As a result, tuna buyers are well-positioned to drive improvements to restore nature loss and rebuild populations of vulnerable marine wildlife, particularly sharks and seabirds.
Thai Union's "bycatch audit" was undertaken as part of SFP's Protecting Ocean Wildlife initiative, an international, industry-led effort to address marine wildlife bycatch. SFP conducted a review and assessment of Thai Union's source fisheries using existing sustainability data to determine risks, overlaps with the company's key products, and where the most impacts can be made to reduce ocean wildlife bycatch.
The company's global brand portfolio includes market-leading international brands such as Chicken of the Sea,

John West

, Petit Navire, Parmentier, Mareblu,

King Oscar

, Hawesta, and Rügen Fisch, Thai-leading brands SEALECT, Fisho, Qfresh, Monori, OMG Meat, Bellotta and Marvo, and ingredient and supplement brands UniQ®BONE, UniQ®DHA and ZEAvita.
The research identified tuna longline fisheries as high risk for sharks, sea birds, and sea turtles, and recommends implementing more gear modifications to reduce the interaction rate and mortality risks associated with these fisheries. The research also found insufficient observer coverage in Pacific Ocean fisheries, consistent with Thai Union's commitment for 100 percent observer coverage in its tuna fisheries.
Key Traceability examined if best practices to reduce bycatch are being taken by vessels in Thai Union's fishery improvement projects (FIPs). The analysis found that many of these fisheries have documented actions around ETP management and meet or exceed the audit report recommendations.
About Sustainable Fisheries Partnership
Founded in 2006,
Sustainable Fisheries Partnership
(SFP) is a marine conservation organization working toward a world where the oceans are healthy, all seafood is produced sustainably, and everyone has access to sustainable seafood.
About Thai Union
Thai Union Group PLC is the world's seafood leader, bringing high quality, healthy, tasty and innovative seafood products to customers across the world for 45 years.
Today, Thai Union is regarded as one of the world's leading seafood producers and is one of the largest producers of shelf-stable tuna products with annual sales exceeding THB 155.6 billion (US$ 4.3 billion) and a global workforce of more than 44,000 people who are dedicated to pioneering sustainable, innovative seafood products.
Source: Thai Union Group PCL
[email protected]
www.seafood.media
Information of the company:
Address:
72/1 Moo 7, Sethakit 1 Road, Tambon Tarsrai
City:
Amphur Muangsamutsakorn
State/ZIP:
Samutsakorn (74000)
Country:
Thailand
Phone:
+66 2 298 0024
Fax:
+66 2 298 0548
E-Mail:

[email protected]

More about:
Approval / Accreditation / Certified / Oversight by...