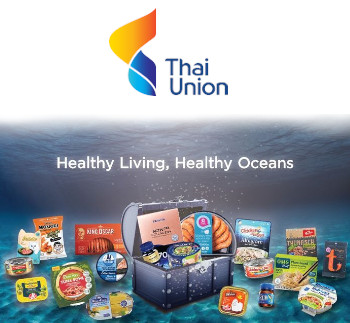 Image: Thai Union / FIS
Thai Union Delivers Record Revenue in 2022 as PetCare and Ambient Seafood Drive Growth

(THAILAND, 2/23/2023)
Thai Union Group PCL announced its full-year 2022 financial results, with strong revenue growth driven by the PetCare and ambient seafood businesses as consumers continued to put trust in the Company's diverse range of healthy and nutritious products.
Full-year 2022 sales up 10.3 percent to THB 155.6 billion (USD 4.5M)
Gross profit up 5.8 percent to THB 27.2 billion (USD 790.740)
Net-debt-to-equity ratio halved to 0.54x
A full-year dividend of THB 0.84 per share (USD 0,02)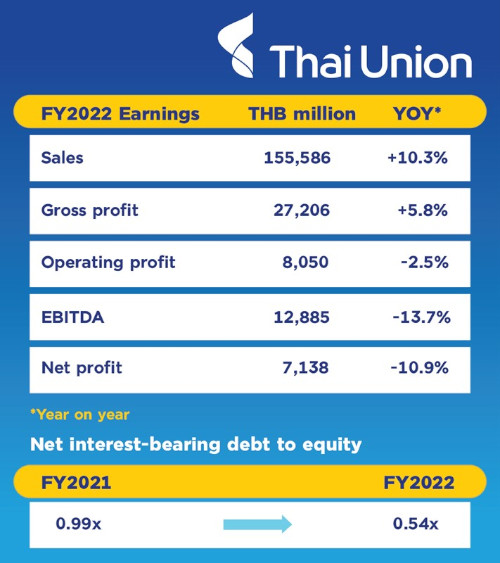 In the fourth quarter of 2022, sales increased 2.9 percent to THB 39.6 billion (USD 1.15M) and the quarterly operating profit rose 20.6 percent to THB 2.4 billion (USD 69.77 M). This contributed to the sales for the full year which increased 10.3 percent year-on-year to record high revenue of THB 155.6 billion (USD 4.5M), while gross profit for the 12 months grew 5.8 percent to THB 27.2 billion (USD 790,740). Net profit for 2022 was down 10.9 percent to THB 7.1 billion (USD 206.4M); however, the Company was able to deliver a half-year dividend of THB 0.44 (USD 0,01) per share, bringing the full-year dividend to THB 0.84 per share(USD 0,02) . The Company continues to deliver a consistent payout with a highly attractive yield at 5.3 percent.
Ambient seafood sales grew 12.8 percent year-on-year in 2022 thanks to higher selling prices and continued strong demand, particularly across Asia and the U.S., as the launch of new, innovative products appealed to consumers. The PetCare segment maintained its strong momentum, with sales rising 48.0 percent from a year earlier to THB 21.7 billion (USD 631M) on the back of robust demand and higher selling prices.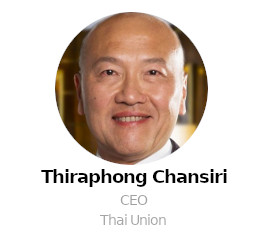 "Amidst unforeseen global economic challenges such as high inflation and volatile foreign exchange, Thai Union was able to deliver a strong performance and record sales. Our core businesses remain a key focus for Thai Union, but we continue to further diversify our portfolio of products to appeal to new customers across Asia, Europe and North America," said Thiraphong Chansiri, CEO at Thai Union. "We also continue to develop value-enhancing businesses across our ingredients, supplements and alternative protein units, where we are unlocking new and innovative products that will be essential to our future growth."
Ambient seafood led Thai Union's sales during 2022, accounting for 43 percent of total revenue, followed by frozen and chilled seafood with 36 percent, PetCare with 14 percent – up from 10 percent in 2021 - and value-added & other businesses with 7 percent. The fast-growing PetCare business is becoming increasingly important to Thai Union's operations and in 2022 the i-Tail Corporation Public Company Limited (ITC) subsidiary was successfully listed on the Stock Exchange of Thailand – the largest ever initial public offering in the food and beverage category. The spinoff of the PetCare business was the key driver in Thai Union's net-debt-to-equity ratio improving to 0.54x at the end of 2022, compared to 0.99x in 2021.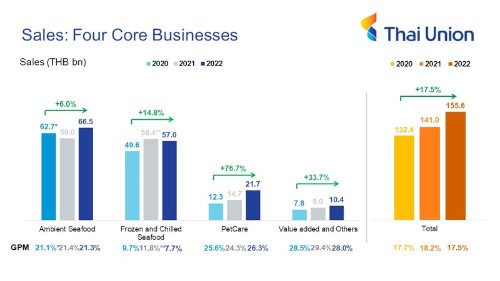 In terms of geographical diversity, sales in the U.S. and Canada accounted for 44 percent of total revenue, followed by 26 percent from Europe, 11 percent from Thailand and 19 percent from others.
During 2022, Thai Union continued to pursue opportunities that offer potential strong growth for the Company. This included a CAD 10 million investment in Mara Renewables Corporation, one of the world's leading producers of sustainably grown algae-based bio-products.
Thai Union was listed on the 2022 Dow Jones Sustainability Indices for the ninth consecutive year and ranked number one in the food products industry, following the Company's ongoing successful implementation of its sustainability strategy SeaChange®. With a commitment to "Healthy Living, Healthy Oceans," Thai Union also entered an important partnership with Sustainable Fisheries Partnership to further improve the transparency in the Company's supply chains.
"Inflation will remain a major challenge across all the markets we operate in during 2023," said Chansiri. "However, I am confident that management's focus on our long-term strategies, fiscal discipline and business diversification will ensure we maintain strong growth momentum well into the future. Thai Union is aiming for 2023 sales growth of around 5-6 percent year-on-year and will scale up capital expenditure to THB 6-6.5 billion."
Source: Thai Union
[email protected]
www.seafood.media
Information of the company:
Address:
72/1 Moo 7, Sethakit 1 Road, Tambon Tarsrai
City:
Amphur Muangsamutsakorn
State/ZIP:
Samutsakorn (74000)
Country:
Thailand
Phone:
+66 2 298 0024
Fax:
+66 2 298 0548
E-Mail:

[email protected]

More about:
Approval / Accreditation / Certified / Oversight by...