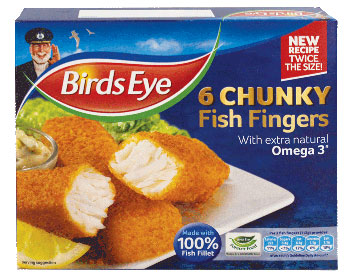 Birds Eye fish sticks. (Photo: Birds Eye)
Nomad Foods achieves better profits than expected in Q3

(UNITED KINGDOM, 11/29/2017)
Leading frozen food firm Nomad Foods Limited achieved profits exceeding its expectations in the third quarter this year, which it attributes to a strong balance sheet and a portfolio of iconic, market leading brands.
The firm's revenue grew by 4.4 per cent in the analysed quarter, to EUR 459 million while its organic growth reached 5.9 per cent and its earnings were EUR 42 million.
"We experienced strong growth in the third quarter with revenue, gross margin and adjusted EBITDA exceeding our expectation," pointed out Stéfan Descheemaeker, Nomad Foods' Chief Executive Officer.
The executive stressed that the firm's results reflect favourable category performance coupled with market share gains.
"Based on our year-to-date performance, we are raising our 2017 guidance," he pointed out.
The firm's gross profit increased 8.6 per cent during the analysed quarter, to EUR 139 million and its adjusted operating expense grew 27 per cent, to EUR 71 million.

On the other hand, its adjusted EBITDA decreased 8 per cent, to EUR 79 million as a result of foreign exchange currency translation, which adversely affected it.

Meanwhile, during the first nine months of the year, the firm's revenue increased 0.4 per cent, to EUR 1,448 million, its gross profit increased 1.0 per cent, to EUR 439 million, and its adjusted operating expense increased 7 per cent, to EUR 225 million.
Considering the profits obtained until September, the firm increases its projected adjusted EBITDA for 2017, to a range between EUR 325 and EUR 327 million compared to previous expectations of about EUR 320-325 million. The new forecast implies an organic growth of revenue of about 3 per cent compared to the previous growth expectation at a low-single digit percentage rate.
Nomad Foods produces, markets and distributes brands in 17 countries and has the leading market share in Western Europe. Its portfolio of leading frozen food brands includes Birds Eye, Iglo, and Findus.

[email protected]
www.seafood.media
Information of the company:
Address:
Nemours Chambers
City:
Road Town
State/ZIP:
British Virgin Islands (BVI) (NE1 3DQ)
Country:
Virgin Islands
E-Mail:

[email protected]

More about:
Approval / Accreditation / Certified / Oversight by...