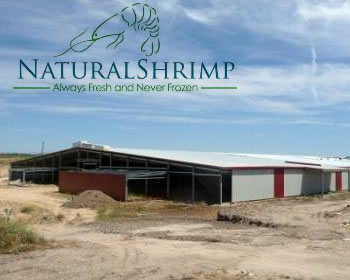 Gamba Natiral will invest over EUR 2.5 million to produce shrimp in Marina del Campo. (Photo: GambaNatural)
Shrimp farming to begin during 2011 in Castilla y León

(SPAIN, 8/26/2010)
After halting their project for more than a year,
Gamba Natural
have reported that next year they will begin producing tropical shrimp at a farm located in Medina del Campo, in the region of Castilla y León.
The mayor of the town, Crescencio Martín Pascual, said that the company executives have assured him that they will start production "within a short period of time," by early 2011.
The company, with Spanish, Norwegian and American investments had suffered from liquidity problems and was forced to stall the start of their shrimp production, initially scheduled for the first quarter of 2009, but according to Pascual, they have already resolved the situation.
"We will be able to eat shrimp by next Christmas," he said.
In the Medina del Campo industrial park, with 6,400 square meters, the company will install 24 pools for harvesting shrimp.
Half of these pools will be filled with fresh water and after treatment, with sea salt and then the tropical shrimp larvae will be deposited, reported Norte de Castilla.
After four to five months, biologists will monitor the shrimp to see if they are growing well, and later, will send their harvest to market.
Gamba Natural will sell roughly 175 tonnes of shrimp per year, which will outnumber that sold by farms in the provinces of Huelva and Cadiz.
During the first phase of production, the company estimates that a total of EUR 2.5 million will be invested and that it will create 40 jobs.
By Analia Murias
Information of the company:
Address:
Ctra. De Olmedo km 2.5, Polígono Industrial Escaparate,
City:
Medina del Campo
State/ZIP:
Valladolid (47400 )
Country:
Spain
Phone:
+34 983 804 358
E-Mail:

[email protected]

Skype:
https://www.instagram.com/gambanatural/
More about: