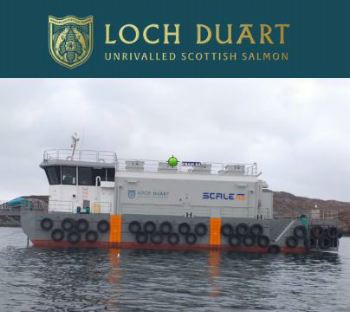 The ScaleAQ low carbon emissions hybrid feed storage barge
Loch Duart invests in more sustainable power at sea

(UNITED KINGDOM, 2/9/2022)
New low emissions feed storage barge part of commitment to minimise environmental impact

Loch Duart, the independent salmon farm based in north west of Scotland, is the first salmon farmer in Scotland to introduce a low carbon emissions hybrid feed storage barge. The feed storage barge, which will service Loch Duart farm site Oldany, is now in operation.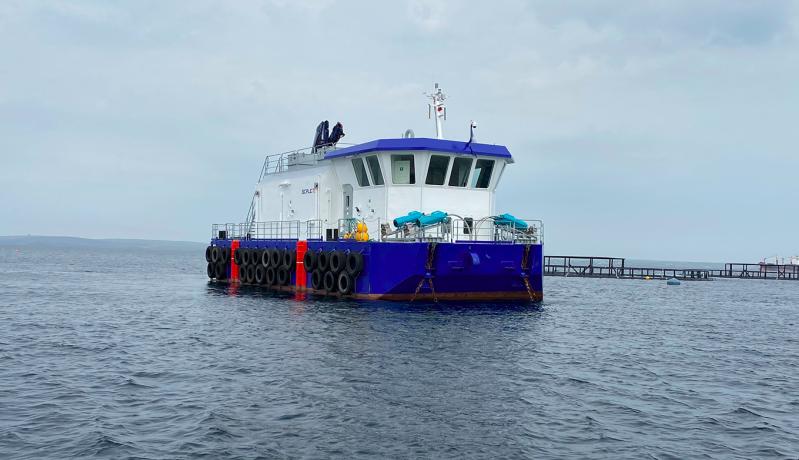 The SeaFarm Feeder Bow 200 is the smallest barge available in the ScaleAQ standard portfolio and measures 20 x 9.6 meters

The hybrid power system for the feed storage barge, which combines battery and diesel power, will significantly reduce carbon emissions. It is estimated that the feed storage barge will reduce the site's diesel consumption by up to 60% when compared to standard diesel systems. Calculations show that the CO2 emissions from the production of the batteries will be earned back after approximately 60 days of use of the hybrid system at sea. Additionally, by taking lorries off the road and delivering the feed fresh and straight from the producer by sea, Loch Duart is using sea freight, the most CO2 efficient transport method.

There is the additional benefit of noise reduction through the use of the electric motor, ensuring a quieter environment for the farm team, the fish and neighbouring wildlife. Lower loads on the generator means less maintenance is required, prolonging the lifespan of the vessel.

Hazel Wade, Operations Manager of Loch Duart, said: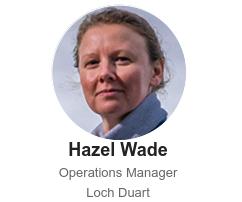 "Loch Duart is excited to introduce this system on one of our sea sites, an industry first for Scotland. Our aim has always been to rear the best quality salmon with the lowest possible impact on the environment. This system represents a significant step forward, reducing our fuel usage and emissions while ensuring quieter operations for the team, our salmon and the local environment.

"The new hybrid feed storage barge also provides enhanced staff welfare facilities for our people working at sea, often in harsh weather conditions, helping them produce salmon with unrivalled taste and asked for by name around world. Loch Duart views this development as the beginning of our goal to further reduce the carbon footprint of all our farming operations."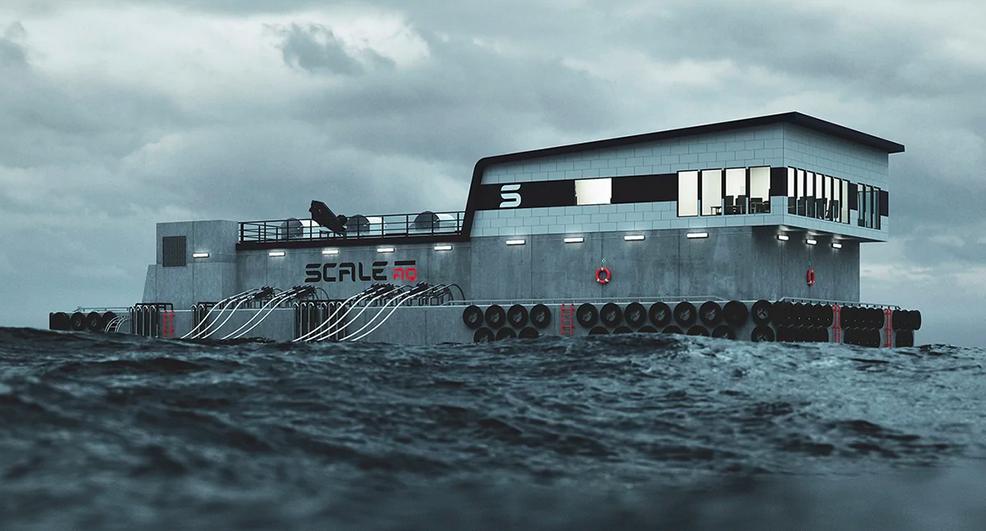 The 600-ton concrete barge measures 40 x 20 meters and can accommodate more or less anything you need it to.
This is the latest initiative in Loch Duart's low impact approach to salmon farming. The feed storage barge carries bespoke Loch Duart fish feed. With its high marine content, the unique and sustainably sourced feed provides a diet that mimics the natural one of wild salmon as closely as possible.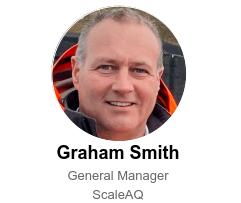 The hybrid system for feed storage barges developed by ScaleAQ uses an Environmental Management System (EMS) to ensure lower levels of diesel consumption and consequently lower emissions of CO2, nitrogen oxides and sulfur oxide. The DNV-GL (Det Norske Veritas) approved, cobalt-free batteries ensure installations are safe and have a long service life.

Graham Smith General Manager for ScaleAQ's UK operation said:

"We are delighted to have been able to support Loch Duart in getting the first hybrid powered feed storage barge into Scotland and hope we can continue this theme as the industry works towards reducing its carbon footprint."

Loch Duart currently produces 6,000 tonnes of high-quality salmon each year from its farms in Sutherland and the Outer Hebrides and employs 140 people.
[email protected]
www.seafood.media
Information of the company:
Address:
Salmon House, Badcall, Scourie, Lairg
City:
Sutherland
State/ZIP:
Scotland (IV27 4TH)
Country:
United Kingdom
Phone:
+44 1674 660 161
Fax:
+44 1674 660 162
E-Mail:

[email protected]

Skype:
https://www.instagram.com/lochduartsalmon/
More about:
Approval / Accreditation / Certified / Oversight by...