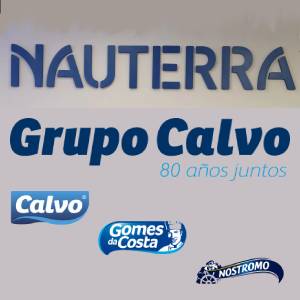 Nauterra seeks to consolidate itself as a global, innovative and sustainable brand.
Grupo Calvo Changes its Name to Nauterra

(SPAIN, 11/15/2023)
The Calvo Group has changed its name to Nauterra, thus replacing its global corporate brand after more than 80 years of history. Nauterra begins to operate as an umbrella for all its commercial brands, and represents the company's passion for the sea and commitment to the land.

The company's objective is to unify the company's image in the almost 70 countries where it is present, through its four pillars: tradition, healthy products, innovation and responsible commitment, in this way Nauterra establishes itself as a symbol of evolution of the company.
Grupo Calvo becomes Nauterra, the new corporate brand that encompasses all its brands.
In addition, the new brand is accompanied by a new visual identity and a purpose: to bring healthy eating to consumers while preserving the best of nature.

"Since our beginnings we have crossed oceans and borders to reach more countries and people through our brands, always focused on providing consumers with healthy, quality nutrition," explained Mané Calvo, CEO of Nauterra during the presentation of the new brand.
Mané Calvo.
During the company's presentation, Calvo highlighted that it was time to go one step further and build a brand that represents everyone, adding that Nauterra is the symbol of a change, a corporate identity connected to the sea and the land representing all people who are part of the company.

Calvo, with more than 80 years of history, was born as a small canning factory in Galicia, and has become a multinational with more than 5,200 employees, factories and offices in Spain, Italy, El Salvador, Costa Rica, Guatemala, Brazil and Argentina and with its products distributed in 68 through its renowned brands: Calvo, Nostromo and Gomes da Costa.

Nauterra seeks to consolidate itself as a global, innovative and sustainable brand, and to do so, it will continue the company's ambitious sustainability program, 'Responsible Commitment', which establishes 21 responsible management objectives to be met by 2025 in three key areas for the company: oceans, environment and people, all of them aligned with the United Nations Sustainable Development Goals (SDGs).
The company is committed to having 100% of the tuna loins in its products come from responsible and sustainable fishing.
About The Calvo Group
The
Calvo Group
is a backward vertically integrated group of companies dedicated to fishing, processing and distribution of canned goods. The group is centred on Luis Calvo Sanz, S.A., a company established in 1940 in Carballo.
Previous news
[email protected]
www.seafood.media
Information of the company:
Address:
Ctra. A Coruña-Finisterre, Km. 34,5
City:
Carballo
State/ZIP:
La Coruña, Galicia (15106)
Country:
Spain
Phone:
+34 981 704 040
Fax:
+34 981 704 041
Skype:
https://www.instagram.com/calvo_es/
More about:
Approval / Accreditation / Certified / Oversight by...