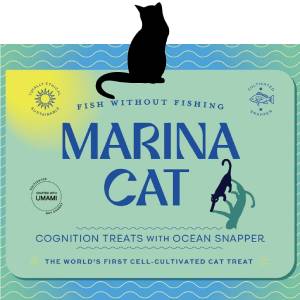 Hybrid pet food brand.
CULT Food Science and Umami Bioworks Reveal World's First Cat Treat with Cell-Cultivated Fish

(CANADA, 8/18/2023)
CULT Food Science Corp. ("CULT" or the "Company") (CSE: CULT) (OTC: CULTF) (FRA: LN0), a pioneer in the investment, development, and commercialization of cellular agriculture technologies and products, is proud to introduce Marina Cat™, a hybrid cell-cultivated pet food brand for cats developed in partnership with Umami Bioworks.
Marina Cat™ is a blend of ocean snapper, cultivated by Singapore-based biotech startup Umami Bioworks, and enriched with Bmmune® to provide a high protein, low calorie snack with super savory umami flavors that cats enjoy. With its unique nutritional properties, this first of its kind treat provides benefits to a cat's cognitive function, based on its high levels of omega 3, 6 and 9 fatty acid chains. Studies have shown that DHA and EPA provided in the treat can boost brain, vision and nervous system development in cats and kittens.
Production of Marina Cat™ products is expected to begin later this year.
Human impact on the oceans extends beyond our own consumption of seafood. Cats, in particular, are obligate carnivores; their bodies do not digest plants well enough to provide enough nutrients for their survival. Pet owners simply cannot avoid feeding their cats animal products to meet their basic nutritional needs which causes a surprising amount of strain on the global fish supply.
Mihir Pershad.
In 20081 it was estimated that the amount of raw fishery products directly used by the cat food industry equates to 2.48 million metric tonnes per year. Marina Cat™ has all the animal-derived nutrition of caught or farmed fish, but none of the harmful environmental impacts of commercial fishing.
Production of Marina Cat™ products is expected to begin later this year with widespread availability anticipated in 2024. This groundbreaking release represents a world first for the pet food industry, an estimated $150B global market, using cell-cultivated technology to make food in ways never before possible.
"My vision for the future is that we no longer have to slaughter other animals to feed our cats," said Joshua Errett, VP of Product at CULT. "This brand brings me one very great step closer to making that a reality."
Joshua Errett.
"We are pleased to be embarking on this partnership with Marina Cat to power a new category of cultivated pet food products that are healthier for cats and better for our oceans", said Mihir Pershad, CEO of Umami Bioworks.
"As a platform technology provider, we are committed to delivering the technology stack that powers commercialization of cultivated products across a range of applications. This first collaboration with Marina Cat and CULT Food Science is the first step to delivering on that promise," said Pershad.
About CULT Food Science
CULT Food Science Corp. is the first publicly-traded company of its kind in North America, pioneering the investment, development, and commercialization of cellular agriculture technologies and products. Through its global portfolio of companies and its venture studio, CULT Food Science provides investors with unprecedented exposure to the most innovative start-up, private or early-stage cultivated meat, cell-based dairy, and other cultured food companies around the world.
About Umami Bioworks
Umami Bioworks is building the development and manufacturing platform for the scalable production of cultivated seafood that keeps endangered, threatened, and protected (ETP) species in the ocean while providing consumers with sustainable seafood without compromises. Through systems engineering-led thinking, the company will accelerate discovery and industrialization and enable local, price competitive, scaled production of novel cell cultivation products with an automated modular production system.

1De Silva, S.S., Turchini, G.M. Towards Understanding the Impacts of the Pet Food Industry on World Fish and Seafood Supplies. J Agric Environ Ethics 21, 459–467 (2008).
Source: Umami
[email protected]
www.seafood.media
Information of the company:
Address:
600-999 West Hastings Street
City:
Vancouver
State/ZIP:
British Columbia (BC V6C 2W2)
Country:
Canada
Phone:
+1 604 729 5759
Fax:
+1 778 329 9626
More about: