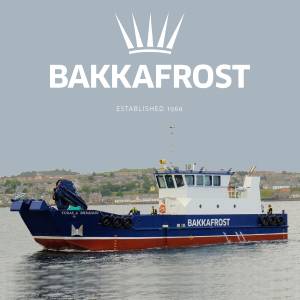 'Turas a 'Bhradain' is constructed entirely from steel to a hard-chine, landing craft, hull form.
Bakkafrost Scotland Boosts Fish Farming Fleet with the Delivery of New Workboat

(UNITED KINGDOM, 8/15/2023)
Fish farm operator Bakkafrost Scotland recently took delivery of a new landing craft built by Macduff Shipyards to a design by sister company Macduff Ship Design.
Named Turas a 'Bhradain after a Gaelic phrase that translates into "The Salmon's Journey," the vessel is the first in a series of two bespoke landing craft to be designed and built by the Macduff Group to support Bakkafrost's salmon harvesting activities on the West Coast of Scotland and the Hebrides.
Specifically, the newbuild was designed as a multi-role workboat with a large open working deck with offset port casing for improved starboard side access and a large forward ramp. The layout will allow the vessel to complete a wide range of tasks from general cargo duties to specific aquaculture services.
The vessel was completed by Macduff Shipyards at their yard in the Aberdeenshire and is the first of two near identical bespoke vessels being built by the yard for the business.
The landing craft has durable all-steel construction with a hard-chine hull form, a length of 24 metres, a beam of nine metres, a maximum draught of 2.25 metres, a depth of 3.1 metres, and two Doosan 4L126CAKH main engines that each produce 373 kW at 2,000 rpm. The engines are IMO Tier III-compliant and drive Teignbridge nozzle-housed 1,500mm propellers via D-I DMTP6500 gearboxes with throttle control provided by a Flexball system. Doosan also supplied an AD136TI generator, which provides electrical power for the various onboard systems. A side thruster from Kort Propulsion is also fitted.
For fish pen maintenance work and cargo transport duties, Turas a 'Bhradain relies on two HS.Marine knuckle boom cranes mounted fore and aft on the spacious main deck. The wheelhouse is offset to port to provide ample room for operating the cranes, which are placed on starboard. The deck itself can accommodate three 20-foot containers or up to 125 tonnes of assorted cargo.
The main propulsion is provided by twin tier III compliant Doosan 4l 126 CAKH engines delivering 373 Kw @ 2000 rpm.
The deck machinery comprises three capstans all arranged to starboard, an anchor windlass, hydraulic rams for operation of the bow ramp, and a tow winch situated on the centreline. Due to the offset position of the casing, the winch can work both aft over a stern roller or forward over a narrow roller built into the bow ramp.
Turas a 'Bhradain will initially be operated alongside Bakkafrost Scotland's wellboats Ronja Star and Ronja Fisk, playing a key role in fish health by preparing the company's pens for the wellboats to carry out freshwater treatments.
Ian Laister, managing director at Bakkafrost Scotland said: "By commissioning The Turas a 'Bhradain and the second workboat from Macduff Shipyards we have been in a position to support approximately 250 jobs at the yard which will hopefully help the business to continue investing in young people, where they are typically hiring 10-12 apprentices annually."
Bakkafrost's salmon are exclusively raised on the West Coast of Scotland and Hebridean Islands.
"Bakkafrost Scotland are committed to investing in an environmentally sensitive manner and in local communities by actively awarding contracts where possible to local businesses. This deal is important to us and integral to our plan for responsible growth."
About Bakkafrost
Bakkafrost Scotland is the leading producer of the finest quality Scottish salmon operating over 60 sites across the West Coast of Scotland and Hebridean Islands. The company employs over 500 people across remote communities and is committed to the environmental, cultural and economic sustainability of rural Scotland.
Bakkafrost Scotland is part of Bakkafrost, the leading producer of top quality salmon from the Faroe Islands. Bakkafrost is one of the world's most vertically integrated salmon farming companies. Bakkafrost controls all aspects of production - from feed to finished value added products. This ensures unrivalled traceability and consistent high quality.
Source: Baird Maritime/Bakkafrost/Macduff Group
[email protected]
www.seafood.media
Information of the company:
Address:
Glyvrar
City:
Glyvrar
State/ZIP:
(FO-625)
Country:
Faroe Islands
Phone:
+298 40 50 00
Fax:
+298 40 50 09
E-Mail:

[email protected]

More about:
Approval / Accreditation / Certified / Oversight by...