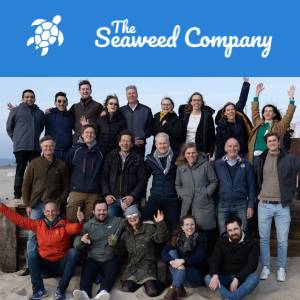 The Seaweed Company is taking a huge step in further scaling up the company.
Seaweed Platform The Seaweed Company Raises Growth Capital and Gets Belgian Colruyt Group on Board as Investor

(NETHERLANDS, 4/4/2022)
With its recent investment round, the Dutch impact company The Seaweed Company is taking a huge step in further scaling up the company. With the funds, the entrepreneurs can realize the expansion of their seaweed farms and bring more seaweed products to the European market. This will result in more positive impact in the field of sustainable agriculture and the food transition. The investment also means that The Seaweed Company and minority shareholder Colruyt Group will continue to join forces.
‍The Dutch start-up, founded in 2018, produces seaweed in its own seaweed farms in Ireland, Morocco, India and the Netherlands and markets high-quality seaweed applications such as animal feed supplements, food products and biostimulants, natural products that positively influence the growth, quality and resistance of crops. After successful tests with agricultural entrepreneurs and companies in the Netherlands and abroad, the seaweed products have been marketed under the Blue Farming and Blue Health concepts since last year. After the success of these first concepts, Colruyt Group's investment, also the third and largest investment to date for The Seaweed Company, will be used to significantly scale up the company in the coming years.
The Seaweed Company combines unique biological and technological expertise to efficiently grow, harvest and process seaweed at commercial scale from its open water facilities in Ireland, Morocco, India, and The Netherlands.
Seaweed products for Europe
The aim of The Seaweed Company is to be a leading player in the sector to get seaweed as an ingredient on the menu of farmers, consumers and companies in Europe. Within the Blue Health concept, products are developed that contribute to the health and well-being of people and that support the transition to a sustainable diet. Examples are health supplements and hybrid meat products with better Nutri and Eco scores. Within the Blue Farming concept, the company offers concrete solutions to take steps towards making agricultural chains more sustainable. This includes seaweed-based TopHealth animal feed supplements for chickens, pigs, cows, pets and horses, as well as a unique organic seaweed biostimulant TopHealth Plants that strengthens the soils and crops. These are concrete tangible solutions that fit in seamlessly with the ambition of the European Green Deal Farm to Fork strategy, to produce high-quality food with a low environmental impact.
Making sustainable impact
Joost Wouters.
Seaweed can be a nature-positive solution for the various social challenges that arise today. Colruyt Group, a Belgian family business that attaches great importance to sustainable entrepreneurship, is also aware of this and has therefore been a shareholder of The Seaweed Company since 2019.
CEO Joost Wouters said: "We are extremely proud that Colruyt Group is further expanding its minority interest to 21% and that we can continue to work on expanding our platform together with this commercial partner with thorough market knowledge. Our products and concepts have already proven themselves and we are therefore ready to further scale up our company in all aspects and to further increase our execution power. Connecting our seaweed knowledge and expertise with the strengths of others, such as those of Colruyt Group, enables us to take major steps in the field of sustainable agriculture and food applications."
Strategic partnerships
Stefan Goethaert.
Stefan Goethaert, director of Fine Food, Retail Services and Private Label and responsible for Colruyt Group's agricultural policy, confirms that The Seaweed Company and Colruyt Group are a good match: "From Colruyt Group, we see a lot of potential in seaweed. It is extremely versatile and can be used in food, animal feed, fertilizers and even as an alternative to plastic in packaging. As a group, we want to take responsibility to produce meat in a more environmentally friendly way, and making animal feed more sustainable plays an important role in this. At the same time, we are constantly looking for ways to make our packaging more sustainable. We are therefore investing in The Seaweed Company because we are convinced that they can provide sustainable solutions in various sectors, from agriculture to packaging, thanks to their expertise in developing innovative products based on seaweed."
The Seaweed Company is active in various aspects of the seaweed value chain. Collaboration in the field of making agricultural chains more sustainable (agriculture, livestock farming, aquaculture), contributing to the sustainability of the food supply and Colruyt Group's offshore activities that can be combined with the cultivation of seaweed are plausible avenues and will be further investigated in the coming years.
Sustainable, reliable, traceable
The Seaweed Company is active in a variety of sectors and offers different valuable seaweed applications.
For The Seaweed Company, setting up reliable, ecologically and socially responsible seaweed chains is the most important starting point. The Seaweed Company has the network, expertise and experience to put seaweed on the map and at the same time realize a sustainable impact. In the coming years, the focus will be on sustainable seaweed cultivation via own farms or partners and the accelerated roll-out and marketing of the Blue Farming and Blue Health products.
The company is therefore always looking for interested partners so that the sustainable impact mission can be scaled up faster.
Ultimately, The Seaweed Company's goal is to achieve sustainable impact, something seaweed is ideally suited for. A selection of the company's impact goals: reaching some half a million Blue Farmers in Europe, 1 million hectares of regenerated farmland, contributing to climate goals by preventing and reducing CO2, restoring oceans through increased marine biodiversity and providing of work to coastal families.
About The Seaweed Company
The Seaweed Company was founded in 2018 and specializes in the development of high-quality, high value seaweed products for people, animals, soil and plants, and in the sustainable cultivation of various seaweed species. The Seaweed Company has its own seaweed production locations in Ireland, Morocco, India and the Netherlands.
About Colruyt Group
Colruyt Group is active in the distribution of food and non-food in Belgium, France and Luxembourg, with more than 600 own stores and approximately 580 affiliated stores. The group has more than 32,000 employees and achieved a turnover of EUR 9.9 billion in 2020/21. Colruyt is listed on Euronext Brussels (COLR) under ISIN no. BE0974256852
Source: The Seaweed Company
[email protected]
www.seafood.media
Information of the company:
Address:
Lange Haven 132
City:
Schiedam,
State/ZIP:
South Holland (3111CK)
Country:
Netherlands
E-Mail:

[email protected]

Skype:
https://www.instagram.com/theseaweedco/
More about: