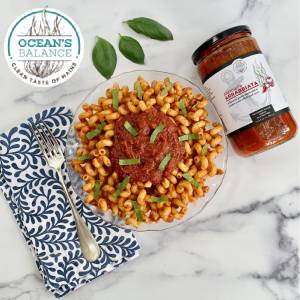 Ocean's Balance line of innovative seaweed products are healthy for you and the planet, and they just happen to be delicious.
Maine Company Pushes Kelp into the Mainstream

(UNITED STATES, 8/30/2021)
Ocean's Balance, an award-winning innovator of edible seaweed products, has announced that it is expanding its product line with the introduction of gluten free, sugar-free, plant-based pasta sauces. Made with sustainably farmed and harvested kelp from the Gulf of Maine, the premium sauces are available in traditional marinara and spicy arrabbiata flavors.
"Seaweed adds irresistible flavor and dense nutritional benefit to any food," said Ocean's Balance CEO Mitch Lench. "It's time that Americans move beyond 'seaweed as Asian' and start thinking of seaweed as an everyday ingredient on our kitchen tables."
Ocean's Balance first-to-market tomato-based Pasta Sauces in spicy Arrabbiata and traditional Marinara are comfort food made with super food: by including seaweed in the ingredients, they are great sources of Iodine, Fiber, Calcium, Iron & Potassium.
Ocean's Balance will release the new line of Mariner Pasta Sauces at Expo East, where the Arrabbiata is a finalist for a NEXTY Awards. The NEXTY Awards recognize the most progressive, innovative, inspiring, and trustworthy products in the natural products industry. The company plans to unveil the new sauces as "comfort food made with superfood."
Seaweed consumption continues to increase in the U.S. thanks to its well-publicized use by celebrity chefs, its depth of flavor (known as umami), its distinct nutritional benefits, and its powerful sustainability story.
Mitch Lench.
"Despite all of its extraordinary benefits, seaweed can still be a leap for many Americans," said Lench. "That's why Ocean's Balance is creating a new line of products that are comfortingly familiar yet healthier to eat." The Ocean's Balance Pasta Sauces are ideal with seafood, spaghetti, noodles, and pizza.
Seaweed is a uniquely sustainable alternative to traditional vegetables and proteins because it is a zero-input crop that requires no fresh water, no arable land, and no fertilizers to grow. Seaweed can play a vital role in fighting climate change by sequestering carbon emissions and regenerating marine ecosystems.
Ocean's Balance works with seaweed farmers and lobsterwomen along the Coast of Maine to grow and harvest abundant amounts of the densely nutritional food. By adding farm-raised kelp that is rope grown in the Gulf of Maine, Ocean's Balance is uniquely positioned to offer foods that are sustainably produced and nutritionally rich.
"Seaweed is one of my favorite superfoods," says Mascha Davis MPH, RDN, a nationally recognized registered dietitian nutritionist and founder of Los Angeles-based Nomadista Nutrition. "Seaweed is extremely nutrient dense and contains essential vitamins and minerals such as iodine, fiber, potassium and iron, plus many others. I love that it contains a range of antioxidants and can be a good source of omega-3 fatty acids."
Ocean's balance partners with fisherwomen to help them start kelp farms - which grow countercyclically to the fishing season - as a means of diversifying their income.
Davis recommends seaweed for its heath and sustainability benefits, adding that hesitant adopters can start by adding small quantities of seaweed to common foods, such as pasta sauces, stir-fries, or soups. "If all of that wasn't enough, seaweed is one of the most sustainable and earth friendly foods that you can consume. It should be a staple in most of our diets."
Additional health benefits of seaweed include its natural abundance of potassium salts, which – unlike sodium salts typically encountered in processed foods – do not lead to high blood pressure. Seaweed is also a natural source of iodine, which is critical for good metabolic health. Seaweed contains beneficial antioxidants, Omega-3s, dietary fibers, and minerals. It is low in calories, vegan and gluten free.

Ocean's Balance is an award-winning company that uses sustainably grown & harvested seaweed from the Gulf of Maine to make delicious, edible products.
The new line of Mariner Pasta Sauces come in six-packs of 24-ounce recyclable glass jars. The company also offers organic whole leaf seaweeds, organic seaweed flakes, a sesame seed blend seasoning line and award-winning kelp purée.
Ocean's Balance produces innovative, edible products made from seaweed that is sustainably farmed in the nutrient-rich waters of the Gulf of Maine.
Ocean's Balance

supports coastal Maine communities by working with lobster-women to help them farm seaweed, which allows them to diversify their income, stay on the water using equipment they already have, and do what they love.
[email protected]
www.seafood.media
Information of the company:
Address:
10 West Point Lane Building #10, Suite 105
City:
Biddefor
State/ZIP:
Maine (ME 04005)
Country:
United States
Phone:
+1 +1 207-200-6891
Skype:
https://www.instagram.com/oceansbalanceinc/
More about: