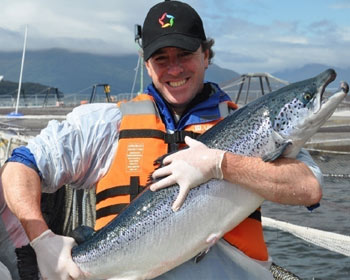 Salmon harvest. (Photo: Multiexports)
Multiexport Foods increased profits 70pct in 2017

(CHILE, 3/21/2018)
Multiexport Foods recorded an important growth of its profits last year, when it obtained USD 88.2 million, compared to USD 51.9 million in 2016, that is to say, 70 per cent more.

The profit attributable to the owners of the controllers was USD 67.6 million, compared to USD 39.9 million in the previous year, which implies a growth of 69.4 per cent.

The company's operating income amounted to USD 508.8 million, 24.6 per cent more than in the previous year, thanks to higher volumes of Atlantic salmon and coho sales as well as the best selling prices for both species.

Operational EBIT reached USD 122.8 million, presenting an improvement of USD 65.2 million with respect to 2016. In terms of Unitary Operational EBIT, Atlantic salmon reached USD 1.74 / kg WFE, which compares positively with the USD 0.85/kg WFE accumulated to December 2016. The company attributes this improvement to the lower production costs, together with better sales prices in the different export markets.

During the past year Multiexport sold 75,255 tonnes of raw material, 18.6 per cent more than in 2016. Of this total, some 64,741 tonnes correspond to sales of Atlantic salmon (12.6 per cent more than in 2016) and 10,514 tonnes to Coho salmon (76 per cent year-on-year increase).

"We achieved outstanding results in the productive areas as well as in costs and returns, consolidating the recovery we had been experiencing for some quarters," said Multiexport Foods general manager, Andrés Lyon.

"For this year, we expect moderate production growth at local and global industry level, which undoubtedly contributes to the stability of the good sanitary conditions of the farmed products as well as the prices in international markets," he added.

"One of our challenges for 2018 is the start of the operation in the Magallanes region, which in a gradual period of three to four years will allow us to increase our annual salmon production to 100,000 tons," the executive concluded.
[email protected]
www.seafood.media
Information of the company:
Address:
Av. Cardonal 2501,
City:
Puerto Montt
State/ZIP:
(2501)
Country:
Chile
Phone:
+56 65 483 700
Fax:
+56 65 483 701
E-Mail:

[email protected]

Skype:
https://www.instagram.com/multiexportfoods/
More about:
Approval / Accreditation / Certified / Oversight by...