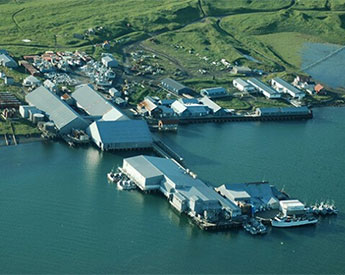 Peter Pan Port Moller facility. (Photo: Peter Pan)
Blaze causes serious damage at Peter Pan's Alaska plant

(UNITED STATES, 8/17/2017)
A fire has seriously damaged a salmon processing plant, located at Port Moller, operated by Seattle-based Peter Pan Seafoods, near Alaska's Aleutian Islands.
Bob Murphy, an Alaska Department Fish and Game (ADF&G) fisheries biologist assigned to the area for the summer fishing season, said the blaze broke out Tuesday night and continued to burn as of Wednesday afternoon, The Associated Press reported.
As he stated it, plant workers used water lines and hoses to fight the fire, and fishing crews also have been using their vessel hoses to squirt water at the blaze.
So far no one has been reported injured, but power, running water and most phone and internet connections are down in remote community.
The biologist outlined that the plant offices, the processing section and the facility's large freezer were destroyed but housing quarters for about 150 workers, the egg processing house and part of the dock are still standing.

Murphy believes that the blaze has likely ended the season in that area a few weeks early and the immediate plan is to take unloaded fish to another Peter Pan plant at King Cove about 100 miles away.

ADF&G expressed doubts as to the fact the fleet can continue fishing without having its buyer to receive the capture.
Port Moller, 550 miles southwest of Anchorage, is an unincorporated area on the Alaska Peninsula. The plant and Fish and Game office form the only presence there.


[email protected]
www.seafood.media
Information of the company:
Address:
3015 112th Ave NE Suite 150, Bellevue
City:
Seattle
State/ZIP:
Washington (98121-1820)
Country:
United States
Phone:
+1 206 728 6000
Fax:
+1 206 441 9090
E-Mail:

[email protected]

More about:
Approval / Accreditation / Certified / Oversight by...