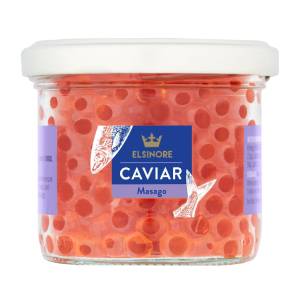 Elsinore affordable masago caviar.
Elsinore Affordable Masago Caviar Available at Waitrose Supermarket

(UNITED KINGDOM, 5/17/2023)
Golden Acre Foods-owned Scandinavian seafood brand Elsinore is introducing an affordable Masago Caviar into Waitrose stores this month. The recommended retail price for 100 grams jar is GBP 5.50 (USD 6.85 aprox.).

With the Asian-inspired cooking trend continuing to grow, Elsinore aims to tap into the strong growth (+29.8% volume growth Year on Year to December 2022) of the GBP 170 million (USD 212 million aprox.) sushi market with its chilled Masago Caviar, positioned at an affordable price point versus premium 'sushi-focused' caviars such as Tobiko.
Elsinore Masago Caviar is the ideal accompaniment to Sushi & Asian-inspired dishes, and is arriving in Waitrose & Partners by 18th May.
Masago caviar is the roe of the female capelin, a small fish found in the cold waters of the North Atlantic, North Pacific and Arctic oceans. The small fish eggs are commonly used in Asian cuisine because of their semi-crunchy texture and sweet and salty flavour, adding visual, textural and contrasting taste interest to sushi.
Casper Gorniok.
Casper Gorniok, Product Brand Manager at Golden Acre Foods, commented: "Make-at-home sushi products, which make up about a 10-15% share of the total sushi market, continue to see a significant rise in popularity, with sushi recipes being posted all over the internet and leading brands investing heavily in 'how to make' videos of their sushi recipes.
"Launching Elsinore Masago caviar into a mainstream supermarket taps right into this growing opportunity and its affordability is likely to be a major draw for consumers, who might not already be caviar purchasers, looking to experiment with sushi-making at home."
"It also provides retailers with the opportunity to offer their customers a total solution for affordable sushi-making using quality, fresh seafood ingredients from a brand they can trust," Gorniok added.
About Elsinore
The company's ethos is to create quality products, that taste delicious and are sourced responsibly to protect the careful balance of the seas. Quality is at the heart of Elsinore. The company's factories are regularly audited and all have achieved IFS, BRC or EFSIS accreditation. Elsinore supplies major supermarkets, and also many smaller independent retailers.
[email protected]
www.seafood.media
Information of the company:
Address:
Chertsey Gate East, 43 – 47 London Street, Chertsey
City:
Surrey
State/ZIP:
(KT16 8AP)
Country:
United Kingdom
Phone:
+44 (0)203 598 8300
E-Mail:

[email protected]

Skype:
https://www.instagram.com/elsinorefoods/
More about:
Approval / Accreditation / Certified / Oversight by...