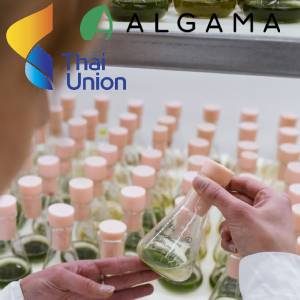 Algama, founded in 2013, is one of the leading micro-algae ingredients companies, based in Paris, France.
Thai Union Corporate Venture Fund Invests in French Algae Ingredients Startup

(THAILAND, 1/16/2023)
Thai Union Group PCL (Thai Union) today announced that its Corporate Venture Capital (CVC) Fund has joined other strategic and financial partners investing in France-based Algama's €13 million Series A fundraising round.
Founded in 2013, with presence now across France, the U.S., and Belgium, Algama leverages its algae innovation platform to offer co-development and industrialization of algae-based ingredients for F&B players looking to replace animal protein and / or fortify their products.
Algama selects the most promising algae and transforms them into actionable ingredients.
Algama's flagship product, the Tamalga® range of ingredients, replaces eggs in many industrial applications, particularly in bakery and pastry.
Thiraphong Chansiri.
The funding in this round will be used to accelerate commercialization of innovations, development of new applications, and setup of a new 10,000m2 bio-refinery in Liege, Belgium.
The investment in Algama, and further collaboration, will support the future growth of Thai Union's Alternative Protein business, coupled with exploration of other specialized ingredients especially for marine products.
Thiraphong Chansiri, President and CEO of Thai Union said, "At Thai Union, we are committed to "Healthy Living, Healthy Oceans", and algae, as a sustainable, marine ingredient, is aligned with our goals. Algama and its experienced team have strong tech and commercial capabilities to create a positive impact on the protein industry. We are excited to work with them and explore further collaboration opportunities."
Alvyn Severien, Algama's co-founder and CEO, said, "We are excited to work with Thai Union to create the next generation of seafood ingredients that are sustainably sourced and health-promoting".
Alvyn Severien.
"By exploring the untapped potential of algae, we aim to push the boundaries and develop innovative products for the future."
Thai Union's CVC fund was established in 2019. It has identified alternative proteins, functional nutrition and biotechnology, in addition to new technologies along the food value chain, as strategic areas for investment.
The fund invests in, and partners with, early-stage, entrepreneurial companies working in these areas, seeking to support and accelerate their development to grow the industry in line with Thai Union's commitment to Healthy Living, Healthy Oceans.

About Thai Union Group
Thai Union Group PCL is the world's seafood leader, bringing high quality, healthy, tasty and innovative seafood products to customers across the world for 45 years.
Today, Thai Union is regarded as one of the world's leading seafood producers and is one of the largest producers of shelf-stable tuna products with annual sales exceeding THB 141.0 billion (US$ 4.5 billion) and a global workforce of more than 44,000 people who are dedicated to pioneering sustainable, innovative seafood products.
The company's global brand portfolio includes market-leading international brands such as Chicken of the Sea, John West, Petit Navire, Parmentier, Mareblu, King Oscar, Hawesta, and Rügen Fisch, Thai-leading brands SEALECT, Fisho, Qfresh, Monori, OMG Meat, Bellotta and Marvo, and ingredient and supplement brands UniQ®BONE, UniQ®DHA and ZEAvita.

About Algama
Founded in 2013, Algama has become a significant player in the use of microalgae in human food. Algae are emerging as a staple in today's food industry. Bringing together researchers, engineers and nutritionists on an innovation platform, the company offers expertise ranging from the selection of algae to the formulation of ingredients and the large-scale industrialization of plant-based products in France and abroad.
Vegan tuna and smoked salmon alternatives developed by Algama.
Source: Thai Union Group

[email protected]
www.seafood.media
Information of the company:
Address:
72/1 Moo 7, Sethakit 1 Road, Tambon Tarsrai
City:
Amphur Muangsamutsakorn
State/ZIP:
Samutsakorn (74000)
Country:
Thailand
Phone:
+66 2 298 0024
Fax:
+66 2 298 0548
E-Mail:

[email protected]

More about:
Approval / Accreditation / Certified / Oversight by...