Thai Union reports record revenue in 2Q22, driven by strong core business performance and global demand

(THAILAND, 8/12/2022)
Thai Union Group PCL reported all-time high revenue in the second quarter, demonstrating the strength of its core businesses and reflecting trust and product popularity among global consumers.
In the April-June period, Thai Union reported record high sales of THB 38.9 billion, an increase of 8.5 percent compared to the same period last year, driven mainly by increased demand and higher selling prices. The adjusted net profit for the second quarter, without one-time impacts from the THB 424 million change in the fair value of Red Lobster's preferred shares as a result of higher U.S. interest rates, and theTHB 195 million in restructuring costs at Rügen Fisch in Germany, is at THB 2.2 billion, down 8.4 percent, year-on-year.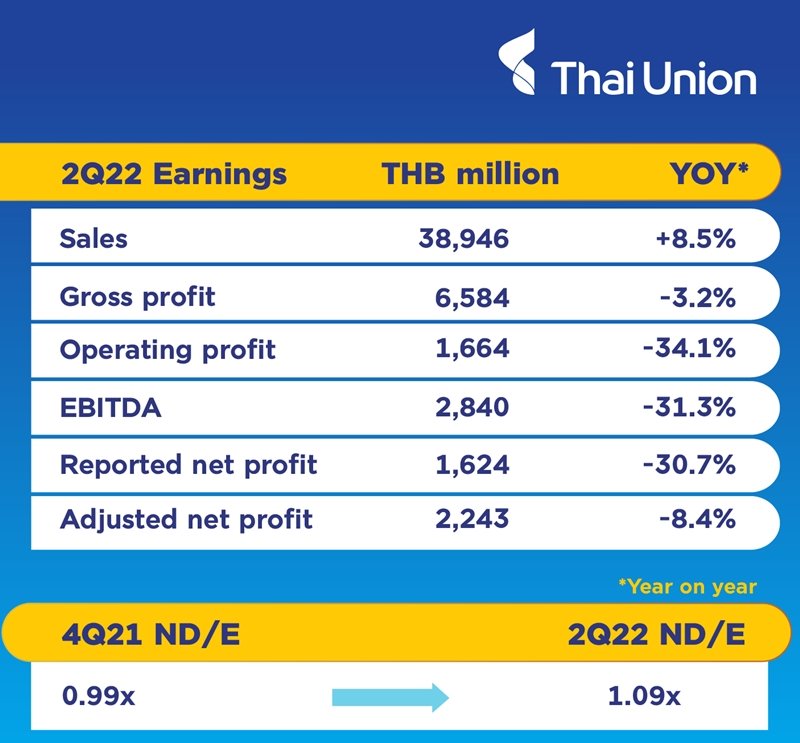 Courtesy from Thai Union
Thai Union's robust sales performance over the quarter reflects the Group's well-balanced and diversified portfolio across its three main business units. Ambient seafood sales grew 10.7 percent to THB 16.9 billion thanks to a combination of higher prices, depreciation of the Thai Baht and strong consumer demand. The frozen and chilled seafood business booked a 6.5 percent year-on-year decline in sales to THB 13.9 billion due largely to the normalization of foodservice businesses in the U.S. after a very strong performance in 2021. The PetCare, value-added and other businesses unit posted an exceptional 41.7 percent year-on-year increase in sales to THB 8.1 billion, thanks to strong demand for pet food and higher sales from value-added products.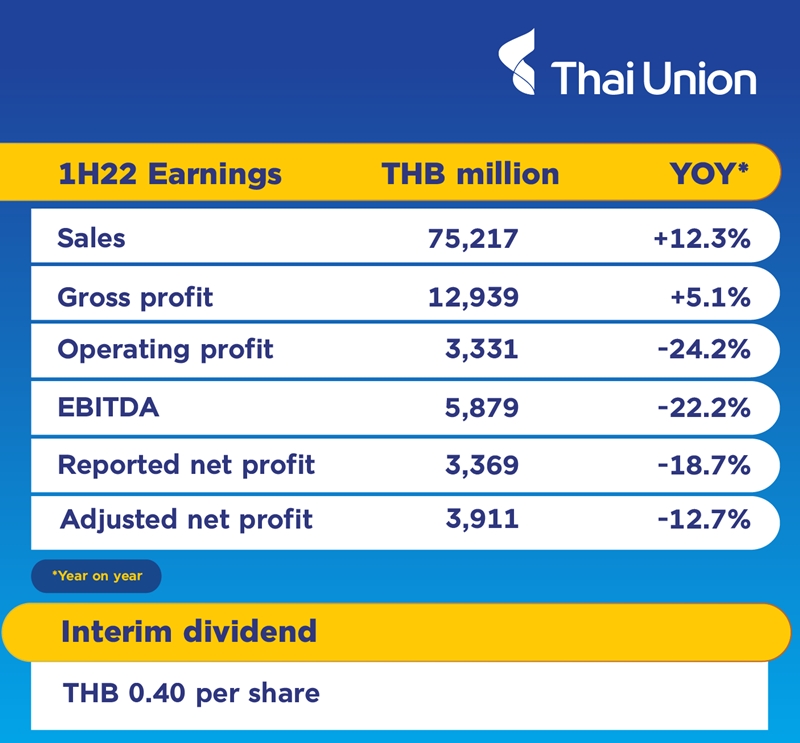 Courtesy from Thai Union
Turning to the first half of 2022, sales reached a record THB 75.2 billion, while adjusted net profit declined 12.7 percent to THB 3.9 billion. Thai Union also declared an interim dividend payment of THB 0.40 per share.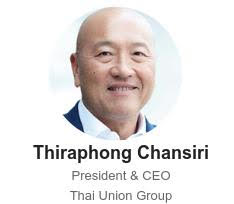 "Business diversification continues to be the cornerstone of our ongoing growth path, reflected in our results for the second quarter, which remained robust despite the impact of two one-off items," said Thiraphong Chansiri, CEO at Thai Union Group. "Consumers around the world continue to be drawn to our healthy and nutritious products and, by delivering new and innovative products, we are excited to be attracting even more customers to our global portfolio of brands."
Thai Union continues to focus on higher-margin businesses and, during the second quarter, announced a CAD $10 million investment in Mara Renewables Corporation, one of the world's leading producers of sustainably grown algae-based bio-products. This is because of opportunities in the expansion of Mara's proven portfolio of micro-algal products and unique innovation. Thai Union also moved forward on construction of its protein hydrolysate and collagen peptide facilities and a new culinary factory, which are both planned to be commercialized in 2023.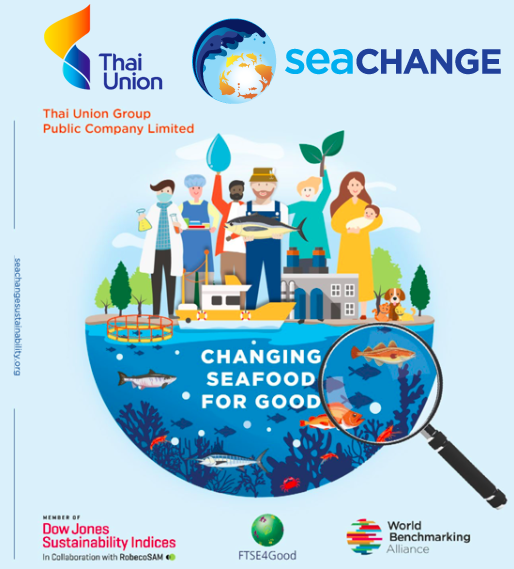 Courtesy from Thai Union
As part of its ongoing commitment to sustainability, Thai Union published its ninth annual Sustainability Report during the quarter, providing an in-depth look at how the Company's programs and initiatives are helping transform its operations and the global seafood industry. Thai Union will announce a major update to its global sustainability strategy, SeaChange®, later this year, including the introduction of new science-based targets to address the threats presented by climate change. Thai Union also joined 150 major companies in signaling their commitment to a healthy ocean by signing onto the UN Global Compact Sustainable Ocean Principles at the Sustainable Blue Economy Investment Forum in Cascais, Portugal, a special UN Ocean Conference event.
"Thai Union remains on track to achieve our 2025 financial and business targets, but we recognize that economic conditions continue to present a challenge, including inflationary pressures in many markets, rising interest rates and ongoing supply chain issues. So, we are firmly focused on cost efficiency, continuing to strengthen our core businesses and building value-enhancing operations," Chansiri concluded.
Source: Thai Union
[email protected]
www.seafood.media
Information of the company:
Address:
72/1 Moo 7, Sethakit 1 Road, Tambon Tarsrai
City:
Amphur Muangsamutsakorn
State/ZIP:
Samutsakorn (74000)
Country:
Thailand
Phone:
+66 2 298 0024
Fax:
+66 2 298 0548
E-Mail:

[email protected]

More about:
Approval / Accreditation / Certified / Oversight by...