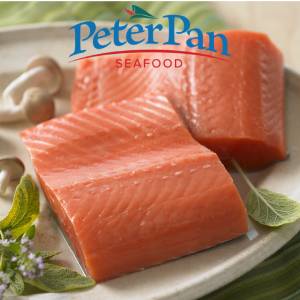 Peter Pan Seafood is a 100% American-owned and Alaska-centric company.
Peter Pan Seafood Unveils A New Look

(UNITED STATES, 12/20/2021)
Peter Pan Seafood has marked yet another milestone in the company's first year as a new 100% American-owned and Alaska-centric company by unveiling a new brand identity that harnesses the original spirit of the company, the connection to the company's storybook namesake, and honors the fishermen, employees, and customers who have contributed to Peter Pan's 123-year legacy in Alaska.

After an American ownership group acquired Peter Pan in January of 2021, leaders within the company have been hard at work laying a new foundation and outlining a new vision for the company's future. Today's unveiling of the new brand image and Peter Pan Seafood logo symbolizes a bold step towards a bright new future.
Peter Pan Seafood's principal revenues are from sales of canned, frozen and fresh salmon, king crab, tanner crab, Dungeness crab, halibut, Pacific cod and Alaskan Pollock.
For a company like Peter Pan Seafood with a portfolio of products like Demings and Double Q, consistently the No. 1 brands for pink and red 14.75 oz canned salmon in the U.S. and sold continuously for 100 years, developing a new modern brand identity required extensive historical research and a deep understanding of America's seafood history. No stone was left unturned in the discovery process, including countless hours poured through historical archives of company brands tracing back to 1898. Leaders felt it was essential that the new brand of Peter Pan Seafood both paid respect to the early-century founders and reintroduced the origin story of the company's name.
Rodger May.
"We're often asked whether Peter Pan Seafood got its name from the play, and the answer is yes, after viewing the theatrical version of Peter Pan in the early 20th century, the then-owners of the company decided it was a fitting character to be the company's namesake. The company has retained its name ever since," said Rodger May, Peter Pan's President & CEO. Part of the rebranding effort was to return the founders' vision for the company by reintroducing the connection to the character of the storybook Peter Pan. Today, as the company looks forward to its 124th anniversary, there is no better icon for its bold spirit of adventure and leadership than Peter Pan's hat, which sits proudly above 'Peter' in the new company logo, symbolically pointing the way forward. "When we reflected on the character of Peter Pan Seafood today, we drew so many parallels between the seafood company and the character," said May. From Peter Pan Seafood's decision to buck the norm and announce the base price in Bristol Bay in advance of the 2021 fishing season to a renewed level of service and loyalty to the fishing fleet, Peter Pan Seafood is making bold moves that are quite similar to the brave adventurer of the original story. "The connection is there, so we wanted the new branding to reflect that," said May.

The commitment to history in developing the new branding reflects a broader commitment by the new ownership to reclaim its connection to fishermen of the Pacific Northwest and the proud history they share. Since 1898, Peter Pan Seafood has served the remote fishing communities of Alaska, and in some areas like King Cove, Alaska, Peter Pan has worked with four generations of fishing families. "We feel a deep responsibility to the community of King Cove that goes beyond our relationships with the local fleet. Our focus on service and stewardship spans our entire operations, as evidenced at the local level by our partnership with the City of King Cove on a plan to capture unused hydropower to fuel our King Cove operations," said May.
Peter Pan Seafood's production facilities are located in Alaska at King Cove, Port Moller, Dillingham and Valdez, with ancillary operations at Sand Point and Naknek.
"Our approach is to think fleet-first; at Peter Pan Seafood, our fleet is our family. Our goal is to grow and expand our global operations, and that all starts with our Alaskan fishing families here at home," said Peter Pan's COO Jon Hickman. In 2021, Peter Pan demonstrated this commitment by expanding seafood raw material purchases by 100 million pounds and adding $10 million in processing wages for local communities through increased volumes on salmon and whitefish programs. "We think it's important that Peter Pan Seafood, among America's oldest seafood purveyors, and our fleet of independent fishermen, are back to putting the highest quality seafood on plates across America," Hickman said. That's not all. Facing continued pandemic hurdles, leaders at the company were determined to make this season a success and the company increased its processing workforce at the Dillingham plant alone by 20% as the industry recovers from jobs lost in 2020.
Peter Pan Seafood, LLC is under new ownership as of January 1, 2021. The new group includes Rodger May of Northwest Fish Co., LLC, the Na'-Nuk Investment Fund, LP (managed by McKinley Capital Management, LLC), and RRG Capital Management, LLC.
Peter Pan Seafood's reinvigorated identity marks the beginning of a new approach to putting the company back on top in the global seafood industry. Infusing history and heritage into modern branding has already garnered new success in the market. While still in the early stages, Peter Pan Seafood has a number of new products entering the market featuring the new company branding. "Our new 'Peter Pan Seafood' branded frozen line possesses a strong retail look that celebrates the character of our company and the heritage of America's seafood industry. Our retail customers are responding very favorably to our new brand, and our partners can expect to see our new frozen line gain momentum in 2022 and beyond," says Ken Taylor, VP of Sales.

Demings brand canned salmon.
Under new American ownership, the company is combining this new marketing approach with an approach to fishing that is quality-oriented, traceable, responsible, and centered in places where employees are treated fairly. "In a market that demands authenticity and honesty, we know we can compete with anyone," said May.

As Peter Pan Seafood marks a new era in the company's history, the company is still guided by the words of former executive E.B. Deming who in 1927 quipped, "All the words that are uttered regarding quality and service are in vain unless they are borne out in product and policy. Quality and service are indeed the keys to success, but they count for little if they are merely lip-service."

About Peter Pan Seafood Company, LLC

Peter Pan Seafood is a vertically integrated seafood company dedicated to a strong future of prosperity and sustainability composed of Peter Pan Seafood's assets and the value-added sales channels of Northwest Fish Co., LLC ("Northwest Fish"). The ownership group is Rodger May of Northwest Fish, the Na'-Nuk Investment Fund, LP (managed by McKinley Alaska Private Investment, LLC and McKinley Capital Management, LLC), and the RRG Global Partners Fund (managed by RRG Capital Management, LLC).

Source: Peter Pan Seafood Company, LLC

[email protected]
www.seafood.media
Information of the company:
Address:
3015 112th Ave NE Suite 150, Bellevue
City:
Seattle
State/ZIP:
Washington (98121-1820)
Country:
United States
Phone:
+1 206 728 6000
Fax:
+1 206 441 9090
E-Mail:

[email protected]

More about:
Approval / Accreditation / Certified / Oversight by...