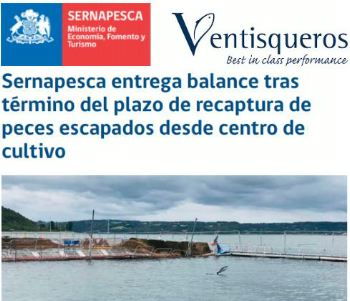 The Environmental Regulation of Aquaculture indicates that the company must recover at least 10%, otherwise it is presumed environmental damage
Ventisqueros recovered 12 percent of salmon escaped from its culture center in Chiloé

(CHILE, 2/4/2019)
The National Fisheries and Aquaculture Service (SERNAPESCA) reported that a total of 28,660 salmon escaped from the Tubildad farming center, located in the commune of Quemchi (Chiloé) and belonging to Ventisqueros S.A., on December 26 last year.
Cages broken as a result of a strong storm suffered by Ventisqueros in their Tubildad farming center
The agency released the figure the salmon company relied on at the end of the legal period (Thursday, January 31) to recapture the fish, within the framework of a contingency plan established by the regulation and whose compliance Sernapesca supervises.
The final figure of escaped salmon was determined from a documentary analysis and field work, which involved comparing sowing data and monitoring the harvesting process.
Ventisqueros made a public statement (click on the photo to read it in Spanish)
In this case, unlike what happened in previous contingencies, the company involved did not promptly report the escape or the number of fish escaped, which led to a complaint to the Superintendency of the Environment.
Officials of the Regional Directorate of SERNAPESCA Los Lagos permanently monitored the recapture work, in order to count the recovered specimens, to determine with precision the percentage connected to the escaped fish.
Salmon recaptures with purse seines net(Photo: Sernapesca)
After the legal term of recapture, the deputy director of aquaculture(s) of SERNAPESCA, Ruth Alarcón, informed that Ventisqueros "managed to recover 3,424 fish, which represents around 12 percent of recapture, which complies with the regulations indicated by the Environmental Regulation of Aquaculture (RAMA), which indicates that the company must recover at least 10 percent, otherwise it is presumed environmental damage ".
The contingency occurred last December 26. The next day, inspectors from SERNAPESCA arrived at the farming center, where they discovered the presence of escaped salmon in the field, from which the activation of the contingency plan was instructed.
Alarcón recalled the importance of complying with the RAMA, according to which the owners of farming centers must report an escape to the authorities, within 24 hours after the emergency. "This allows the different agencies involved to take timely and effective actions to minimize the risks of environmental damage," he said.
Related articles:
-SERNAPESCA denounces Ventisqueros for salmon escape
-Environmental agency orders provisional measures to Ventisqueros for salmon escape
[email protected]
www.seafood.media
Information of the company:
Address:
Chinquihue km 14
City:
Puerto Montt
State/ZIP:
Region X
Country:
Chile
Phone:
+56 65 568 200
Fax:
+56 65 255 585
E-Mail:

[email protected]

More about:
Approval / Accreditation / Certified / Oversight by...