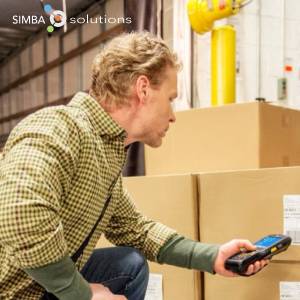 Record all cartons and pallets as they are shipped, producing manifests and bills of lading eliminate load errors.
SIMBA Upgrades Logistics Module

(UNITED STATES, 5/8/2023)
SIMBA Solutions is a leading provider of real-time, plant floor data collection systems for Seafood, Meat and Produce Processors. The SIMBA system collects real-time production, traceability, inventory, and shipping information using touch computers and barcoding. The result is a powerful system that will increase productivity, lower costs and improve revenues.
SIMBA Logistics: The Logistics module within the full SIMBA system manages finished goods inventory, including locations, moves, adds, and shipping to a customer, order, etc. This module uses mobile barcode scanners to perform all functions, either in batch mode (for those facilities that don't have a reliable wireless connection) or using WiFi in real-time.
Increase transparency and accountability with tracking that starts on the boat or dock, then collects lot details through each phase of processing and packing, providing complete backward and forward traceability.
Track Inventory throughout your facility in real-time: One important feature of any real-time system is response time. Does the wireless connection take too long and are your employees held up from completing tasks? It is especially important that fresh food be processed immediately to retain quality. The upgraded SIMBA Logistics module has verified response times of less than one second. Workers can pick orders and load trucks quickly. And this information with updated current inventory is immediately available to management and sales teams.
SIMBA starts collecting data when you receive product, whether at your plant or offsite. Data entry is fast and easy with handheld, touchscreen tablets whose screen fields are custom fit to your process.
SIMBA is an easy addition for modest processors who need to keep up: SIMBA does it all, quickly labeling and recording product at receiving, reducing data entry, and then tracing the product forever with perfect records, so passing an audit is just a matter of a quick scan and a couple of clicks. "You can trace fresh food back to the boat or field it came from, the day it was processed and packed, and everywhere it has been since," says Alison Falco, CEO of SIMBA Solutions. The Logistics module records when an item ships along with its destination and order number or container or truck ID.
Traceability can unlock enormous value in seafood up and down the production and distribution chain, and SIMBA provides a solution that any processor can implement.
For product received at your plant the raw inventory data automatically enters into receiving, with all data transmitted to SIMBA's Office module so you can monitor every aspect of the process ahead. For product received offsite, data uploads to SIMBA's Office module via the cell network or, in very remote locations, via Wi-Fi when you reenter signal range. Once you print barcoded labels, pieces cut from the lot can be traced back to their origins.
About SIMBA Solutions
SIMBA began in 1981, when technology executive Alison Falco launched barcode equipment reseller Dynamic Systems, Inc., whose key markets included the surging Alaska seafood industry.
Alaska seafood turned out to be the perfect proving ground for rugged, reliable, barcode-based food processing. Environments were wet and rough. Processors depended on seasonal workers with limited English skills, working long shifts with little time for training. Processing plants were often beyond the reach of phone service.
After years of answering these challenges with tough electronic tools and innovative labeling, Dynamic Systems acquired SIMBA in 2008 to create a complete software and hardware solution that linked PCs, scanners, printers, and the rugged touchscreen tablets recently developed for the U.S. military that dramatically reduced data entry and training time.
It was an opportune moment, as rising seafood quality standards and tighter worldwide fishery management created demand for audit reports to retrace any carton of seafood to the boat that caught it, proving that certain tuna was indeed dolphin-safe, that salmon came from the fishery claimed, and so on.
Dynamic Systems soon refined SIMBA into the robust, user-friendly software suite we know today, while expanding into new seafood markets in Hawaii, Canada, the Caribbean and South America.
SIMBA was also an early mover into mobile operating systems and the Internet of Things, integrating with the growing network of smart devices across every production floor: digital scales, cutters, sorters, label printer/applicators and more.
Meanwhile, the meat and produce industries took notice. They had their own growing concerns over food safety, sustainability and traceability, making SIMBA an easy solution. Soon, SIMBA expanded into perishable food processing of all kinds, providing meat packers and produce processors the same benefits that seafood processors enjoyed in inventory management and tracing.
SIMBA now spans the entire perishable foods processing industry. A dependable, intuitive, flexible system that can take whatever mother nature dishes out.
Source: SIMBA
[email protected]
www.seafood.media
Information of the company:
Address:
PO Box 698
City:
Kirkland
State/ZIP:
Washington (WA 98083)
Country:
United States
Phone:
+1 (425) 216-1204
Fax:
+1 (425) 861-3976
E-Mail:

[email protected]

More about: