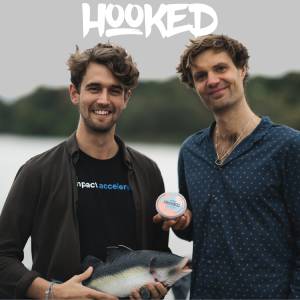 Tom Johansson and Emil Wasteson.
Hooked Foods Secures Investment From Top-Tier Investors & Opens Crowdfunding Campaign

(SWEDEN, 5/2/2023)
After securing another SEK 10 million (USD 969,000) for its sustainable plant-based seafood, Swedish company Hooked Foods has announced its first limited crowdfunding round on Crowdcube.
"We closed our raise with top tier investors, will continue to grow and you now have the unique opportunity to join our wave and invest in this round as well. Take your chance below, get your spot in our limited crowdfunding and join our movement!" said Tom Johansson, co-founder and CEO at Hooked Foods, on social media.
Hooked Toonish is a plant-based seafood substitute for tuna and it's now available in restaurants and the frozen section in the store.
A healthier seafood ecosystem
Hooked was born in 2019 after Tom Johansson and Emil Wasteson were challenged to create a sustainable plant-based alternative to seafood to lead the transition to a healthier ecosystem.
The company says that to date, it has raised EUR5 million from a limited group of reputable impact investors, including Brightly Ventures, Oyster Bay VC, Veg Capital, Katapult Ocean, ProVeg, Kale United, and local music legend Danny Saucedo.
Hooked is an impact startup developing plant-based seafood to lead the transition to a healthier seafood ecosystem.
More sustainable solutions
Hooked's portfolio includes alternatives to salmon, fish sticks, and tuna. At the beginning of the company's commercial journey, the products were only available at restaurants. In 2021, Hooked's tomato-flavoured tuna alternative arrived on supermarket shelves, before being joined by the rest of the range last September.
After launching its salmon alternative, Salmoonish, Hooked said it had been inundated with positive consumer feedback. One customer, who has been vegan for seven years, said they "cried tears of joy" at the taste, describing it as identical to conventional salmon. Another said that Salmoonish "tastes and smells like salmon in a scary way", while a third said the product "would probably fool anyone".
Toonish Skagen is a ready-to-eat Swedish classic that goes perfect on a toast, baked potato, in a wrap or to any of your favorite festive foods.
The company also reported 25% month-over-month growth and 300% estimated growth for 2022.
"When great people join forces, extraordinary things are made. Hooked Foods is a revolt against the forces of darkness in the seafood industry. A revolt against the mindless destructive fishing methods, overpopulated and polluted industry fish farms and the massive amounts of bycatch being caught everyday from our oceans & marine ecosystems. This is happening right now and Hooked is fighting this day by day with more sustainable solutions," added Johansson.
Hooked Fish-ish sticks are 100% plant-based fish sticks for the whole family. With the same taste, crunch and similar nutrients as fish sticks, but kind to our oceans and without environmental toxins.
About Hooked
Hooked Foods is a Swedish food tech company founded in 2019, with a vision to help the shift towards a more sustainable consumption of fish.
Hooked Foods is on a mission to counteract overfishing, bycatch and consumption of microplastics and toxins often found in fish by creating innovative, delicious plant-based seafood alternatives.
Hooked is developing, selling and marketing flavourful and nutritious plant-based fish to restaurants and grocers with its first product, Toonish, and are currently developing a plant-based salmon substitute.
Source: Vegconomist.com/Hooked
[email protected]
www.seafood.media
Information of the company:
Address:
Hagaesplanaden 70, 72
City:
Stockholm
State/ZIP:
(113 65)
Country:
Sweden
Skype:
https://www.instagram.com/hookedfoods/?hl=en
More about: