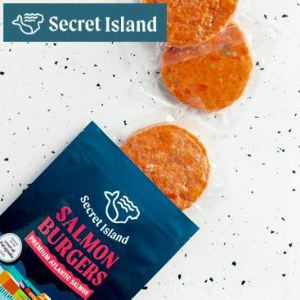 Secret Island Salmon burger.
Secret Island Salmon Introduces Hot Dogs, Bacon, Burgers & More!

(UNITED STATES, 10/24/2022)
This month, direct-to-consumer seafood brand Secret Island Salmon revolutionizes the seafood industry once again, introducing seven brand-new products that take the guesswork out of sourcing and seasoning. Joining the brand's beloved Atlantic Salmon are Atlantic Salmon Hotdogs, Smoked Coho Salmon Bacon, Atlantic Salmon Burgers, Blackened Salmon, Whiskey Teriyaki Salmon, Cold Smoked Coho Salmon and Coho Salmon.
Secret Island's salmon is caught, processed, and flash-frozen at peak freshness, all within hours of harvest.
Beginning on Tuesday, October 18th, consumers can purchase these packaged products on secretislandsalmon.com, either individually or as part of the newly curated Salmon Bundles. This rollout furthers Secret Island Salmon's mission to elevate traditional seafood offerings through industry-leading practices, making sustainable seafood available to all.

Secret Island vacuums seal individual portions to lock in its legendary quality and protect the product from damage during transportation and last mile delivery.
Sourced from pure, cold waters off the coast of Chilean Patagonia, Secret Island Salmon is flash-frozen at peak freshness within hours of harvest. Upholding the highest levels of eco-friendly production, Secret Island Salmon is Best Aquaculture Practices (BAP) 4-star certified. Unlike most DTC seafood brands, which market second-party products they don't harvest or produce themselves, Secret Island Salmon's vertically-integrated operations enable the brand to take the mystery out of aquaculture by offering 100% traceability on its sourcing practices.
Secret Island's Chef Inspired Whiskey Teriyaki Salmon has a balanced savory flavor with a sweet finish - it pairs perfectly with seasonal vegetables and sushi rice or soba noodles.
"These products provide the flavors, varieties and prices that will allow our salmon to become a delicious, healthy mainstay of our customers' meals," says Daniel Del Coro, Secret Island Salmon's head of U.S. business development. "Our fish has been fed, raised and processed to meet today's highest aquaculture standards."
Secret Island's

Chef Inspired Blackened Salmon is made with warm spices that give a layered savory flavor with a mild kick- it pairs perfectly with sliced avocado & taco fixings or in a simple salad or rice bowl.
ABOUT SECRET ISLAND SALMON
Secret Island Salmon raises legendary seafood in the cold, clear waters off Chile's Patagonian coast. This pristine environment yields fish with the pure, natural taste conserved with the industry-leading sustainable practices that seafood fans can believe in.
Salmones Austral, the parent company of Secret Island, maintains over 20 individual ocean sites where its legendary Atlantic and Pacific Coho salmon feed, grow and mature – following a natural migration and life cycle process.
Secret Island is 100% vertically integrated from ocean to plate and is completely transparent with its process.
The flash-frozen freshness of the company's seafood, direct customer delivery, and four-star Best Aquaculture Practices rating have made it a model for meeting Secret Island's mission of creating a world where sustainable seafood is accessible to all.
Source: Secret Island Salmon
[email protected]
www.seafood.media
Information of the company:
Address:
396 Alhambra Cir. Ste 900 Coral Gables
City:
Coral Gables
State/ZIP:
Florida (FL. 33134)
Country:
United States
Phone:
+1 (240) 329-4771
E-Mail:

[email protected]

Skype:
https://www.instagram.com/secretislandsalmon/
More about:
Approval / Accreditation / Certified / Oversight by...