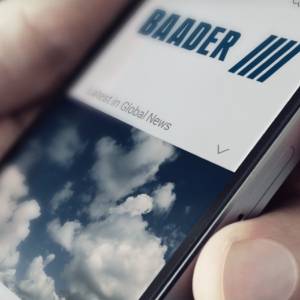 The holding company maintains its proven management structure with the two Managing Directors.
BAADER Establishes Global Holding Company

(GERMANY, 8/24/2022)
BAADER has established a holding company, the BAADER Global SE, and thus created the basis for establishing BAADER as a European Group. With this new organizational structure, the company will take major steps to ensure its long-term future success while holding on to its deep family company roots.
The legal entity of SE offers the company the ideal framework to further develop its corporate structure with various Business Units and subsidiaries in Germany and abroad for further future-driven growth.
With automation, digitalization and humanization, BAADER is redefining food processing based on reliable technology and lasting quality.
Necessary legal requirements have been filed by the general meeting on Tuesday, 16 August 2022, and confirmed by the commercial register Luebeck on 18 August 2022. The ownership structure is remaining the same, BAADER will continue to be one hundred per cent privately owned by the Baader Family.
Torsten Krausen.
The holding company maintains its proven management structure with the two Managing Directors, Dr Norbert Engberg, Poultry Business Unit and Digitalization Business Unit, and Robert Focke, Fish Business Unit.
"The BAADER Global SE offers a suitable roof for the entire Group. It underscores that BAADER is an international company and that we want to continue to grow," explains Torsten Krausen, CFO at BAADER.
"As a European Group, we will thrive from the professional standards we will submit to while maintaining our corporate culture responsible for our excellent reputation among our customers and workforce".
About BAADER

BAADER is a leading partner in food processing solutions with over 100 years of experience. With more than 1,400 employees worldwide and active in more than a hundred countries on six continents, the company designs and develops innovative and integrated solutions that ensure intelligent, safe, efficient, and sustainable food processing in all phases – from handling living and natural resources, right down to finished food products.
The BAADER-Group is a manufacturer and supplier of advanced high quality food processing machinery and solutions with experience in designing and production of high-tech equipment since 1919.
BAADER is directly represented at its headquarters in Luebeck, Germany, along with 25 other international locations, and also distributes its products through a worldwide network of agents. Over the past two years, BAADER has continued to expand its international locations, opening sites in France and Poland, for example, and strengthening its presence in Iceland, China, and Mexico.
Source: BAADER
[email protected]
www.seafood.media
Information of the company:
Address:
Geniner Str. 249 - Postfach 1102
City:
Lübeck
State/ZIP:
(D-23560)
Country:
Germany
Phone:
+49 451 5302 0
Fax:
+49 451 5302 492
E-Mail:

[email protected]

More about: