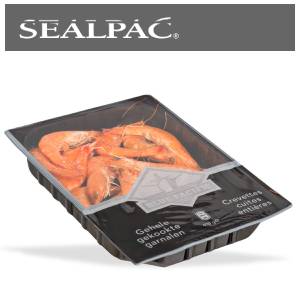 Sealpac: packaging solutions for the markets of the future.
Innovative Packaging Solutions for Seafood

(GERMANY, 6/15/2022)
Fish and other seafood items are precious food products: as they are rich in vitamins, minerals and trace elements, they form an important contribution to a healthy diet. However, the catching of edible fish is threatened by overfishing – a further reason to deal with this valuable nutrition ever more carefully.

That is why leading companies in the food and packaging industry, such as Sealpac, engage themselves in the SAVE FOOD initiative with the primary goal to prevent food losses around the globe. Being a popular food item in today's kitchen, but also extremely sensitive and perishable, seafood must be treated with extreme care.
Sealpac offers state-of-the-art tray-sealing and thermoforming technology

.
Modern MAP and vacuum packaging, as well as a strictly controlled, uninterrupted cold chain, must ensure highest product safety and optimal shelf life. It protects the food against the ingress of oxygen, which accelerates degradation, thus avoiding any undesirable smells and taste. As such, salmon, shrimp and alike are optimally preserved, preventing them from drying out, maintaining their aroma, and ensuring hat their specific flavour is not transmitted to other foods.
With a perfect recognition of market-defining trends, Sealpac quickly converts these into innovative products, systems, solutions and services. The company works closely together with leading manufacturers of packaging materials to develop consumer-driven total solutions, which will improve your production's efficiency and profitability. By identifying your specific needs, and combining market trends and developments, Sealpac works jointly with you towards the optimal solution for your individual application. So that every single one of your seafood products will impress your customers, and that your long- term success is secured.
EasyLid ® combines sealing and lidding in one single process.

Sealpac offers state-of-the-art tray-sealing and thermoforming technology.

Whether you are a small to medium-sized producer with a broad product range or a highly specialized industrial company – to pack your seafood products in a variety of formats, Sealpac offers you an efficient packaging machine in any size and for every application.
The company's latest generation of reliable, high-technology traysealers and thermoformers will convince you with their superior innovation level, giving a whole new dimension to precision, flexibility and efficiency. With Sealpac's future-oriented machine technology, modern materials and unique know-how, the company constantly proves its ability to innovate.
EasyLid® provides a highly reliable lid solution, but requires no additional lid, hence offering advantages savings in the entire production chain. It brings opportunities to various product segments.

Whether you use an in-line control system or not, as Sealpac's customer you benefit from reliable, long-lasting machinery with an economic use of energy and low maintenance demands, which can easily be upgraded or adapted to changes in the production site. The company demonstrates particular sustainability through the extremely economical use of consumables.
For example, Sealpac processes ultra-light and fibre-based carriers and trays with its traysealers, as well as form packs from sustainable, paper-based films with its thermoformers.
TenderPac

patented two-compartment vacuum packaging system

cleanly separates the product from the common drip-

loss that occurs during transport and storage.

About Sealpac

What started in 1986 as a one-man operation out of a barn in Northern Germany has now turned into a state-of-the art production facility for traysealers and thermoformers. Still located in the North of Germany, in the city of Oldenburg,
Sealpac
manufactures hundreds of high-tech packaging machines per year, which are sold through a carefully selected network of distributors around the world.

Supported by Sealpac International, Sealpac's export office located in The Netherlands, these distributors, as well as a number of daughter companies, provide project advice, installation, training, maintenance, spare parts and after sales with regard to the Sealpac equipment at their local customers.
Source: Sealpac
[email protected]
www.seafood.media
Information of the company:
Address:
An der Kolckwiese 10
City:
Oldenburg
State/ZIP:
(D-26133 )
Country:
Germany
Phone:
+49 (0)441/940 005 100
Fax:
+49 (0)441/940 005 117
E-Mail:

[email protected]

More about: