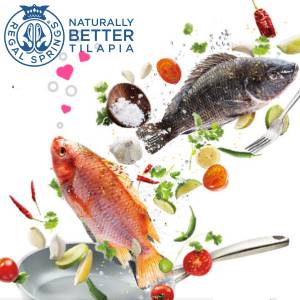 Regal Springs is boldly going where no other Tilapia company has gone before.
Regal Springs® and aquaManager Announce Strategic Alliance for Intelligent Farming

(SWITZERLAND, 4/1/2022)
In an exciting announcement, Regal Springs® and aquaManager confirmed their long-term strategic collaboration, in which both companies join forces to implement innovative, state-of-the-art technologies to achieve intelligent and efficient automation in Regal Springs'® sustainable fish farming operations.
These wide-ranging initiatives, based on artificial intelligence, machine-learning and advanced algorithms, encompass data management and modeling, business intelligence, real-time data collection, and the latest smart devices and equipment, such as "state of the art" data-reading camera tracking systems, and have been successfully applied with more established species in marine environments.
aquaManager cameras capture the tilapias as they swim in their lake pens, recording key data, enabling waste reduction and improved sustainability, so fundamental to the Blue Foods Movement
Regal Springs®, once again a pioneer, will be the first company to introduce these advanced technologies into tilapia farming in inland deep-water lakes. This initiative will provide a solid foundation for the company's ultimate vision, the 'Fish Farm of the Future'.
Regal Springs is the world's largest vertically integrated aquaculture company, employing over 8,500 people worldwide.
Alois Hofbauer, CEO of Regal Springs®, added: "This collaboration aligns perfectly with Regal Springs'® strategy for environmental, social and economic sustainability (ESG), and is a building-block in our passionate commitment to the all-important Blue Foods Movement. As we create a sustainable fish farming industry for the future, we need to adopt cutting-edge technology, so that we can farm fish more efficiently and sustainably, but at the same time continue to safeguard our waters, now and for the future. We are excited to collaborate with such an enterprising and innovative partner as aquaManager, and as Blue Food Movement pioneers, to create the fish farms of tomorrow".
Regal Springs® AG, the world's largest vertically integrated tilapia producer, and aquaManager, the leading aquaculture technology provider, are joining forces to accelerate the development of futuristic digital automation to enhance the predictability and productivity of eco-friendly, sustainable fish farming.
Kostas Seferis, founder of aquaManager, commented: "We have been working with Regal Springs® for many years, and we enjoy a long-lasting partnership with them. We regard Regal Springs® as a visionary company, always keen to innovate in this industry that thrives on improving sustainability efforts. We look forward to many happy years working together, to turn into reality the dream of automated fish farming with a high degree of predictability".
Regal Springs' Naturally Better Tilapia are a responsible alternative to fish treated with chemicals and antibiotics.
About Regal Springs ®
Regal Springss® AG is the world's largest vertically integrated white fish farming producer and a pioneer of responsible aquaculture. The company produces premium quality Tilapia, all raised in large floating nets in magnificent freshwater lakes in Indonesia, Honduras and Mexico. Regal Springs® offers consumers a broad range of high-quality Tilapia products, all free from antibiotics, growth hormones, additives, or chemicals.
This has enabled Regal Spring® to be the world's first Tilapia producer which has been certified to ASC Tilapia and BAP 4* Tilapia standards, recognized as the industry's highest benchmarks. In addition, Regal Springs® has become renowned for its health, educational, environmental, and infrastructural initiatives, all of which support and nurture healthy rural communities around its lakeland farms.
About aquaManager
Since its inception back in 2000, aquaManager has strived to revolutionize the world of aquaculture. The solutions provided by the team are designed to enable organizations to control the business, optimize efficiency, reduce waste, increase sustainability and achieve complete traceability.
The digitalization of aquaculture and the company's efforts, go hand to hand with ensuring environmental sustainability. In recent years, aquaManager has evolved from a management software to a unique and scalable ecosystem that includes Business Intelligence tools, leverages IoT through integrated smart devices and equipment and reshapes aquaculture with customer-driven innovations that make use of Artificial Intelligence.
Source: Regal Springs
[email protected]
www.seafood.media
Information of the company:
Address:
P.O. Box 24
City:
Flaesch
State/ZIP:
(7396)
Country:
Switzerland
Phone:
+41 81 330 7228
Fax:
+41 81 274 2041
E-Mail:

[email protected]

More about:
Approval / Accreditation / Certified / Oversight by...