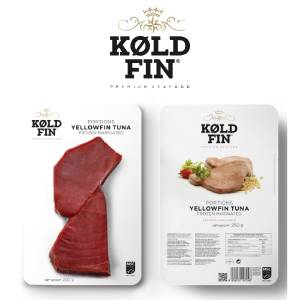 Sustainable, high quality fish is now available in every household kitchen thanks to Koldfin.
Køldfin Caters for a More Demanding Consumer

(SPAIN, 3/30/2022)
Køldfin, from the Catalan company Frime, brings added value to the seafood line. With its experience and in-depth knowledge of the market and new trends, Frime's Køldfin range of tuna products presents different types of cuts to meet the new emerging needs of the final consumer, which are increasingly evident in the domestic consumption of seafood.
The new range of products offers two categories: Essentials and Skilled Cuts. The former consists of products with the most common cuts on the market for daily consumption of tuna, such as steaks. And Skilled Cuts refers to those created to cater for market niches with cuts for specific recipes or types of consumption, such as sakus, ingots, cubes and dices.
Koldfin is part of Frime, the leading MSC certified tuna company, and shares the same environmental values, fighting against the problems of climate change.
With formats ranging from 150 to 300g, aimed at individual consumption or for a maximum of two people. The cuts are packaged in FlatSkin, atechnology that had not been used until then in the category, where the product's raw material is of major importance.
Frime provides its consumers with maximum transparency about the products they are buying, thanks to the high quality of their raw material, as well as the versatility and added value they will bring to a category that is underdeveloped in certain species of fish.
The best-frozen marinated Processed fish, now on your plate.
In the short term, the company plans to expand the range with different sub-brands under the Køldfin umbrella, including other fish species and also developing new formats and products to enter other categories where tuna is not present or has great potential for development.
This represents one of the company's most strategic projects to continue consolidating the strong growth experienced in recent years, and to enter with its own brand into a market segment in which it was not present. Traditionally, Frime has developed its commercial activity in the professional segment, becoming the largest operator in the distribution and marketing of processed yellowfin tuna in Europe.
Tasty, juicy, soft and pleasant to the palate. Koldfin is the tuna range with different types of cut to make high-quality, sustainable cooking easier for you.
Frime is facing this new challenge with strong structural investments to make the Køldfin brand one of the company's most strategic and exciting projects, which is part of an ambitious business plan for the coming years.
About Frime
Frime is the leading company in the marketing of processed yellowfin tuna in Europe with a volume of 20,000MT per year. The company, located in Barcelona and chaired by Salvador Ramon, has a turnover of €130m and a workforce of more than 300 employees spread across three processing plants: one dedicated to the production of cephalopods and two to the production of IFS and MSC certified portioned tuna. In addition, Frime is to expand its production capacity in the last quarter of 2021 with a new 8,500 m2 processing plant in La Roca del Vallés (Barcelona) and a new 4,600 m2 cold store in Castellolí (Barcelona) planned for 2022.
Frime has become a member of the United Nations Global Compact, the world's largest corporate sustainability initiative. It currently has more than 13,500 members from over 165 countries and 68 local networks. By joining the Global Compact, Frime undertakes to align its operations with Ten Universally Accepted Principles in the areas of human rights, labour standards, environment and anti-corruption, and to take action in support of the United Nations goals currently embodied in the Sustainable Development Goals (SDGs).
Source: Frime
[email protected]
www.seafood.media
Information of the company:
Address:
Pla d'en Cadellans 2, Arenys de Munt
City:
Barcelona
State/ZIP:
Catalunia (08358)
Country:
Spain
Phone:
+34 932 620 228
Fax:
+34 932 620 225
E-Mail:

[email protected]

Skype:
https://www.instagram.com/frimesau/
More about: