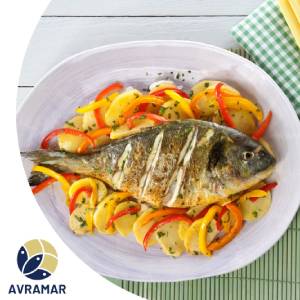 Avramar's philosophy for "Better Fish, Better Lives" is perfectly aligned with SNP's mission.
Aquaculture, Supports National Seafood Marketing Effort
(GREECE, 3/17/2022)
Avramar, the No. 1 in Mediterranean aquaculture, has heeded the call to action to bring the industry together and support outreach and education efforts to American consumers. Avramar has announced an alliance with the Seafood Nutrition Partnership (SNP), becoming the newest member of the National Seafood Council (NSC) Task Force and supporting the Eat Seafood America! initiative.
Seafood Nutrition Partnership is a non-profit organization, working to inspire a healthier America through partnerships and outreach that raise awareness about the essential nutritional benefits of eating seafood.
Avramar's distribution network spans the globe – including European and North American retailers and wholesalers, as well as your neighborhood fishmonger.
"We are excited to have Avramar join the NSC Task Force because their mission aligns so closely with the efforts to support a healthier America through seafood," said Linda Cornish, President of SNP. "Their support helps continue to build the momentum of establishing a national seafood marketing campaign."
Avramar's philosophy for "Better Fish, Better Lives" is perfectly aligned with SNP's mission, tying in the health and sustainability of seafood. Avramar's mission is to bring their healthy, tasty, and sustainable Mediterranean fish to tables around the world.
Avramar's operations are based in Greece and Spain.
"The pandemic has shown us just how essential fish and seafood are for good health, so now more than ever it is important to get consumers onboard. The Eat Seafood America! Campaign helps Americans to discover all the goodness of fish, an initiative we wholeheartedly support," said Jay Burke, Avramar Director of Business Development North America.
SNP's Eat Seafood America! campaign is a public health outreach and education program that encourages consumers to eat more seafood for improved health, while also helping the fishing communities and seafood businesses that have championed sustainable seafood. Eat Seafood America! acts as a reminder to consumers to support fishing communities and sustainable seafood companies that work to provide people with healthy, sustainable food, thus ensuring that seafood remains available now and in the future.
Avramar's mission is to bring their healthy, tasty, and sustainable Mediterranean fish to tables around the world.
As the largest producer of premium Mediterranean fish, Branzino, Dorade, Stone Bass & Pagro Maggiore, and a leading aquaculture company, Avramar's purpose is focused on promoting the wellbeing of people and our planet through high quality products and a sustainable, future oriented operations.
Avramar – already operating in the U.S. for decades through its legacy companies, Andromeda, Nireus and Selonda – strives to reach new markets and expand its product portfolio with innovative & convenient offerings that are preferred every day from more and more people around the world enjoying the best fish that the Mediterranean has to offer.
Avramar grades, processes and packs fresh whole fish, gutted fish, and a variety of fillets presentations, which delivers to its customers daily – just hours after harvest – to preserve the superior freshness of the produce.
About The Seafood Nutrition Partnership

Seafood Nutrition Partnership (SNP) is the leading 501(c)3 non-profit organization in the U.S. building awareness of the health and nutritional benefits of seafood. SNP is addressing the country's public health crisis through education programs that inspire Americans to incorporate more seafood and omega-3s into their diets for improved health as per the Dietary Guidelines for Americans.

About Avramar

Avramar is the world's leading Sea Bass and Sea Bream brand, and the largest producer of Mediterranean fish. The company was formed through the merger of leading Greek and Spanish Aquaculture companies Andromeda, Nireus, Selonda and Perseus, a specialized player in fish feed. Avramar cultivates and distributes the finest Mediterranean fish in the Greek and Spanish seas.

Avramar unites three leading companies— Andromeda, Nireus, and Selonda —and four decades of expertise to bring you the finest fish from the Aegean and Ionian Seas.
The company's dedicated team of experts from across the industry are leading the transformation of Mediterranean aquaculture through smarter solutions, product innovation and high-quality fish.
Avramar has a team of more than 2,000 passionate employees in Greece and Spain and offers four Mediterranean species (Sea Bass, Sea Bream, Stone Bass aka Corvina and Pagro Maggiore) across 30 countries. Avramar strives to create add value for the local communities and society at large. The company's shareholder composition includes Amerra Capital Management LLC and Mubadala Investment Company.
[email protected]
www.seafood.media
Information of the company:
Address:
99C Lavriou Ave.
City:
Paiania
Country:
Greece
Phone:
+30 190 02
Skype:
https://www.instagram.com/corvinarex/
More about:
Approval / Accreditation / Certified / Oversight by...