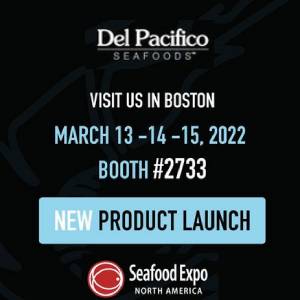 The fair trade shrimp company introduces wild-caught finfish and enters the aquaculture industry.
Del Pacifico Seafoods Launches Three New Products at Seafood Expo North America

(MEXICO, 3/8/2022)
Del Pacifico Seafood, the only fair trade certified wild-caught Mexican shrimp producer, announces its entry into the aquaculture space with plans to introduce its new line of responsibly-farmed shrimp and oysters at Seafood Expo North America, March 13-15 in Boston, MA.
The expansion into aquaculture is a natural evolution of Del Pacifico's ongoing mission to produce the world's highest quality, sustainable seafood while empowering local fishing communities.
Rubén Castro.
The company will also introduce white snook, a white fish native to Mexico and popular in the southeastern United States. Del Pacifico will be showcasing these new products alongside their wild-caught Mexican blue shrimp at booth 2733.
"Since starting the company in 2014, we have seen year-over-year demand for our shrimp across retail and foodservice. Wild shrimp alone cannot sustain this growth. Responsible shrimp farming enables us to meet this growing demand, while also maintaining our wild shrimp stocks and commitment to sustainability," said Rubén Castro, Chief Executive Officer of Del Pacifico.
"We are also excited for the opportunity to collaborate with local fishing co-ops to help us expand our seafood offerings to include oysters and white snook. Working in partnership with our fishing communities is at the heart of our business and allows the preservation of small-scale fishing operations as well as local social and environmental causes."
Del Pacifico Seafoods' new products.
Pacific White Shrimp
Similar to its fair trade certified wild-caught Blue Mexican shrimp, Del Pacifico's new line of Pacific White Shrimp (Vannamei) is responsibly farm-raised, antibiotic-free, chemical-free and preservative-free. The white shrimp adhere to the same sustainable methods of harvesting and processing at the company-owned state-of-the-art processing facility where the shrimp are processed, flash-frozen once and shipped within just a few hours of netting. They have a clean, sweet and succulent taste with a crisp, snappy texture.
All of Del Pacifico Seafoods' shrimp comes from day-boats, small vessels using an artisanal technique that uses the wind and tide to drift a highly selective net called suripera.
Del Pacifico's White Shrimp have been independently certified by the Aquaculture Stewardship Council (ASC) as being environmentally and socially responsibly raised. The ASC has the strictest standards in the aquaculture industry, monitoring water quality, responsible sourcing of feed, disease prevention, animal welfare, the fair treatment and pay of workers and maintaining positive relationships with neighboring communities.
Palmita Bay Oysters
Del Pacifico Seafoods' Shrimp Burger.
Sinaloa has long produced some of the best oysters, famous for their exquisite, clean flavor among locals in northwestern Mexico. Up until recently, the availability of oysters was limited due to restricted capacity. When these restrictions were lifted, Del Pacifico brought together five local fishing co-ops at Bahía de Altata, Sinaloa, and provided them with seeds, technical resources and working capital so they could significantly elevate the quality and production volume. The result is Palmita Bay Oysters – sustainably farm-raised in their natural habitat.
Pacific White Snook (Robalo)
Off the coast of Nayarit in western Mexico, the white snook are line-caught by local artisanal fishermen on small day boats using traditional hook and line fishing practices to ensure a high quality end product, and no by catch. White snook has a firm, flakey texture, making it a versatile choice when cooking.
As a leader in sustainable seafood, Del Pacifico now offers both wild and farmed seafood to meet the growing demand across foodservice and retail.
About Del Pacifico Seafoods
Del Pacifico Seafood was founded in 2014 with the mission to produce the world's highest quality shrimp using the most sustainable methods of harvest and processing that exist today. Working in close collaboration with artisanal fishermen, offering them a fair chance to compete in the global seafood market, has allowed them to promote sustainable fishing practices and bring the world's best shrimp to new markets. In addition to the Fair Trade and Friend of the Sea certifications, they are also certified BRC and ASC.
Source: Del Pacifico Seafoods
[email protected]
www.seafood.media
Information of the company:
Address:
320 Hermosa Ave #203
City:
Hermosa Beach
State/ZIP:
California (CA 90254)
Country:
United States
Phone:
+1 (310) 868 6406
E-Mail:

[email protected]

Skype:
https://www.instagram.com/delpacificoseafoods
More about:
Approval / Accreditation / Certified / Oversight by...