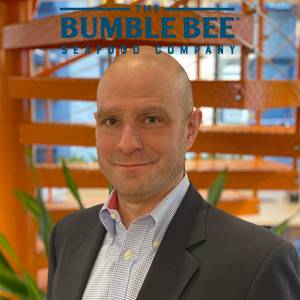 Alex Drew joins The Bumble Bee Seafood Company as Vice President of Customer Development and Strategy.
The Bumble Bee Seafood Company Grows Its Commercial Leadership Team

(UNITED STATES, 1/11/2022)
The Bumble Bee Seafood Company will welcome Alex Drew to its growing commercial team as Vice President of Customer Development and Strategy. As part of the senior leadership team, Alex will be responsible for the customer strategy and planning function including business management and demand planning.
Alex brings more than 20 years of CPG experience in retail development, project management, and business leadership in the food, beverage, and vapor industries. Most recently Alex spent four years leading Category Management and Sales Operations for JUUL Labs. Alex also spent more than 10 years at Anheuser-Busch InBev in frontline sales, category management, trade marketing, pricing, and sales strategy positions for the leading global brewer and also served in senior sales leadership positions for the Kellogg/Kashi Company.
Connie Cooper Shepherd.
"In order for our company to remain hyper-focused on meeting aggressive goals, we are bolstering our commercial team leadership," said Connie Cooper Shepherd, Senior Vice President of Strategy and Business Development of The Bumble Bee Seafood Company. "Alex's specific experience in gathering, analyzing and communicating data that profitably grows sales and share make him perfect for this newly-created role as we continue to position ourselves as a company that sets high standards for the industry."
Alex will report to Cooper Shepherd and will be responsible for customer strategy and planning, including defining the objectives to gain profitable market share, executing plans to make those objectives achievable and full management of all customer investment, forecasting, distribution, innovation, pricing, promotion, assortments, and tools.
Also reporting to Cooper Shepherd on the newly re-organized senior commercial leadership team are Dan Hofmeister, Senior Vice President & General Manager of Anova®, Laura Chamberlain, Senior Vice President of Sales, and Jeanine Lewis, Vice President of Brand Marketing.
120 years from its first can of salmon, The Bumble Bee Seafood Company has over 30 species and 10 versatile craveable, protein-rich seafood brands with so much more to come.
About The Bumble Bee Seafood Company
The Bumble Bee Seafood Company is passionately pursuing its purpose of feeding people's lives through the power of the ocean. The iconic 120-year-old fishing company consistently aims to deliver delicious, healthy and affordable food to consumers while working hard to find new ways to protect the ocean and those that rely on it. Bumble Bee is firmly anchored in a commitment to connect the world to the ocean by re-defining sourcing, producing and enjoying products from and inspired by the ocean.
Whether it's albacore tuna, salmon, sardines, plant-based, or cultivated seafood, The Bumble Bee Seafood Company continues to seek and find the best ways to source a wide variety of ocean-inspired foods.
Bumble Bee's full line of seafood and specialty protein products are marketed in the U.S., Canada and over 50 markets globally under leading brands including Bumble Bee®, Anova®, Brunswick®, Clover Leaf®, Snow's®, Wild Selections® and Beach Cliff®.

Source: The Bumble Bee Seafood Company
[email protected]
www.seafood.media
Information of the company:
Address:
Petco Park (formerly Showley Brothers Candy Factory), 900 C St
City:
San Diego
State/ZIP:
California (CA 92101)
Country:
United States
Phone:
+1 858 715 4000
Fax:
+1 858 560 6045
E-Mail:

[email protected]

Skype:
https://www.instagram.com/bumblebeefoods/
More about:
Approval / Accreditation / Certified / Oversight by...