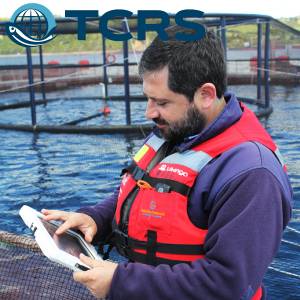 The TCRS mission is to advance responsible seafood through its unique global hub for knowledge sharing.
Collaborative Hub of Knowledge Sharing, Research & Professional Development for Sustainable Seafood Created

(UNITED STATES, 9/29/2021)
The Responsible Aquaculture Foundation (RAF) has announced the broadening of its mission, change of its name, and launch of its new website, where a network of communities and a continuing professional development (CPD) platform are being built. Known as RAF since 2009, the 2021 transition to The Center for Responsible Seafood (TCRS) marks the broadening of the Center's scope to include both aquaculture and wild-caught fisheries. In addition, TCRS recently welcomed the Sustainable Ocean Leadership Institute (SOLI) as an integral component of its unique global hub for knowledge sharing.
Energized by the opportunities and urgent need for action on planetary health, TCRS has established a bold vision: a world meeting the critical need for seafood produced through regenerative processes.
"The TCRS mission is to advance responsible seafood through our unique global hub for knowledge sharing, enhanced by applied research and collaborative programs," says TCRS President George Chamberlain. Using its global experience in sharing knowledge and innovation, TCRS will strive to advance regenerative processes, which go a step beyond "reducing negative impact" to achieve net zero or positive impact where possible. Two of the organization's current projects highlight their work in both aquaculture and wild-caught fisheries: one ensuring higher returns to small-holder black tiger shrimp farmers in Bangladesh; another helping to conserve the critically endangered scalloped hammerhead shark in Panama.
TCRS began its e-learning program to widely disseminate knowledge gained from a range of applied research projects across various species, issues, and geographical locations.
The new website has dedicated sections for each of the TCRS pillars – knowledge sharing, applied research and collaborative programs. TCRS is building upon RAF's 26 online education modules in disease management, food safety, animal welfare, and water quality to offer a comprehensive array of CPD courses in both aquaculture and fisheries for practitioners and leaders throughout the value chain. A commitment to CPD by both employees and employers helps individuals advance their capabilities and careers, helps retain talent and leaders in the sustainable seafood sector, and fosters continued innovation. To promote global information exchange, the website is also developing a network of communities with a rich array of learning resources, directories, and forums.
Melanie Siggs.
With funding from the David and Lucile Packard Foundation, SOLI is currently in collaborative development and will launch in 2022 focused on CPD for sustainable seafood leaders in markets, conservation, and policy. Participants will develop their own portfolios of continuing professional development activity to suit their time availability and level of engagement. CPD has proven to be a popular and effective way to engage and develop professionals in other sectors.
"The continued progress of the responsible seafood movement depends on retaining strong talent in the industry and developing leaders who are both inspired and empowered to implement change in their organizations, businesses and across the sector," commented Melanie Siggs, Board Director of TCRS.
"Creating a space that builds a community of engaged leaders through continuing education and professional development in sustainable seafood practices is an important component of SOLI's mission," adds Katy Hladki, Director of Sustainability Programs.
About The Responsible Aquaculture Foundation
The Responsible Aquaculture Foundation (RAF) has been established for the purposes of providing research, training, sharing critical knowledge and building a community of global aquaculture practitioners at all levels. This will help to enable the fast growing aquaculture sector evolve on systems that enable responsible, viable production environmentally, socially and economically.
Source: TCRS
[email protected]
www.seafood.media