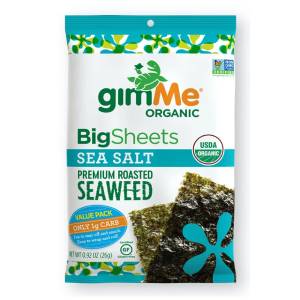 gimMe has all of the things you want in a yummy, healthy snack and none of the things you don't.
Seaweed: The Sustainable Vegetable of the Future

(UNITED STATES, 3/24/2021)
Powered by one of the most nutrient-dense veggies in the world, gimMe superfood-based snacks are crafted to supercharge your day with nutritious, delicious, snackable fun.
In 2012 gimMe snacks pioneered organic seaweed in the US, and they've since grown to become a top selling brand in health food stores. But the husband-and-wife founders, Annie Chun and Steve Broad, are focused on more than selling seaweed. They are committed to unlocking seaweed's potential to fight climate change. Organic seaweed farms like gimMe's sequester carbon and improve water quality - contributing to the health of our oceans and planet as a whole.
Seaweed is an eco-friendly crop that requires no water to grow, and if farmed organically without the use of pesticides and chemicals.
gimMe is a family company with a real passion for creating healthy superfood snacks that taste great. After starting, growing, and ultimately selling their first natural food company - Annie Chun's, one of the leading Asian food brands in the U.S., Annie and Steve were inspired to do it again. In 2011, the family was sitting around the dinner table brainstorming when their teenaged daughter Mia had a great idea - start a company that sells the best possible roasted seaweed in delicious new flavors.

gimMe seaweed snacks, chips, and nori are certified organic and Non-GMO Project Verified, certified Gluten Free and Ve

gan.
So they did. In 2012, Annie and Steve launched gimMe Snacks, the world's first USDA Certified Organic and Non-GMO Project Verified seaweed snacks. The name? Also Mia's idea, because gim means seaweed in Korean - and because it tastes so good, everyone wants more.
Annie and Steve are on a mission to bring globally inspired, delicious and nutritious roasted seaweed superfood snacks to the lunch boxes, desk drawers, and pantries of people everywhere. From seaweed Thins to full-sized Nori sheets gimMe has a power packed snack for every occasion.
Organic seaweed farms like gimMe's sequester carbon and improve water quality - contributing to the health of our oceans and planet as a whole.
gimMe is more nutrient dense than any land vegetable and is a great source of vitamins, minerals, and protein. And best of all, gimMe is an eco-conscious choice. The entire product line is made with premium USDA Certified organic and Non-GMO Project Verified seaweed sustainably cultivated and harvested in South Korea.
About gimMe
Founders and visionary food entrepreneurs, Annie Chun and Steve Broad, recognized an opportunity to adapt a traditional Korean snack to the US market. Their vision led to the creation of the world's first line of USDA Certified Organic and NON-GMO Project Verified seaweed snacks. Thanks to Annie and Steve, other seaweed manufacturers are following suit helping to further reduce the amount of chemicals in our oceans.
Seaweed snacks are perfect for lunch boxes and on-the-go snacking.
Annie was born and raised in Korea, home of the best seaweed on the planet. Annie's knowledge of authentic Korean culture and expertise in Asian cooking feed the soul of our company. She gets really excited talking about ingredients, seasoning, and the science behind creating the flavors in food.
Annie started her culinary journey in Northern California selling homemade Asian sauces at farmers markets.
gimMe roasted seaweed is made nutritious by nature and delicious by the natural foods pioneer, Annie Chun and gimMe Health Foods.
Throughout her 25+ years in the business, Annie has received multiple awards and accolades including being named as one of the "Top 25 Culinary Entrepreneurs" By Gourmet Magazine.
Steve grew up in Northern California where he learned early on how much better food tastes when it's all natural and grown fresh. Steve has been by Annie's side since the beginning, taste testing recipes and as the driving force behind their leap from farmers markets to supermarket success.
With an MBA from the Wharton School at the University of Pennsylvania, Steve's business experience, sales, and management skills keep gimMe running smoothly.
When he's not crunching seaweed, Steve's crunching numbers and is a regular speaker at industry events is a passionate advocate for the seaweed industry, protecting our environment through sustainable farming, and family nutrition.
Source: gimMe

[email protected]
www.seafood.media
Information of the company:
Address:
2173 Francisco Blvd East Suite A, 2nd Floor
City:
San Rafael
State/ZIP:
California (CA 94901)
Country:
United States
Skype:
https://www.instagram.com/gimmegrams/?hl=en
More about:
Approval / Accreditation / Certified / Oversight by...