IN BRIEF - MMEA seizes four boats, detains 31 foreign crew for illegal fishing

MALAYSIA
Monday, March 27, 2023


PASIR PUTEH: The Kelantan Malaysian Maritime Enforcement Agency (MMEA) has seized four boats and arrested 31 Vietnamese fishermen for illegally fishing in Malaysian waters.
Its director Maritime Captain Syed Nor Adli Syed Ab Rahman (pix) said they were arrested during two operations conducted on Monday (March 20) and Wednesday (March 22)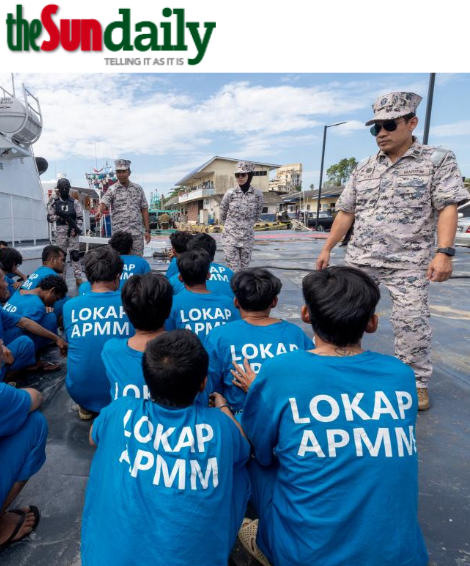 "During the first operation, two boats were detained at 3.45 pm and 4 pm, respectively, about 64 nautical miles off the Tok Bali estuary.

"The first boat was manned by five crew members including the skipper while the second boat was operated by two crewmen," he said at Kelantan MMEA headquarters at Tok Bali today.
Syed Nor Adli said on Wednesday, MMEA's patrol ship KM Jujur intercepted two more Vietnamese fishing boats as a result of information channelled by a Royal Malaysian Air Force (RMAF) maritime patrol aircraft team.
According to him, the first boat was detained at 8.45 am some 180 nautical miles off the Tok Bali estuary while the second boat was detained at 10.57 am, about 170 nautical miles from the same estuary.
He said the boats and 18 Vietnamese nationals were then taken to the Kelantan Maritime jetty.
Syed Nor Adli said all 31 crew members detained, aged between 14 and 64, also failed to produce valid identification documents and inspections found that the four boats did not have permits to carry out fishing activities under the Fisheries Act 1985.
---

GERMANY
Wednesday, May 31, 2023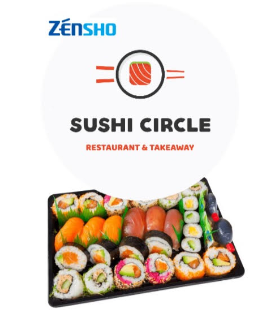 More than 200 stores, mainly takeout
Sushi Circle, operator of 240 sushi shops in the German food trade, will be operated by Zensho Holdings in the future. Japan's largest food service provider wants to accelerate its expansion. The seller is the family of Gerd Kaiser, former Rewe board member and founder of Eins-A-Markt.
Last week, Sushi Circle Gastronomie GmbH in Neu-Isenburg sold Japanese billionaire Zensho for an undisclosed purchase price.
As of the end of last year, Sushi Circle had 221 takeout restaurants and seven conveyor belt sushi restaurants.
Source: food-service.de (translated from the original in German)
---

JAPAN
Wednesday, May 31, 2023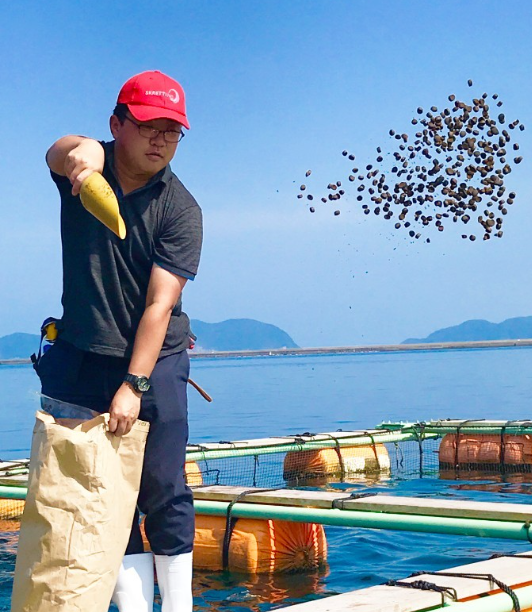 "Yellow light" for farmed fish export strategy
It was revealed in an interview with this newspaper that the major domestic aquatic feed manufacturers have effectively decided to withdraw from the production of Aquaculture Stewardship Council (ASC) certified farmed fish feed.
ASC establishes food certification, starting in February. It will officially come into force on February 1, 2025 and is currently in a transition period. According to an interview with this newspaper, only one company in Japan, Skretting, is engaged in the production of ASC feed. The government advocates for a growing industry by expanding exports of farmed fish, but...[continued]
Source: Minato Yamaguchi (translated from the original in Japanese)

---
IN BRIEF - Reuse of discarded PET fishing nets, completion of Japan's first resource recycling facility

JAPAN
Wednesday, May 31, 2023


The fishing net recycling facility built by the JF Tachiura Fishery Cooperative in Hirado City, Nagasaki (Chairman Shuji Kamogawa) utilizing the Ministry of the Environment's subsidized project was completed, and the opening ceremony was held on the 27th. This is the first dedicated facility in Japan to ship discarded polyester (PET) fishing nets collected from purse seine fleets, the main fishing industry of the fisheries cooperative, as recycled raw materials. We aim to establish and expand recycling, including exit strategies.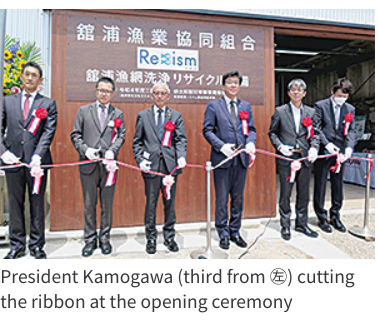 A solvent cleaning device developed by Kentec Co., Ltd. was installed at the Tateura Fishing Net Washing and Recycling Facility. To efficiently remove resin that reinforces the surface of a fishing net in order to increase the durability of the fishing net.
Toshihiko Nishikawa, general manager of the Alliance Management Department at Teijin Limited, a joint venture and a major textile manufacturer, said, "This washing process was important in order to sufficiently remove impurities and make it easier to manufacture processed products." Unlike nylon fishing nets, PET fishing nets are difficult and costly to recycle, and are mainly disposed of as industrial waste. The value as a resource was discovered by succeeding in recycling raw materials with few impurities.
Source: Suisan Keizai (translated from original in japanese)

---

REPUBLIC OF IRELAND
Wednesday, May 31, 2023


New Irish €26.8 million investment under Brexit Processing Capital Support Scheme.
Ireland' Minister for Agriculture, Food and the Marine, Charlie McConalogue, has announced details of a €26.8 million investment in 44 seafood processing projects which are helping drive transformational change in the sector.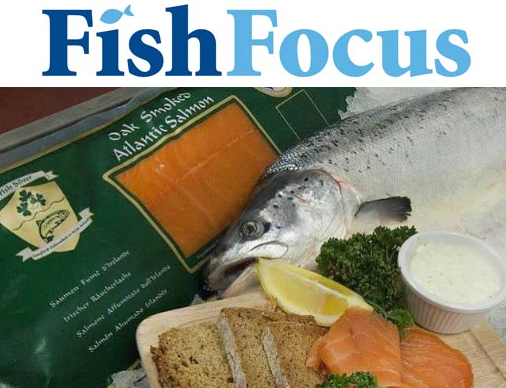 The Seafood Capital Processing Scheme is funded by the European Union under the Brexit Adjustment Reserve (BAR). Bord Iascaigh Mhara (BIM), Ireland's seafood development agency, administers the scheme on behalf of the Department of Agriculture, Food and the Marine, which provides for up to €45 million in funding to the seafood processing sector.
Announcing details of the investment on European Maritime Day, Minister McConalogue said:
"The Processing Capital Support Scheme is providing significant investment in seafood processing enterprises, which employ some 4,000 people in rural coastal communities.
"This scheme is supporting seafood processing industry to develop their enterprises, navigate the challenging trading environment and support jobs in this important sector.
"I am pleased to highlight Brexit Adjustment Reserve funding opportunities available to the Irish seafood processing sector as Europe's marine community come together on European Maritime Day."
Source: FishFocus
---
IN BRIEF - Maersk was the most reliable top-14 carrier in April 2023

WORLDWIDE
Wednesday, May 31, 2023


Global schedule reliability has continued to improve M/M, although the strength of the improvements have declined with each proceeding month.
In April 2023, schedule reliability improved by 1.7 percentage points M/M to 64.2%, up 29.9 percentage points Y/Y. Average delay for LATE vessel arrivals also continued to decrease, with the April 2023 figure dropping by -0.72 days M/M to 4.34 days. This is -2.22 days lower Y/Y and is now also lower than the respective 2020 figure.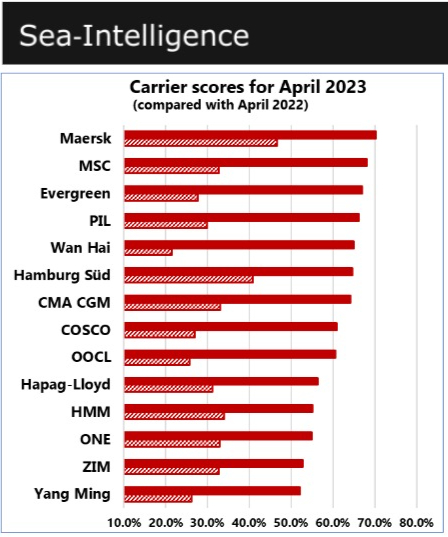 Maersk was the most reliable top-14 carrier with schedule reliability of 70.3%, followed by MSC with 68.0%, and Evergreen with 67.1%. There were 6 more carriers with schedule reliability of over 60%. The remaining carriers all had schedule reliability of 50%-60% and were within 5.0 percentage points of each other.
Yang Ming was the least reliable carrier in April 2023 with schedule reliability of 52.1%. Only 7 of the top-14 carriers recorded a M/M improvement in schedule reliability in April 2023, with Evergreen recording the largest improvement of 4.6 percentage points. All top-14 carriers recorded double-digit Y/Y improvements, with Wan Hai recording a 43.5 percentage point improvement.
Source: sea-intelligence.com
---
IN BRIEF - Kurose Suisan merged with Satsuma Suisan Co., Ltd.

JAPAN
Wednesday, May 31, 2023


June 1st Nissui reorganizes its aquaculture subsidiary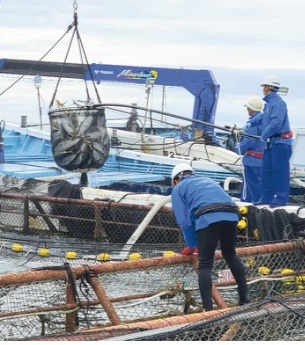 Landing Kurose yellowtail (provided by Nissui) Nissui (Chairman: Shingo Hamada) announced on the 30th that Kurose Suisan (Chairman: Naoki Kumakura, Kushima City, Miyazaki Prefecture), which grows and processes horse mackerel, and Satsuma Suisan (Kanoya City) , Kagoshima Prefecture, ditto), which grows amberjack, will start operations in June, they announced that they will merge on the same day.
The company aims to strengthen its corporate power by expanding the business scale of Kurose Suisan and integrating the overlapping operations of the two companies. Kurose Suisan will be absorbed and merged, and the function of Satsuma Suisan will remain as a division of Kurose Suisan, continuing to farm amberjack.
Source: Minato Yamaguchi (translated from the original in Japanese)

---

NORWAY
Wednesday, May 31, 2023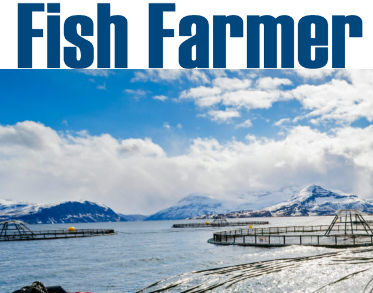 Bacterial kidney disease (BKD) has been detected or is suspected at four salmon farms in central Norway, the country's Food Safety Authority (Mattilsynet) has reported.
The four sites in an area known as PO6, are all thought to be managed by the Lerøy Midt's division of the Lerøy Seafood Company.
It is many years since BKD was discovered in that part of the country. BKD is a chronic disease caused by the bacterium Renibacterium salmoninarum and occurs worldwide where salmonid fish are found.
Author: Vince McDonagh/ FishFarmer | read the full article here
---
Other Media | SeafoodSource: CP Foods, Nichirei initiate mangrove restoration project in Thailand

THAILAND
Wednesday, May 31, 2023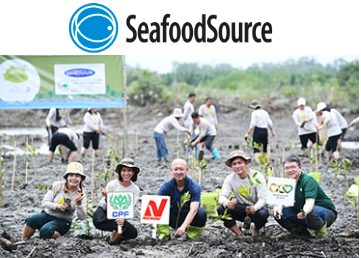 Charoen Pokphand Foods Nichirei Fresh have launched a biodiversity and mangrove protection project in Thailand.
Bangkok, Thailand-based CP Foods and Tokyo, Japan-based Nicherei are two of the world's largest seafood companies. In a press release, they said they embarked on the project as part of their shared commitment to work toward attainment of the United Nations' Sustainable Development Goals.
Author: Cliff White / SeafoodSource | read the full article here
---
IN BRIEF - 'Space octopus' sold at a store in Oita Airport, developed by 'Bakusou SAKI'

JAPAN
Tuesday, May 30, 2023


The founder of this collaboration product is Mr. "Bakusou Saki", who belongs to Yoshimoto Kogyo and is active as a "desert runner" who continues to challenge desert marathons around the world. She moved to Oita in 2014 as part of Yoshimoto Kogyo's "Living Entertainer" project, and is engaged in community-based performing arts and community contribution activities.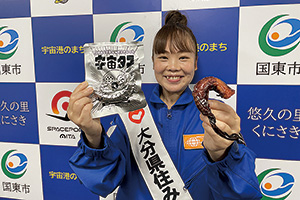 In 2019, when he suffered from altitude sickness at a race held in the highlands of Chile, which was his second attempt at a desert marathon, he thought, "If I'm going to die anyway, I'd rather eat meat and fish." A desire to develop portable meals arose.
Seeing the news that Oita Airport was certified as the first spaceport in Asia, I sensed the potential for the future, and moved from Oita City, where I lived until then, to Kunisaki City. After 2 years of development and research with the cooperation of local Kunisaki Bussan, we commercialized "Space Octopus His Spacy Flavor".
Source:
Suizan Keizai Daily News
(translated from original in japanese)

---