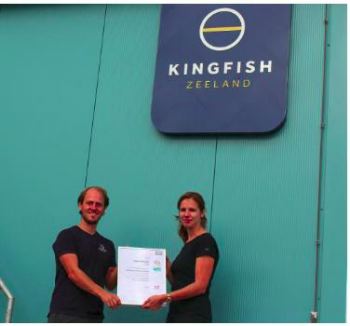 The ASC has welcomed the first Dutch farm to its programme after Kingfish Zeeland achieved certification against the ASC seriola standard.(Photo: ASC)
Dutch farm first to achieve ASC seriola standard

(NETHERLANDS, 9/28/2018)
Kingfish Zeeland becomes not only the first Dutch farm to enter the Aquaculture Stewardship Council (ASC) programme but also the first one in the world to achieve the ASC seriola or Pacific yellowtail standard.
The firm, which raises Pacific yellowtail (Seriola lalandi), commonly referred to as kingfish or hiramasa (Japan), obtained the certification following an audit by third-party certification body SGS.
The seriola is found in the Southern Pacific Ocean and traditionally shipped to Europe from Australia and Japan, where it is highly valued. It is a sashimi grade fish that is used for making suchi.
"The ASC was established in The Netherlands, and there is a great consumer demand for responsibly-sourced seafood here, so we are delighted to see Kingfish achieve certification in this country. Dutch consumers now have the opportunity to enjoy this delicious fish with the knowledge that it has been locally produced to the high environmental and social standards required by the ASC," said Esther Luiten, ASC Commercial Director.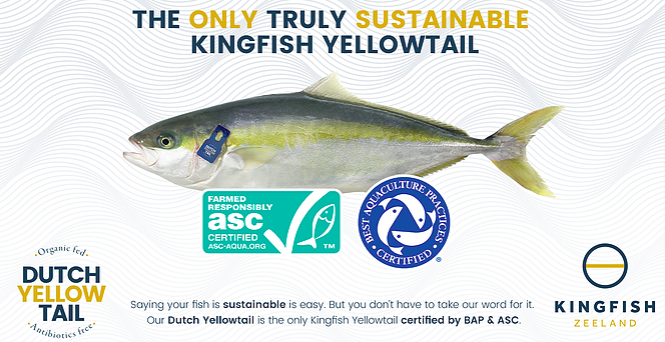 Kingfish Zeeland taps into the pristine marine estuary water of the Oosterschelde, a Natura 2000 nature reserve working to deliver an organic fed, antibiotics free, healthy premium delicacy: the Dutch yellowtail (Seriola lalandi/Pacific yellowtail/hiramasa/often used interchangeably with close cousin hamachi).(Photo: Kingfish Zeeland)
For his part, Ohad Maiman, Kingfish Zeeland CEO, stressed that as the world's first yellowtail source certified by ASC they are now able to service some of the world's most demanding buyers, and offer their customers the peace of mind of knowing their fish was farmed responsibly.
The founders of Kingfish Zeeland: Ohad Maiman, former VP of the Merhav Group; Kees Kloet of Silt Farm; and Hans den Bieman, Director of Sealand and former CEO of Marine Harvest, bring a unique and complimentary combination of hands-on yellowtail farming, senior management in the Aquaculture field, and a diverse project development background. (Photo: Kingfish Zeeland/FIS)
Naghmeh Raiyat, SGS Vice President Global Food Audit, Certification & Training Solutions, commented that the SGS independent assessment confirms that Kingfish Zeeland BV is committed to, and operates with, high environmental and social standards, thereby producing sustainable and responsibly grown Seriola.
The Kingfish farm is a land-based recirculating aquaculture system (RAS) in the province of Zeeland. It uses North Sea water from an estuary in the Oosterschelde nature reserve. Certified organic feed is used for the fish, and the farm is powered by 100 per cent renewable energy.

[email protected]
www.seafood.media
Information of the company:
Address:
Oost-Zeedijk 13
City:
Kats
State/ZIP:
(4485 PM)
Country:
Netherlands
Phone:
+31 (0) 113 74 54 61
E-Mail:

[email protected]

More about:
Approval / Accreditation / Certified / Oversight by...