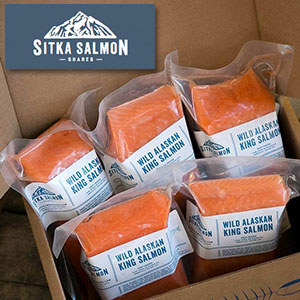 Fish is individually portioned, vacuum-sealed and blast-frozen to lock in that just-caught taste.
From Boat to Door-Step

(UNITED STATES, 1/18/2018)
Sitka Salmon Shares is a completely integrated boat-to-doorstep seafood company. This Community Supported Fishery (CSF) is a members-based organization that allows you to purchase a "share" of the harvest of one of its independent, small-boat family fishermen. You enroll at 3, 7, or 9-month intervals. Each share includes a specific selection of the species that Sitka Salmon harvests. In 2018, these species include wild Alaskan king salmon, sockeye salmon, coho salmon, keta salmon, lingcod, black bass, black cod, Pacific cod, yelloweye, dusky rockfish, spot prawns, Dungeness crab, albacore, and halibut.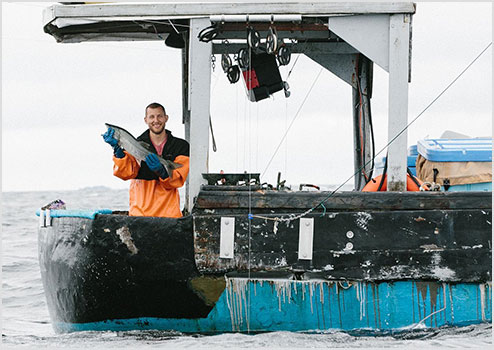 Sitka Salmon Shares brings responsible and sustainable wild Alaskan seafood from its fishermen-owners direct to your door.
You have the option of paying for your share in full at the beginning of the season or spreading out your payments through monthly installments. Prices range from USD15 to USD25 per pound, depending on the species you choose and the quantity you buy.
As a member, you'll also have access to special sales, discounted annual enrollments, monthly newsletters, recipes, BBQs, salmon bakes, cooking classes, fishermen events, and exclusive pop-up dinners with celebrated Midwestern chefs.
Every month during fishing season, you get a box of wild Alaskan seafood
hand-delivered
right to your door by one of the affable and well-mannered Sitka Salmon Stewards.
Sitka Salmon Shares has a lovable group of fishermen-owners who deliver its fish. One of the 20 fishermen-owners or partner fishermen catch your fish. Sitka´s fishermen meticulously catch and handle each fish with care virtually unheard of in the world of large factory boats and corporate-owned fish farms.
Sitka Salmon Shares harvests every fish individually, using hook-and-line methods that are virtually unheard of in a system dominated by factory ships that indiscriminately catch most of the world's harvest in large nets.
Your fish are then landed in either Sitka at the small company-owned processing plant, or one of its partner docks in Alaska. There they are filleted and cut into portions of about 1 pound, give or take a few ounces. Each fillet is then individually vacuum-sealed and blast-frozen to -60 degrees Fahrenheit before being shipped to the Midwest. Meanwhile, your Dungeness crabs are broken into clusters of legs and claws, cooked, and glazed, while your spot prawns are headed, glazed, blast-frozen, and packed in bags of about 2 pounds. Then your share from the fishermen's harvest is boxed up, taking care to make sure you know who caught your fish, where, and when.
Sustainability from Sitka Salmon Shares on Vimeo.
At Sitka Salmon Shares, you're joining a community of artisan fishers, healthy eaters, foodies, and Alaskan adventurers in their collective efforts to rebuild America's seafood system from the ground up, all together actively supporting sustainably sourced seafood and independent, family fishermen who fish in much the same way their grandparents did.
Dr. Keith Cox on Quality Fish from Sitka Salmon Shares on Vimeo.
About Sitka Salmon Shares
Sitka Salmon Shares´ story begins in 2011, when a Midwestern college professor, Nic, and his two students traveled to Sitka, Alaska, for the summer. There, they engaged in conversations and deepened their understanding of the importance of protecting Southeast Alaska's wild salmon populations and the pristine environment that supports one of the world's last great salmon reserves.
They returned to the Midwest with boxes of line-caught, wild Alaskan salmon, harvested by their fisher friends in Sitka. To say the fish was well-received would be an understatement. People raved about the salmon's taste and were impressed by its traceability. They quickly made the connection between their consumption and the impact this small act could have on conservation efforts and the health of Alaska's sustainable fisheries. Perhaps, the group thought, they were on to something.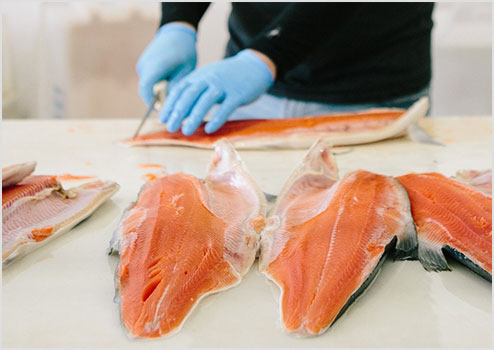 All of Sitka Salmon Shares´ fish are wild-caught in Southeast Alaska, by a group of equally wild (though extremely nice) fishermen.
While in Alaska, this band of merry Midwesterners met Marsh. Marsh was the self-styled foodie and passionate gourmand of Sitka's hook-and-line salmon fleet. A local legend on the Sitka dinner party circuit, Marsh's favorite pastime included sourcing ingredients from the wilds of Southeast Alaska and elevating them with techniques learned from stints in professional kitchens.
As you might suspect, Marsh's quest for perfect food spilled into his work as a commercial fisherman. He obsessively handled his fish every step of the way to guarantee that eaters on the other end of his line enjoyed the perfection he sought in his own kitchen—including his family down in the proud town of Green Bay, Wisconsin.
With a lot of passion and even more luck, Sitka Salmon Shares was born.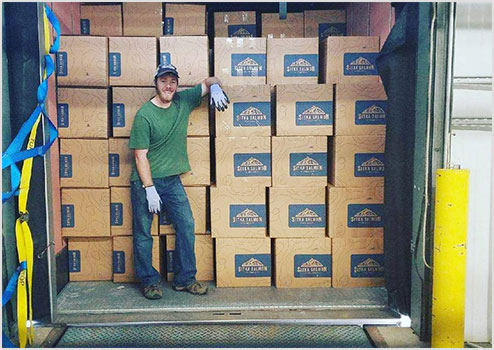 You do not need to be home to receive your share: Sitka Salmon Share´s will leave your fish nestled safely in an insulated tote where it will stay frozen for at least 7 hours.
Source: Sitka Salmon Shares

[email protected]
www.seafood.media
Information of the company:
Address:
216 Smith Street B
City:
Sitka
State/ZIP:
Alaska (AK 99835)
Country:
United States
Phone:
+1 309-342-3474
E-Mail:

[email protected]

More about: