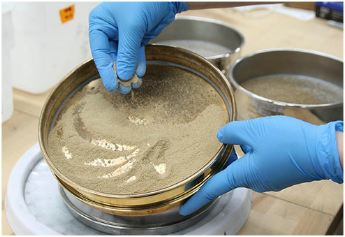 Shrimp larvae. (Photo: trū® Shrimp Company)
Food business partners Ralco's shrimp producer

(UNITED STATES, 8/15/2017)
The trū® Shrimp Company, an affiliate of Ralco, and US food business Schwan's Company, located in Marshall, Minnesota, have formed a strategic partnership designed to help propel in-land shrimp production forward.
Both companies said the deal will generate opportunities to work together in providing consumers with safe, natural shrimp. Jon and Brian Knochenmus of trū Shrimp have also invited Schwan's Company to designate a member to join the board of directors.
"We have been watching with great interest the concept and the progress that was being made by trū Shrimp. At Schwan's, we are intrigued and excited about the possibilities of in-land shrimp production and view this as an excellent opportunity to provide consumers with a predictable and traceable supply of nutritious shrimp," said Schwan's Company CEO Dimitrios Smyrnios.
For his part, Ralco President and CEO Brian Knochenmus said it is a rare opportunity for two companies with global distribution from southwest Minnesota to share such similar missions and values. The similarities make the partnership a perfect fit, he said.
"We are eager to be a part of this strategic relationship with Schwan's Company. This is our first opportunity to collaborate, and they are a proven company that brings great market insight and capabilities to assist the growth and development of trū Shrimp," said Knochenmus.
An initial point of cooperation for the companies is the renovation of available manufacturing space in Marshall owned by Schwan's. The space will be converted into the first shrimp-processing facility. There is a memo of understanding to lease the facility located in the Marshall Industrial Park to house the processing and packaging of shrimp for market. trū Shrimp is also working through the details of locating a shrimp hatchery in Marshall.
The Marshall Economic Development Authority (EDA) has been working diligently for years to ensure the epicenter of trū Shrimp take root in Marshall. This work has been confirmed by the partnership between the two companies.
Trū Shrimp CEO Michael Ziebell views the agreement as a major step forward for in-land shrimp production and clarified that work is progressing on every aspect leading to the production and marketing of safe and abundant shrimp.
The firm had this summer announced plans to build a 4,000-square-foot shrimp hatchery in Marshall and also committed to building a USD 50 million facility in Luverne, south of Marshall, where the baby shrimp will be transported for feeding and growth. The plant construction is to start at the beginning of next year.
"Economically and environmentally it makes much more sense to raise shrimp near their food source than to ship feed to shrimp raised in coastal ponds thousands of miles from the U.S. market," pointed out Ziebell.
Once the facilities are complete, the company estimates it will produce up to 8 million pounds of shrimp annually. The company is exploring additional sites in Minnesota for other bayous, or harbors, like the one being built in Luverne.
Ralco is a third-generation family owned multinational company with distribution in more than 20 countries, supporting large segments of the livestock, poultry, aquaculture and crop industries.
Schwan's Company is a privately held family-owned business that manufactures and markets quality foods through home-delivery, retail-grocery and food-service channels.

[email protected]
www.seafood.media
Information of the company:
Address:
330 3rd Street
City:
Balaton
State/ZIP:
Minnesota (MN 56115)
Country:
United States
Phone:
+1 844-220-7574
More about: