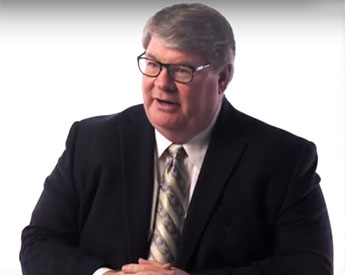 Trū® Shrimp Company CEO Michael Ziebell. (Photo: YouTube)
Tru Shrimp sets up plant to start producing shrimp in Minnesota

(UNITED STATES, 6/14/2017)
Trū® Shrimp Company has signed two letters of intent intended to set up its first shrimp production facility and a shrimp hatchery in Minnesota.
The shrimp production facility, Luverne Bay Harbor, will be set up in Luverne and implies an investment amounting to over USD 50 million and its shrimp hatchery, Marshall Cove Hatchery, will be built in Marshall.
In addition, the firm will renovate a vacant USDA-approved processing facility to prepare more than 8,000,000 lbs. of shrimp estimated to be produced annually in Bay Harbor.
The firm's representatives also announced the construction of a training facility, Balaton Bay Reef, in Balaton, adjacent to the trū Shrimp Innovation Center and Laboratory.
Construction of the training facility, hatchery and renovation of the processing facility is scheduled to begin this year and groundbreaking for the harbour is scheduled for early 2018.
"What is happening in Minnesota has not been done anywhere in the world. We are creating an industry that will supply the world with safe, clean, and abundant shrimp," pointed out President and CEO of the trū Shrimp Company Michael Ziebell.
Official statistics reveal that there are 1.6 billion lbs. of shrimp consumed annually in the United States and 80 per cent of it is imported largely from Southeast Asia.
The firm's CEO pointed out that the facilities in Marshall and Luverne will produce the most natural shrimp possible using a sustainable, antibiotic-free, and environmentally responsible approach.
"We are often asked why raise shrimp in Minnesota, and the answer is because the feed is here. Economically and environmentally it makes much more sense to raise shrimp near their food source than to ship feed to shrimp raised in coastal ponds thousands of miles from the US market. Until now, the technology to effectively raise shrimp in the Midwest United States on a large scale did not exist; now it does and we have proven it," Ziebell stated.
An economic impact study conducted by the University of Minnesota indicates that construction and operation of the facilities in Marshall and Luverne will provide a major economic boost to the region.
"This is a tremendous economic boon for Luverne and southwest Minnesota. The construction of this harbour is like the economic development created in Luverne by Mid-Pack during the 1960s," Luverne Mayor Pat Baustian said.
For his part, Marshall Economic Development Authority Director Cal Brink said becoming the center of a new industry will generate additional high-skilled jobs in Marshall now and well into the future.
Shrimp production is not just about protein as there is an important biomedical compound called chitosan that is created from shrimp shells, adding that trū Shrimp will be able to provide the medical industry with a dependable raw material supply.
The trū Shrimp Company is an affiliate of Ralco, a third-generation family owned multinational company with distribution in more than 20 countries.


[email protected]
www.seafood.media
Information of the company:
Address:
330 3rd Street
City:
Balaton
State/ZIP:
Minnesota (MN 56115)
Country:
United States
Phone:
+1 844-220-7574
More about: