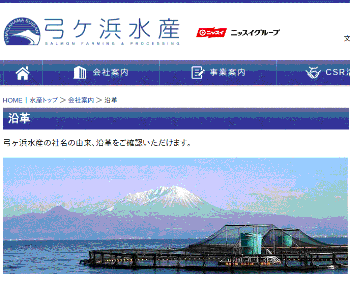 Automated offshore farming method. (Photo: Yumigahama Suisan Kaisha)
Nissui tests innovative automated offshore salmon farming system

(JAPAN, 11/25/2016)
A massive offshore fish farming system whose automated feeding technology promises to drastically reduce manpower requirements has been developed, opening up new frontiers in Japan's aquaculture industry as well as worldwide.
The development of the system was carried out by Nippon Steel & Sumikin Engineering, which plans to pitch it to fishery companies grappling with labour shortages and rising costs.
It also hopes to eventually export the system to other Asian countries in the form of engineering, procurement and construction projects.
The new system will be put through its paces off the coast of Tottori Prefecture, in western Japan, at a coho salmon cultivation facility run by Yumigahama Suisan Kaisha, a group company of marine products giant Nippon Suisan Kaisha (Nissui).
The facility features an 18-metre-tall steel tower standing 3km off the coast, with fish pens extending 150 metres from the tower.
A senior manager working for the company that developed the new system pointed out that the food stored in tanks, which can store enough food to last three to seven days, depending on the size of the fish, will automatically be transported to pens through pipes at the bottom of the ocean.
The tower is equipped with blowers, which use air pressure to deliver food to the pens, and power generators.
These devices can be operated from land via PCs and tablets, meaning farmers do not have to go to the pens for feeding. This automated system is estimated to require only one-third the manpower needed for conventional feeding methods.
Using artificial food equipped with built-in sensors and attached to the pens, the system also makes it possible to monitor fish's eating habits.
Through these sensors, data on how often fish bite at the fake is collected every 0.1 second and transmitted to farmers on land.
The system makes it possible to determine the appetite levels of fish by the frequency of their biting and automatically adjust the amount of food according to their hunger levels so that quality salmon can be farmed with zero waste.


[email protected]
www.seafood.media
Information of the company:
Address:
Nippon Bldg., 2-6-2, Otemachi
City:
Chiyoda-ku
State/ZIP:
Tokyo (100-8686)
Country:
Japan
Phone:
+81 3 3244 7000
E-Mail:

[email protected]

More about:
Approval / Accreditation / Certified / Oversight by...