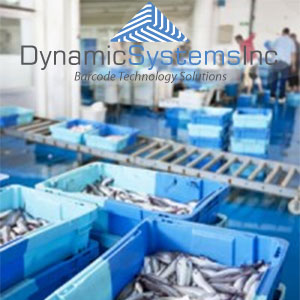 Traceability and Labeling Software for Seafood Processors

(UNITED STATES, 8/25/2016)
Barcode Software is designed to "track, trace or count" your assets, which can be equipment, tools, inventory or important documents. Well-designed software is easy to navigate, intuitive to use and provides your company key important information.
Dynamic Systems has over 30 years' experience in the barcode industry. What this means to you is that software utilizes barcode technology in the most effective method to maximize your productivity while eliminating errors.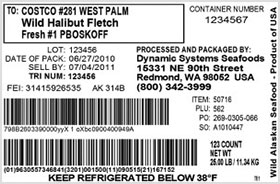 One of the core functions of SIMBA is printing professional labels, both interim for the warehouse and finished goods for customers.
SIMBA is a full-traceability solution designed to work on the plant floor ofseafood processors, meat packers and fresh produce grower/packer/shippers. It provides detailed production data including yields, traceability by lot, carton or product, inventory tracking and shipment reporting, and prints compliant labels such as the PTI case and pallet label as well as customized labels that contain logos or foreign characters. The system provides extensive real-time reporting, is configurable off the shelf and affordable for even smaller producers.
SIMBA's Automated Real-Time Solution for the Seafood Processor combines the latest technology with a flexible solution that resides on your plant floor to increase productivity and eliminate keyed data entry without changing your established processes.
SIMBA is a scalable system that can grow as your business expands. All versions offer label printing and traceability along with various, shipping and audit reports.
SIMBA manages your production, packing, inventory and shipping processes. The system produces barcode labels to your specification, provides complete end-to-end traceability, and can integrate into your accounting system so that you and your sales people have current inventory moment to moment.

SIMBA can calculate the yield from any product that is produced in consistent batches with clean inputs and outputs.
SIMBA offers:
Accurate Inventory: SIMBA keeps detailed inventory records, tracing the carton to a location or accumulating cartons onto a pallet. Move the carton, remove it from one pallet and put it on another—all is tracked by SIMBA.
Production detail minuto-by-minute: SIMBA records production as it happens. All production information is recorded in detail (product, lot, carton number, date, etc.) when the label is printed. The system is fast and easy-to-use.
Traceability: Respond to customers' traceability requirements and print their compliant labels. Each lot, carton, or pallet can be traced back to it's origin. SIMBA can print labels faster than you can put them on the boxes!
Shipping information in detail: With the Van Loading feature, SIMBA records which carton or pallet is loaded onto what van. A bill of lading and a manifest are created with weight automatically calculated. This complete record eliminates customer short-shipment disputes
SIMBA's Automated Real-Time Solution for the Seafood Processor offers three alternatives: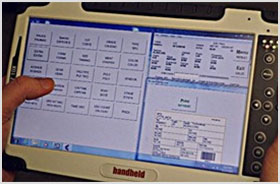 Use a mobile Windows tablet or a touch screen kiosk to collect variable attributes of the product and print labels or tags. Transmit that information via cell network, wireless, or upload at receiving.
SIMBA Basic is designed for the start-up or smaller seafood processor who wants to manage the business but cannot afford enterprise level solutions. It will also work for larger processors who pack volumes of "the same" product at a time. This version of SIMBA uses barcode seafood labels pre-printed in the plant office to label packed cartons on the plant floor and record product details.
SIMBA Professional takes the process of recording products and carton labeling to the next level with this process occurring in real-time on the plant floor.
SIMBA Professional Seafood traceability software includes functionality such as re-boxing, automated weight calculations (connect SIMBA to scales) and includes SIMBA Logistics at no extra charge.

SIMBA's Logistics module uses mobile barcode scanners to record carton or pallet locations, allowing for moves (relocation) of inventory as needed.
SIMBA Enterprise offers high volume seafood processors the ability to record product details in real-time without slowing down the production line. This robust version of SIMBA will handle an unlimited number of cartons per day and can be integrated with: Scales for automated weight calculations, Barcode printer/applicators that eliminate the manual labeling of packed cases, High-speed conveyors and sorting systems.
About Dynamic Systems
Dynamic Systems develops bar code traceability software, provides a robust portfolio of professional business services, and bar code hardware for the complete solution. The company is based in Washington State but serve customers across the world.
Source: Dynamic Systems
[email protected]
www.seafood.media
Information of the company:
Address:
PO Box 698
City:
Kirkland
State/ZIP:
Washington (WA 98083)
Country:
United States
Phone:
+1 (425) 216-1204
Fax:
+1 (425) 861-3976
E-Mail:

[email protected]

More about: