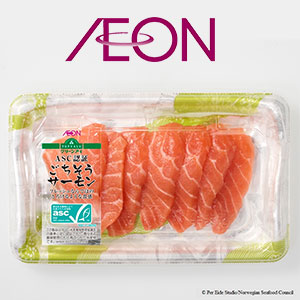 AEON predicts that ASC certified products will expand on a wide scale globally in the coming years
AEON Aims to Increase Sales of ASC Certified Seafood in Japan

(JAPAN, 9/7/2015)
AEON, Japan's largest retailer, has announced its plans to increase the volume of ASC (Aquaculture Stewardship Council) certified seafood available across its stores.
At a press event in Tokyo, Ms Tsuchiya, Director, Senior Executive Officer, General Food Merchandising Planning Division at Aeon Retail, declared that AEON intends to increase share of MSC (Marine Stewardship Council) and ASC certified seafood sales by ten percent, from the current three percent, by 2020.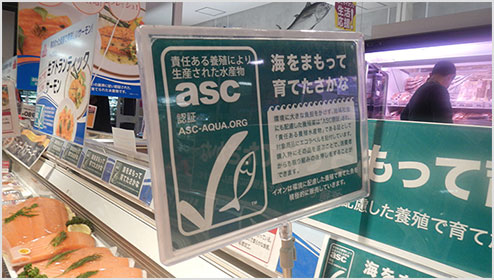 AEON, Japan's largest retailer, was the first store in the country to sell Aquaculture Stewardship Council (ASC) certified salmon.
AEON also revealed plans to expand the sale of its own brand, Topvalu Gurinai, ASC labelled Atlantic salmon.
Referring to the forthcoming Tokyo 2020 Olympic Games, Ms Tsuchiya confirmed that the fact that ASC certified farmed seafood will be served at the Rio 2016 Olympic and Paralympic Games is a clear sign that recognition of certified seafood is increasing worldwide.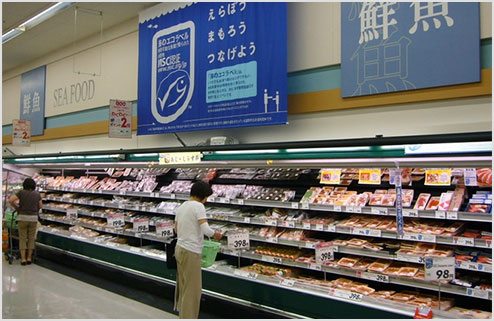 AEON will also increase the volume MSC certified seafood.
The Rio 2016 Organising Committee has pledged that by the time of the Rio 2016 Olympics all of the seafood coming from aquaculture that enters the Olympic village will be ASC certified.
AEON predicts that ASC in particular will expand on a wide scale globally in the coming years, and it sees the Tokyo 2020 Games as an opportunity to introduce more ASC certified seafood in Japan.
AEON sources its ASC certified farmed Atlantic salmon from the Lerøy Aurora Aroya Farm, which is part of the Lerøy Seafood Group.
In 2014, AEON became the first retailer to introduce ASC certified salmon to the Japanese market. About 1,200 AEON Group stores currently sell ASC certified Atlantic salmon across the country.
In the same year, AEON also brought ASC certified pangasius to Japan, helping to increasing the presence of ASC certified seafood in this important market.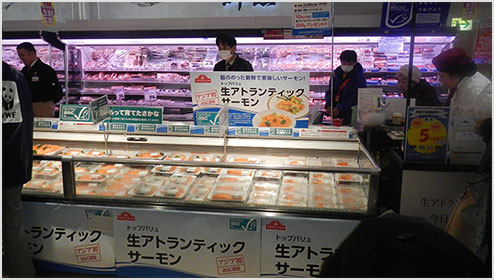 AEON also revealed plans to expand the sale of its own brand, Topvalu Gurinai, ASC labelled Atlantic salmon.
About AEON
ÆON Co., Ltd. commonly written AEON Co., Ltd., is the holding company of Æon Group. It has its headquarters in Mihama-ku, Chiba, Chiba Prefecture.
It operates all the AEON Retail Stores (formerly known as JUSCO supermarkets) directly in Japan. Meanwhile AEON CO. (M) BHD operates all the AEON Retail Stores directly in Malaysia.
ÆON is the largest retailer in Asia. ÆON is a retail network comprising around 300 consolidated subsidiaries and 26 equity-method affiliated companies ranging from convenience stores "Ministop" and supermarkets to shopping malls and specialty stores, including Talbots. ÆON is Japan's single-largest shopping mall developer and operator.
Source: ASC
[email protected]
www.seafood.media
Information of the company:
Address:
1-5-1 Nakase Mihama-ku
City:
Chiba-shi
State/ZIP:
(CHB 261-8515)
Country:
Japan
Phone:
+81 43 212 6085
More about: