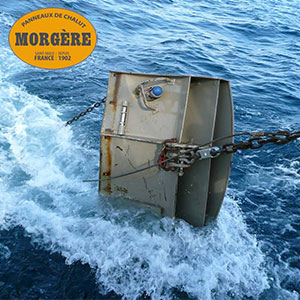 Morgère has established its leading position due to continual innovation and the creation of trawl doors.
Morgère to Promote their Popular Range of Trawl Doors at Icelandic Fisheries Exhibition

(FRANCE, 8/27/2014)
Morgère will be promoting their range of trawl doors at the Icelandic Fisheries Exhibition (25 - 27 September), which are proving popular with many Icelandic skippers for their versatility and consistently good catch rates.
Both the PV3L and V3 trawl door types will form the main focus of Morgère's presence at the expo, where they will be exhibiting on the Isfell stand (D20), who is their Icelandic agent.
This latest generation of bottom doors is the result of more than 50 years' research and based on the experience of previous generations.
In recent months several Icelandic skippers have praised the performance of the PV3L door, including Skipper Guðmundsson Margeir of the Skinney SF who described the doors as being "…easy to shoot and manoeuvre" and are "powerful and stable".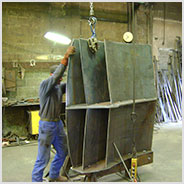 Morgère validates prototypes through rigourous offshore tests in real-life conditions.
Ólafsson Sigurður, skipper of the Sigurdur Olafsson SF, was equally impressed: "Their size fits perfectly with my gear, and is effective and sits well, enabling me to use less warp length than before."
The V3 door is also widely used in Iceland with its almost oval shape allowing a smoother passage over rocky seabeds. The doors are particularly successful for targeting groundfish and key features include a consistent spread and excellent stability, with the capacity for a very quick recovery.
Michel Dagorn, director for Morgère, said: "Icelandic skippers have for a long time recognised the benefits of using Morgère trawl doors, and their feedback over the years has proved incredibly useful for us in refining our designs to suit their particular requirements."
"We are looking forward to meeting with existing and new customers at the Icelandic Fisheries Exhibition. We are always impressed by the dynamism and innovation that lies at the very heart of the Icelandic fisheries sector", added Michel Dagorn.

Morgère always ensures that new and proposed products fully meet your expectations for successful fishing.
About Morgère
Morgère was founded in 1902. Operating on five continents, Morgère is one of the world's leading specialists in trawl doors and its dedicated to serving the fishing industry.
Morgère has established its leading position due to continual innovation and the creation of trawl doors that are the result of extensive hydrodynamic studies.
The company's global experience in a full range of different fisheries, including pelagic and demersal fishing, has enabled to bring to the fishing industry the most efficient technology, maximising catches at the lowest energy cost. This is highlighted by its new V3 and PV3 doors which reduce drag and therefore fuel consumption.
Source: Morgère

[email protected]
www.seafood.media
Information of the company:
Address:
10 Avenue Louis Martin
City:
St Malo
State/ZIP:
(FR35400)
Country:
France
Phone:
+33 2 99 56 14 36
Fax:
+33 2 99 40 03 43
E-Mail:

[email protected]

More about: