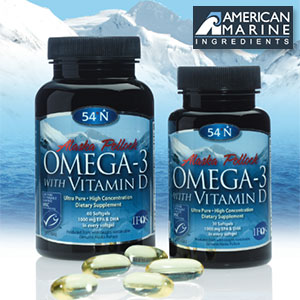 54°North Omega-3 with Vitamin D3 an ultra-pure, highly concentrated omega-3 supplement. (Photo Credit: Richard Draves)
Identifying Tomorrow's Markets Today

(UNITED STATES, 11/13/2013)
Recognizing the importance of identifying and commercially developing new products from sustainable fisheries, American Seafoods Group created American Marine Ingredients (AMI), staffed it with its best product development and industry experts, and invested the resources to ensure to efficiently maximize the value of the company's fish harvests.
American Marine Ingredients satisfies the worlds' growing nutritional needs with quality marine ingredients made from sustainable and natural fisheries resources for foods, dietary supplements, and animal nutrition.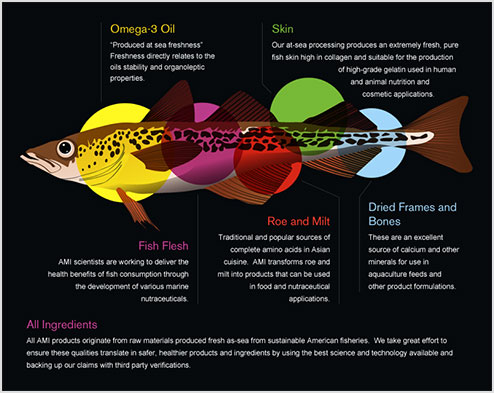 All American Marine Ingredients originate from raw materials produced fresh as-sea from sustainable American fisheries. (Image Credit: Irridio)
American Marine Ingredients leverages the American Seafood's core competencies of sustainable marine nutritional research and innovation as well as the corporate commitment to protecting the environment by considering economic, environmental and social factors to ensure that its ingredients offer safe, efficient and sustainable health solutions.
All AMI ingredients originate from raw materials produced fresh as-sea from sustainable American fisheries. The company takes great effort to ensure these qualities translate in safer, healthier products and ingredients by using the best science and technology available and backing up its clams with third party verifications.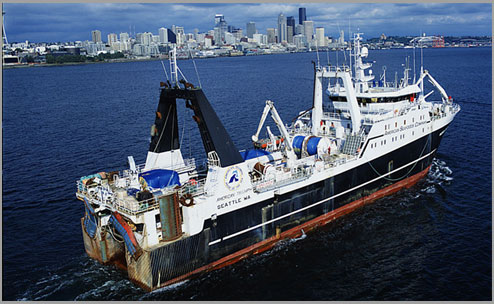 American Seafoods' fleet of six state-of-the-art catcher processors are engineered to fully utilize the fishery resources of Alaska and the Pacific Northwest.
(Photo Credit: American Seafoods)
Since the company control the harvest, processing and logistics, it can provide customers with complete traceability, all the way back to the vessel and the date the fish was caught.
American Marine Ingredients is focusing on four primary applications for its new product development.

Human Nutrition: All American Marine Ingredients refined fish oil, derived from its own ultra-fresh crude fish oil produced at-sea, provides the freshest high-purity fish oil available today.
The company has branded its own omega-3 concentrate "54° North" fish oil to help build a differentiated story with consumers.
The company's other priorities are to maximize the human nutrition potential by developing new products made from its own Alaska Pollock roe and Alaska Pollock and Pacific hake skins and milt.
These products are used as flavour enhancers, emulsifiers, improving texture, and adding nutrition to many food applications.

Cosmetic applications are another exciting opportunity for American Marine Ingredients. Collagens derived from fish can be used to enhance the performance of cosmetics and hair care products.

Animal Nutrition: American Marine Ingredients animal nutrition fish products hold tremendous potential for providing all-American sourced high nutrition marine products for animals.
Its whitefish meal is already an important and high value ingredient in specialty aquaculture feeds.
The company is also working with pet food suppliers on application of fish skins as nutritious dried treats for companion animals.
Industrial: In the future, American Marine Ingredients is identifying other industrial applications for products that can benefit from its unique "fresher than fresh" qualities.
About American Marine Ingredients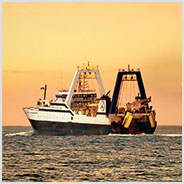 American Seafoods vessel.
Photo Credit:Timothy Thomas
American Marine Ingredients is a subsidiary of American Seafoods Group, one of the world's leading vertically-integrated seafood companies that includes American Seafoods Company and American Pride Seafoods.
The company's ability to utilize the cumulative expertise, experience and resources of these companies puts the company in the strongest possible position to develop and bring to market products that deliver the healthfulness of fish.
American Seafoods has four certified sustainable fisheries, six state-of-the-art catcher processors and more than 1,000 experienced employees dedicated to providing customers with the finest seafood products in the world.
Source: American Marine Ingredients
Related News

Information of the company:
Address:
2025 First Avenue, Suite 900
City:
Seattle
State/ZIP:
Washington (WA 98121)
Country:
United States
Phone:
+1 206.448.0300
Fax:
+1 206 374 1516
E-Mail:

[email protected]

Skype:
https://www.instagram.com/americanseafoods/
More about:
Approval / Accreditation / Certified / Oversight by...