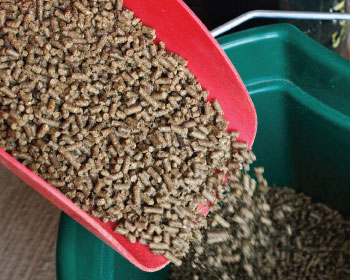 Cargill feed. (Photo Credit: Cargill)
Cargill purchases shrimp feed manufacturer

(THAILAND, 7/11/2013)
Cargill's animal nutrition business has announced that it is purchasing Thai feed manufacturer Siamakme Aquatic Feeds Co, Ltd to grow its investment in the country's shrimp feed industry.
"Thailand is a major producer of fish and shrimp with strong growth potential, and we are delighted about this strategic acquisition because it strengthens our presence in Asia and provides a platform for further expansion in this important market," stated Watcharapong Poomongkutchai, managing director of Cargill Feed & Nutrition Thailand.
Jeanny Hung, managing director of Siamakme, stated that her company's goal was always to manufacture the best shrimp feeds in Thailand, which Cargill will help it do.
"We feel that under Cargill's ownership the business will be able to continue this legacy and tap into Cargill's global expertise to provide Thai shrimp producers with innovative solutions and high-quality products," Hung added.
Terms of the agreement were not disclosed.
Effective this week, Cargill has assumed 100 per cent ownership and operation of the Siamakme manufacturing facility located in Petchaburi. Founded in 2001 and expanded in 2008, the plant has a production capacity of 60,000 tonnes of shrimp feed per year.
Its location is ideal to serve shrimp producers in Thailand.
This new acquisition has been added to the list of Cargill's existing shrimp feed production capabilities in Mexico, Nicaragua, Honduras, Guatemala, Peru, Venezuela, India, Malaysia and Vietnam. With this new investment, Cargill will contribute more to its global Research and development capabilities, including 15 facilities worldwide where researchers develop new and improved feed technologies.
Cargill is an international producer and marketer of food, agricultural, financial and industrial products and services employing 142,000 people in 65 countries. Its activities in Thailand started in 1968 with the opening of a trading office in Bangkok.
Now, Cargill's operations consist of the origination, sourcing, processing, handling, distribution and marketing of a wide range of products including agricultural commodities, animal feed, poultry and food, as well as food and beverage ingredients. In Thailand, the company employs more than 12,000 people across nine locations.
Founded in 2000, Siamakme Aquatic Feeds Co, Ltd is an aquaculture feeds manufacturer specialising in the production of marine shrimp feeds, including black tiger shrimp, whiteleg (vannamei) shrimp and freshwater prawn. It runs a manufacturing facility in Petchaburi, Thailand.
By Natalia Real
[email protected]
www.seafood.media
Information of the company:
Address:
P.O. Box 5614
City:
Minneapolis
State/ZIP:
Minnesota (MN 55440)
Country:
United States
Phone:
+1 952 742 4195
Fax:
+1 952 984 1421
E-Mail:

[email protected]

More about:
Approval / Accreditation / Certified / Oversight by...