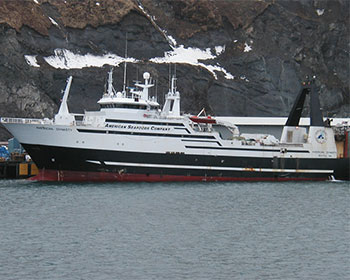 American Dynasty. (Photo Credit: American Seafoods)
Seattle-based American Seafoods fined USD 2.7 million

(UNITED STATES, 6/4/2013)
The US government is seeking more than USD 2.7 million from Seattle-based American Seafoods for misreporting their catch for many years. The company's scales on a factory trawler read 6-70 per cent less than what the catch technically weighs.
American Seafoods operates six factory trawlers that fish and process pollock off the Alaskan coast with a revenue of more than USD 500 million.

According to the National Oceanic and Atmospheric Administration (NOAA), the company has displayed a pattern of crew members tampering with the scales used to weigh fish aboard three of its vessels. This allowed crews to process more fish than their federally allowed quota, and officials are calling it "essentially stealing fish," Seattle Times reports.

The crews recorded these inaccurate weights in their logbooks, thereby violating the Magnuson-Stevens Fishery Conservation and Management Act and the American Fisheries Act.

NOAA's office of law enforcement has issued one violation notice in 2012 and two more last month, with the alleged violations dating back to 2007.

While federal regulations require that scales be 3 per cent off in their tallies at most, federal agents found scales that often weighed light from 6-17 per cent. In one extreme example in 2007, a federal fishery observer found the scales off by nearly 70 per cent.

"Violations of this magnitude have the potential to severely impact fisheries if left unchecked," declared Acting Special Agent in Charge Matthew Brown of NOAA's Alaska Division.

American Seafoods "takes seriously its commitment to sustainable fishing practices and has cooperated fully with NOAA in investigating these matters," the company said, and will respond to NOAA's allegations after it conducts a review.

A NOAA law-enforcement spokesperson stated that a 26 March hearing to take place before an administrative law judge about the American Dynasty violations was pushed back to leave time for the agency and American Seafoods to negotiate a "global settlement" for all three vessels.

Federal fishery observers that monitor the catches aboard the American Dynasty documented seeing crew members adjusting the scales during a two-year period ending in 2008. Then, when observers checked the scales, they reported that scales weighed light.

In January 2012, NOAA law enforcement finally issued the notice of violation against the company and the operator of the American Dynasty for the 2007 and 2008 incidents. By that time, observers had documented numerous violations aboard two other American Seafood vessels.

Federal officials allege that violations continued aboard another vessel through 29 March of that year.

Related article:

- American Seafoods Company fined for tampering with scales
By Natalia Real
[email protected]
www.seafood.media
Information of the company:
Address:
2025 First Avenue, Suite 900
City:
Seattle
State/ZIP:
Washington (WA 98121)
Country:
United States
Phone:
+1 206.448.0300
Fax:
+1 206 374 1516
E-Mail:

[email protected]

Skype:
https://www.instagram.com/americanseafoods/
More about:
Approval / Accreditation / Certified / Oversight by...