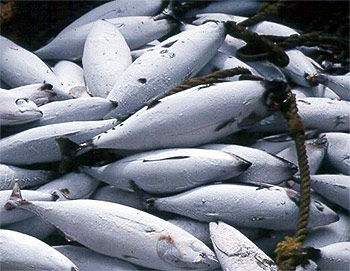 Frozen skipjack tuna from Fiji. (Photo: Terje Engoe/FIS)
PNA refutes 'alerts to consumers' regarding its tuna

(MARSHALL ISLANDS, 4/13/2012)
The Parties to the Nauru Agreement (PNA) has addressed ongoing erroneous "alerts to consumers" from the Earth Island Institute (EII) about Pacifical. The latter is a commercial initiative of PNA nations to trade sustainably harvested tuna from their territorial waters and which the Institute claims may be harming dolphins during its fishing operations.

"We understand Earth Island Institute is issuing alerts to consumers and directing our processors and buyers that Pacifical is not part of its 'dolphin safe' programme and therefore cannot be traded, or considered 'dolphin safe,' stated PNA Chairman Sylvester Pokajam.

"It is true that neither PNA nor Pacifical are part of the Earth Island Institute programme, but PNA's tuna is sustainably harvested and has a much higher standard of marine conservation and management. Further our standards are independently verified, something no other programme can claim," he asserted.

PNA noted that when dolphins are involved as bycatch – an "unlikely event" -- fishers take measures to release them alive.

Earth Island Institute informed that Pacifical is managed and part-owned by the manager of Atuna BV and Brusfoods BV, which in 2010 withdrew from the International Dolphin Safe programme. In addition, a recent request to Pacifical to consider joining Earth Island's Dolphin Safe programme went unanswered.

"Therefore, we cannot verify that these companies, including Pacifical, are providing Dolphin Safe tuna, and they do not have a current Dolphin Safe policy with our programme," the Institute summarized.

Also, while under terms of the Dolphin Safe Policy, companies should purchase tuna products only from companies that are approved and monitored Dolphin Safe companies on the list, Pacifical, Atuna BV or Brusfoods BV have brokered tuna from Seatech, a Colombian tuna company that regularly chases and nets dolphins, the Institute added.

Meanwhile, PNA Director Dr Transform Aqorau said PNA has attained Marine Stewardship Council (MSC) certification for free school skipjack tuna, which shows that its fishery and ecosystem is sustainable.

"We do not believe initiatives, like Earth Island Institute's programme, that allow companies to certify themselves are relevant or reliable today, they once had a role 20 years ago in the Eastern Pacific Ocean," he pointed out.

"In light of our findings of the invalidity of other programmes being pushed in our fishery, we are actually working on development of our own PNA sustainable dolphin safe label which will be a symbol for our sustainable management of the whole ecosystem, and available to all sustainably caught tuna from our waters, without charge or trade limitations. This will be discussed and released following the next annual meeting of the PNA in Alotau, Papua New Guinea," he announced.

PNA Commercial Manager Maurice Brownjohn added that PNA welcomes interested civil society stakeholders, regional bodies, fishing industry players, processors, traders and retailers to lend their support to the group as it develops a credible standard to offer consumers a reliable 'dolphin safe' sustainability standard for all tuna from its region.
By Natalia Real
[email protected]
www.seafood.media
Information of the company:
Address:
PNA Office PO Box 3992
City:
Majuro
State/ZIP:
(MH 96960)
Country:
Marshall Islands
Phone:
+692 625 7626
Fax:
+692 625 7628
More about: