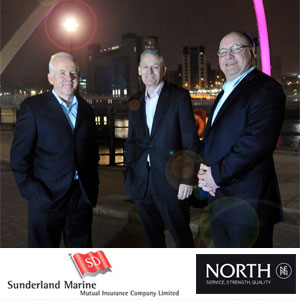 Alan Wilson and Paul Jennings, joint managing directors of North, with Geoff Parkinson, CEO of Sunderland Marine
Leading Marine Insurers Form Strategic Alliance

(UNITED KINGDOM, 2/14/2012)
Two of the UK's leading marine insurers, North East based Sunderland Marine Mutual Insurance (SMMI) and North of England P&I Association (North), have formed a strategic alliance by way of reinsurance that will further enhance their market leading positions in the UK and across the globe, paving the way for future growth and collaboration between the two companies.

SMMI, founded in 1882, based in Durham, is a recognised world leader in insurance of commercial fishing vessels, charter vessels and small commercial craft. The Company provides Hull and Machinery cover as well as Liability protection to clients in more than 50 countries around the world.

SMMI is also a major insurer of Aquaculture stock and equipment with the team of Aquaculture Risk Management providing a bespoke service to policy holders in more than 15 global locations
North, founded in 1860, is a 150 million GT 'A' rated P&I Club. With its head office in Newcastle, North specialises in the insurance of larger commercial vessels covering approximately 12 percent of the global tonnage entered with the International Group P&I Clubs. As a result of their differing portfolios, the companies do not compete directly with one another, making possible a collaborative agreement that will enhance and diversify their respective operations.
Both companies have grown significantly from their bases in the region and an ability to access one another's global networks, established market connections and respective local knowledge is a key element of the new agreement

Geoff Parkinson, Chief Executive of Sunderland Marine, said: 'Our two companies through their bases in the North East of England have enjoyed an open relationship for many years. Indeed, because of the diversity of interests between SMMI and North, a competitive situation has never existed.
"There are clear cultural and service synergies between North and SMMI and these will provide a strong foundation for this strategic alliance. It is an exciting opportunity for us both which will help facilitate greater market access and product diversification.

"The agreed business strategy between the two companies will result in teams from North and SMMI having access to the partnership's respective areas of expertise and local expertise and knowledge across the globe.

"Here in the North East where both companies are headquartered, the partnership will see the region's position as a world leader in Marine, Liability and Aquaculture insurance strengthened even further."
The senior management teams of North P&I and Sunderland Marine
North's Joint Managing Director Paul Jennings, said: "One of North's strategic objectives is to diversify not only the product range we offer to Members, but also to diversify and develop other sources of business income. The new reinsurance arrangement with SMMI forms part of our diversification policy and initiates a strategic alliance for us to collaborate in exploring and developing new business opportunities worldwide."

Sunderland Marine is seen as a world leader in the insurance of fishing and marine craft with over 12,000 policies in 50 countries
North's Joint Managing Director, Alan Wilson, added: "The complementary nature of SMMI's operations makes it an ideal partner. While we specialise in larger tonnage, which is not part of the SMMI portfolio, SMMI covers a wide spread of high-volume, small tonnage risks. An alliance will provide an opportunity to broaden and expand a combined liability portfolio."
About Sunderland Marine Mutual Insurance
Sunderland Marine Mutual Insurance was founded in 1882 and is a world leader in the insurance of fishing vessels, small craft and the aquaculture industry, with over 13,500 members insured on a direct basis.
Owned by its policy holders, it provides hull and machinery, war risks and P&I cover to vessels in addition to which it is the largest single insurer in the aquaculture market.
SMMI has 10 international offices in various locations in the USA, Canada, the Netherlands, South Africa, Australia, and New Zealand.

About North P&I club
ancillary insurance to 115 million GT of owned tonnage and 35 million GT of chartered tonnage, with 6,000 ships entered by 400 members.
The company is based in Newcastle upon Tyne, UK with regional offices in Hong Kong, Piraeus and Singapore. The club is a leading member of the International Group of P&I Clubs, with approximately 12 percent of the group's owned tonnage.
The 13 group clubs provide liability cover for approximately 90 percent of the world's ocean going tonnage.
Source: Press Ahead
Margaret E.L. Stacey
Editor Companies and Products
[email protected]
www.seafood.media
Information of the company:
Address:
Salvus House, Aykley Heads
City:
Durham
State/ZIP:
England (DH1 5TS)
Country:
United Kingdom
Phone:
+44 1913 740 400
Fax:
+44 191 3740 484
E-Mail:

[email protected]

More about: