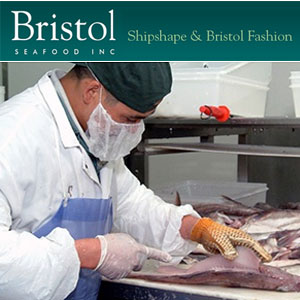 Bristol Seafood obtains its supply from strong viable fisheries
Shipshape and Bristol Fashion

(UNITED STATES, 7/3/2010)
Bristol Seafood Inc handles a variety of fresh and frozen seafood from domestic and international sources.The company is located in Portland, Maine, next to New England's oldest display fish auction.
Bristol Seafood has long held the philosophy that not only does the seafood industry need to proactively manage its renewable resources but the company as a leading Maine seafood business should adopt a corporate strategy that actively promotes this. In 2004 Bristol Seafood adopted this philosophy as part of its Mission Statement and Beliefs.

Bristol Seafood ensures that products are harvested from a sustainable fishery
The company currently is the leading contributor in the industry to the
Gulf
of
Maine Research Lab
that promotes scientific study of the ocean and its resources. In addition the company funds local educational programs directed at ocean or marine studies.
As a major processor in
New England
, Bristol Seafood obtains its supply from strong viable fisheries to ensure the company can purchase its products at competitive pricing and ensure the long term viability of the enterprise.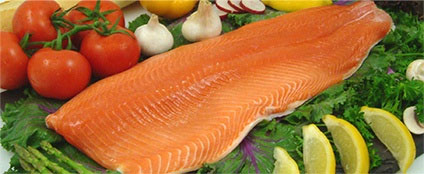 Bristol Seafood specializes in fresh North Atlantic fish, frozen at sea fish, and scallops
In addition, Bristol Seafood ensures that the product is being harvested from a sustainable fishery that will continue to provide the company and its customers with products into the future.
As a result
Bristol
actively buys products on a global basis. These include farm raised scallops, hook and line frozen at sea ground fish, and products from fisheries that are being proactively managed to ensure their long term sustainability.
Scallops are available year round
Bristol Seafood specializes in fresh North Atlantic fish, frozen at sea fish, and scallops. Many other species are available seasonally, but Haddock, Atlantic salmon and scallops are available year round.
The Bristol Quality Control Program is an internal set of controls designed to ensure that customers are provided with consistent, quality product. This program has been designed using the
HACCP
(
Hazard Analysis and Critical Control Point)
model and all appropiate federal standards and regulations have been incorporated.
About Bristol Seafood
Almost 200 years ago
Abba Seafood
, the market leading fish and seafood company in Scandinavia was founded in Sweden. In the earlies 1980's Abba introduced superior standards to America and opened a fish distribution centre in Maine.
Related Article
Margaret E.L. Stacey
Editor Companies and Products
Information of the company:
Address:
5 Portland Fish Pier
City:
Portland
State/ZIP:
Maine (ME 04101)
Country:
United States
Phone:
+1 207 774 3177
Fax:
+1 207 774 2982
E-Mail:

[email protected]

Skype:
https://www.instagram.com/bristolofmaine/
More about:
Approval / Accreditation / Certified / Oversight by...