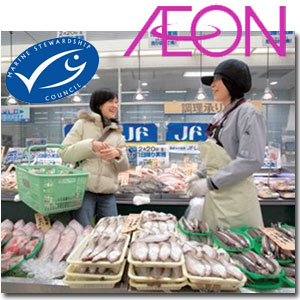 Aeon Sells MSC Certified Sustainable Bonito

(JAPAN, 3/4/2010)
The Japanese retailer Aeon Co., Ltd. (Public, TYO:8267) has started selling bonitos caught sustainably certified by the MSC (Marine Stewardship Council) at all its supermarkets across Japan.
The Jusco Shinagawa Seaside store in Tokyo's began to sell MSC-labeled bonitos at a dedicated booth set up at its fish section on Friday, with packs of 100 grams of sashimi with a retail price between 298 and 398 yens . "We want eco-conscious customers to enjoy the bonitos," an Aeon official said.
Mr Myojin

Tosakatsuo Suisan Group, headquartered in Kochi Prefecture, which obtained a MSC certificate last November for its pole and line fishing method,
supplies with bonitos in bulk to Aeon. Mr Myojin, President of the Tosakatsuo Suisan fishery says "During Japan's post-war economic boom, rural fishery and agriculture businesses suffered as urbanisation resulted in underpopulated and aging rural societies. Adding value to our seafood products, for example, through internationally-recognised certification such as the MSC ecolabel, allows our rural societies flourish and maintain their traditions."
Aeon launched its first 11 MSC-labelled seafood products in November 2006 and now they offer to their customers over 20 products carrying the distinctive blue eco-label of the Marine Stewardship Council (MSC), marking the start of a commitment to sustainable seafood. The products are available in Jusco, MaxValu and other stores in Japan under the TOPVALU Green Eye private brand and include salted salmon fillets, salmon roe, pollock roe, cod roe and hoki. Consumers can easily spot the products by looking for the MSC's blue eco-label on packaging.
Aeon's move to source from fisheries that have been independently certified as sustainable and well managed is a clear signal that Japanese consumers are ready to look for the best environmental choice in seafood.
Aeon
's Director of Marine Products Division,
Kazuhiko Nanya
, commented at the time that for their customers, a
Aeon is working to preserve and pass on a fish-eating culture
commitment to sustainability engenders confidence that fish will continue to be on the dinner table in years to come. That's why Aeon decided to introduce MSC products, he said. The company viewing is in terms of global environmental conservation, and with the cooperation from customers as introducing MSC products in more premises, at the same time Aeon has been able to expand their private-brand MSC products.
The products come from four fisheries that meet the MSC's strict environmental standard - New Zealand hoki, Alaska salmon, Alaska pollock and Pacific cod freezer longline fisheries.
In 2007, MSC reached its 1,000th product, Green Eye Hot Pollock Roe (Karashimentaiko) and it was first sold in
Aeon's supermarkets throughout Japan. The MSC-labelled products are available in all supermarkets of Aeon's 16 companies.
Aeon Co., Ltd. is a group of 155 companies
operating more than 450 General Merchandise Stores, over 750 supermarkets in Japan including fashion stores, financial services and amusement facilities.
The word aeon has its origins in a Latin root meaning "eternity." The customers' beliefs and desires comprise the central core of Aeon's philosophy. At Aeon, the eternal mission as a corporate group is to benefit their customers, and operations are thus customer-focused to the highest degree.The company's basic principles are: "Peace", Aeon is a corporate group whose operations are dedicated to the pursuit of peace through prosperity; "People", Aeon is a corporate group that respects human dignity and values personal relationships and "Community", Aeon is a corporate group rooted in local community life and dedicated to making a continuing contribution to the community.
About Tosakatsuo Suisan Group
The
Tosakatsuo Suisan Group
skipjack tuna fishery uses the pole and line fishing method in which fish is caught one by one with a lure. This is a traditional fishing technique used in Japan, which is passed down from generation to generation and is based on the spirit of 'Mottainai', meaning 'a pity to waste'.
The selective fishing method ensures only fish of a certain size are caught as the size of the lure is too big for juveniles, leaving juveniles to mature. This ensures that the stock is sustained and also means that there are almost no discards during the harvesting process.
Related Article
Margaret E.L. Stacey
Information of the company:
Address:
1-5-1 Nakase Mihama-ku
City:
Chiba-shi
State/ZIP:
(CHB 261-8515)
Country:
Japan
Phone:
+81 43 212 6085
More about: