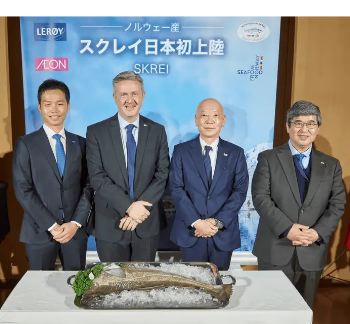 Photo: Seafood from Norway/PR Times
Norwegian premium cod 'Skrei' Japan's first landing Aeon

(JAPAN, 1/25/2023)
On January 20, AEON Retail launched Arctic wild cod "Norwegian Skrei" at about 60 AEON and AEON STYLE stores. Collaborated with Norwegian Fisheries Council (Tromso, Norway) and Japan Leroy (Arakawa-ku, Tokyo).
The Norwegian Fisheries Council has collaborated with Japan Leroy Co., Ltd. to release the premium fish "Skrei", which can only be caught for a limited time in Norway from January, for the first time in Japan. "Skray", which was transported to Japan by air without being frozen even once, was pre-sold at Aeon Style Shinagawa Seaside on January 19th, and for a limited period of several weeks from the 20th, "Aeon" nationwide. It will be sold at about 60 "AEON STYLE" stores.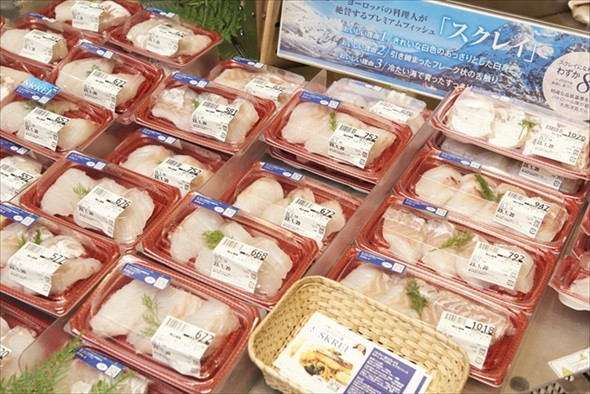 Photo: IT Media
"Skrei" means "vagrant" and is a type of Atlantic cod that can only be caught off the Norwegian coast from January to early March each year. Norwegians call the special "skrei", which can only be caught at a limited time and place, the "Norwegian miracle", and in Europe it has been enjoyed for many years as a premium seasonal fish.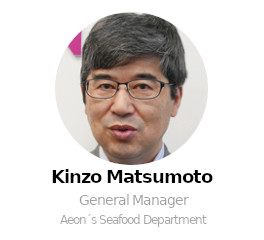 Skrei migrate every year to spawn over a distance of about 1,000 kilometers from the ice-rich Barents Sea on the European side of the Arctic Ocean to the relatively warm waters off the northern coast of Norway. that it melts when heated and the refreshing taste are highly praised by chefs around the world.
And while it's a delicious, lean white fish, skrei contains several key nutrients, including omega-3 fatty acids, vitamins, protein, and iodine.
"Skrei" is the only fish in the world that has a specialized quality inspection organization, and the items specified by the Norwegian Seafood Council (packed within 12 hours of being caught, stored in a temperature zone of 2°C or less, and stored in a designated place) It is characterized by classifying, processing and packaging by means of fishing, etc.). Only those that meet these strict standards are sold with the "Skrei" quality label.
The Skrei will be flown to Japan raw without being frozen once. Due to the difficulty of establishing a stable supply network for Skrei, it had never been sold in Japan. This year, we have finally delivered to Japan from the Lofoten Islands and the Vesteroden Islands, which are located in the Arctic Circle of Norway, where "skrei" is fished.
Kinzo Matsumoto, General Manager of Aeon Retail's Seafood Department, said, "By selling Skrei, we would like to create new needs. Starting next year, we would like to increase the number of stores that sell it."
"I would like to spread awareness about the fish called skrei. Skrei is also called Valentine's fish because families eat skrei on Valentine's Day. I would like to create such a culture for years to come."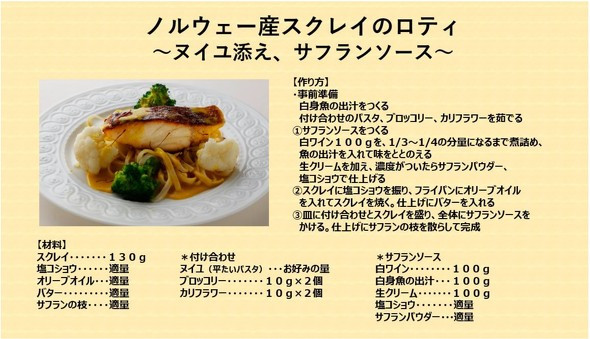 Skrei recipe "Mikuni's Hotel" by owner-chef Kiyomi Mikuni. Image: IT Media
The Skrei sold in Japan is fresh and never frozen, and is shipped by air. It has a unique texture and light white flesh, and when heated, it melts and melts and has a refreshing taste.
Source: PR Times / IT Media / Jacom
[email protected]
www.seafood.media
Information of the company:
Address:
1-5-1 Nakase Mihama-ku
City:
Chiba-shi
State/ZIP:
(CHB 261-8515)
Country:
Japan
Phone:
+81 43 212 6085
More about: