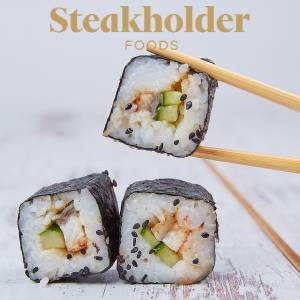 Steakholder Foods plans to penetrate the Japanese market.
Steakholder Foods Receives First Registered Trademark in Japan

(ISRAEL, 11/4/2022)
Steakholder Foods Ltd. (NASDAQ: STKH), (formerly MeaTech 3D: MITC), an international deep-tech food company at the forefront of the cultured meat industry, today announced that its name has received a registered trademark in Japan.
The move is a next important step in the company's plans to penetrate the Japanese market and other markets in the region. Recently, Steakholder Foods started collaborating with Singaporean cultured seafood company, Umami Meats, to create 3D-printed structured seafood products which include a variety of seafood and fish species that are popular in Japan.
The Japanese government has begun the process of approval for the purchasing and consuming of cultivated seafood and meat.
This year, Japan's Health, Labor and Welfare Ministry began a process to discuss possible regulatory frameworks and guidelines for the eventual commercialization and industrialization of cultivated meat in Japan.
Japan is making moves to regulate the cultured seafood and meat industry.
The partnership with Umami Meats adds seafood and fish to the company's portfolio of bovine, avian and porcine products under development. Steakholder Foods' innovative 3D-bioprinting technology can produce complex meat products with pinpoint precision at an industrial rate of production without impacting cell viability.
Cultivated meat and seafood and, other alternative proteins will soon have rules drawn up by Japan's Agriculture, Forestry and Fisheries Ministry.
About Steakholder Foods
Steakholder Foods Ltd., formerly MeaTech 3D Ltd., is an international deep-tech food company at the forefront of the cultured meat revolution. The company initiated activities in 2019 and is listed on the Nasdaq Capital Market under the ticker "STKH" (formerly MITC). Steakholder Foods maintains facilities in Rehovot, Israel and Antwerp, Belgium and has recently expanded activities to the US.
The company is developing a slaughter-free solution for producing a variety of beef, chicken, pork, and seafood products — both as raw materials and whole cuts — as an alternative to industrialized farming and fishing.
With its membership in the UN Global Compact, Steakholder Foods is committed to act in support of issues embodied in the United Nations Sustainable Development Goals (SDGs) which include strengthening food security, decreasing carbon footprint, and conserving water and land resources.
Source: Steakholder Foods

[email protected]
www.seafood.media
Information of the company:
Address:
5 Fikes St.
City:
Rehovot
State/ZIP:
(7632805)
Country:
Israel
Phone:
+972 73-332-2853
E-Mail:

[email protected]

Skype:
https://www.instagram.com/steakholderfoods/
More about: