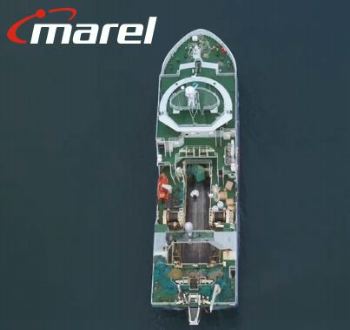 Icelandic fish processor Brim is running one of the world's most advanced facilities after installing innovative equipment
The future of whitefish processing has arrived at Brim
(ICELAND, 5/6/2022)
Brim is catching and processing fish more efficiently and sustainably after investing in Marel, Curio and Valka solutions

A significant element in the transformation that is taking place in fish processing is the rapid evolution and application of new technologies. Today's fish processors need to keep lines operational and efficient at all times.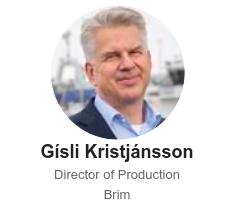 Smart factory technologies such as robots and automated digital solutions have allowed Icelandic whitefish processor Brim to achieve this by streamlining processes and improving product quality, raw material utilization, efficiency and employee work conditions. Today, Brim is one of the most advanced whitefish processing plants in the world.

"Today, we are proud of our smart factory, where there is a high level of connectivity, making it easier for Brim to meet customer orders quickly and precisely, making full use of the valuable raw material." Gísli Kristjánsson, Director of Production at Brim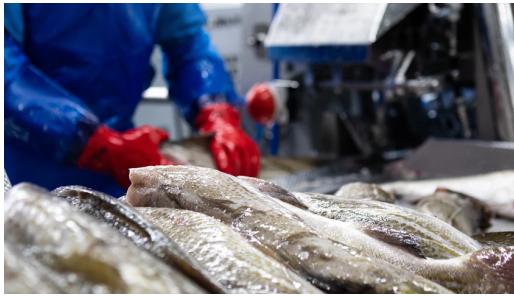 A Brim operator feeds whitefish into Curio Heading machine
Time to upgrade

Observing the rapid development of technologies over the last few years in the fish processing industry, such as automation, robotization and digitalization, Brim felt it was time to upgrade their existing equipment to stay ahead of the competition and move towards a more sustainable future. Many of the processes along their line were done manually, and those that were automated had outdated machines. As one of the largest fishing companies in Iceland, their annual throughput of up to 24,000 tons of fresh and frozen fish is exported to over 30 countries worldwide.

Responsible fishing and processing, emphasizing the sustainable use of fish stocks and innovation, have driven Brim's evolution since its founding. In the summer of 2020, Brim closed their factory doors for three months to install an entirely new production line. To increase raw material utilization, improve product quality, and streamline processing performance, Brim installed some of Marel and Curio's most advanced solutions. A Valka Cutter had been previously installed for Brim's redfish processing.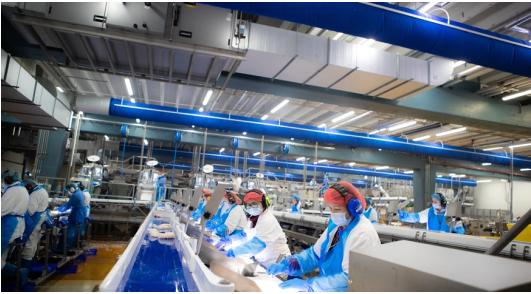 Operators inspect fillets along the whitefish line at Brim
Successful installation, terrific results

Although this came at a time when the factory was closed to anyone outside of Brim because of COVID-19, Marel service technicians were allowed to enter to install the solutions successfully. By July 2020, the line was back up and running.

The result is improved yield, better consistency, a wider variety of products and increased capacity per man-hour. The innovative technology has allowed them to create value from what would otherwise be considered waste and utilize nearly all of the raw material. "Today, we are proud of our smart factory, where there is a high level of connectivity, making it easier for Brim to meet customer orders quickly and precisely, making full use of the valuable raw material," says Gísli Kristjánsson, Director of Production at Brim.
Fish fillet is scanned for defects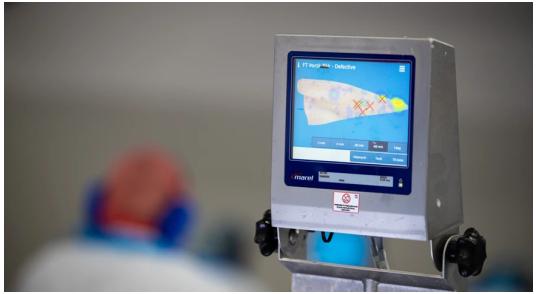 Fish fillets are scanned for defects
Automated from beginning to end

Upon entering the facility, the tub of fresh catch is weighed with a floor scale and automatically fed into the line with a large robot. Fish is graded by size, deheaded with Curio's Heading Machine, filleted with the Filleting Platform and skinned, delivering high throughput and yield. Heads and skin are then sent for drying and sold as a byproduct while fillets continue to move down the line.

Fillets are sent to the FleXitrim, where each station is equipped with a screen that provides the information operators need to trim the fillet perfectly, and delivers real-time traceability and monitoring to management. Fillets are then seamlessly streamlined into the FleXicut, where the fillet is scanned for optimal pinbone removal and cut into portions. Each portion is then sorted according to customer orders in the FleXisort and scanned through the SensorX for further bone detection. The gathered information is sent to the RoboBatcher Box to optimize packing and minimize giveaway.

Once boxes are automatically checkweighed and labeled, the IceDoser dispenses a precise amount of ice into the box, ensuring that coverage is uniform and excess weight is kept to an absolute minimum. Innova controls the robotic box distribution in dispatch, and boxes are automatically palletized.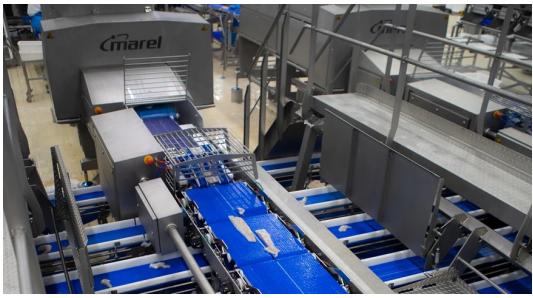 Fish fillets are intelligently sorted according to customer orders
The game-changers

The FleXicut is a solution that has significantly increased Brim's production capacity and raw material utilization by effectively automating and thus speeding up the trimming. The data-driven technology gives Brim the power to make smarter decisions according to customer demands. "By analyzing and optimizing the raw material, the FleXicut delivers the most value from the different sizes of fish and gives us the agility to fulfill orders without having to think about how to best utilize the rest of the fish."

Another benefit to the level of automation that Brim has adopted through the Marel, Valka and Curio solutions is the increased well-being of line operators by reducing physical efforts and manual labor. Jobs that were once physically demanding have now evolved into monitoring roles, and employees are growing within the company.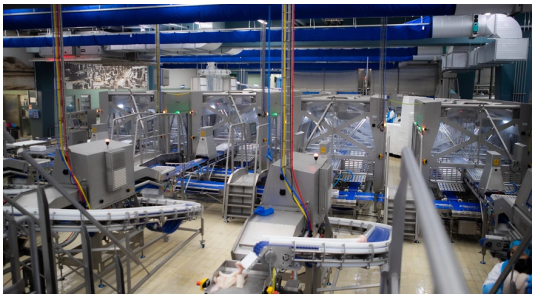 Fillets are fed into the RoboBatcher Box for packing
Digitalizing the line

Through real-time monitoring and order management, Innova has made Brim's production scheduling according to market demand much easier, and products are now fully traceable from vessel to market. "With Innova, we have more information about the product than ever before and a clear overview of the status of every order. We can see how much raw material is being utilized and how many products have been packed," says Kristjánsson. "It makes scheduling easier and allows us to monitor our production status in real time."

By combining the traceability capabilities of Innova with the high levels of automation of the Marel and Curio solutions, customers can rely on Brim to deliver high-quality, fully traceable and safe products.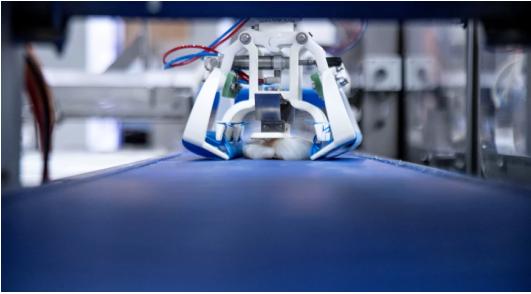 The high levels of automation maximize raw material utilization and product safety
A strong relationship

Established in 1985, Brim is among the largest fishing companies in Iceland. With close to 12% of Iceland's cod-equivalent catch quotas, the company employs roughly 800 people and has an annual revenue of around 300 million euros. Brim's operations cover the entire value chain from fishing, through processing, to the sale and distribution of their products.

The relationship between the two companies goes back to Brim's founding in 1985 with the purchase of scales. Over the years, that relationship has evolved through cooperation and collaboration to transform fish processing.
[email protected]
www.seafood.media
Information of the company:
Address:
Austurhraun 9
City:
Gardabaer
State/ZIP:
(IS-210)
Country:
Iceland
Phone:
+354 563 8000
Fax:
+354 563 8001
E-Mail:

[email protected]

More about: