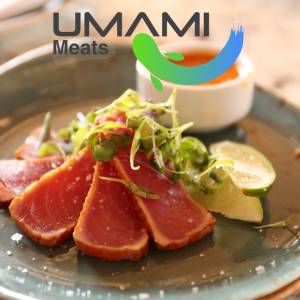 Umami Meats is pioneering "not caught" seafood.
Umami Meats Secures US$2.4 Million Pre-seed Funding to Advance Cultivated Seafood

(SINGAPORE, 3/10/2022)
Umami Meats, a Singapore-based food tech startup developing sustainable seafood that is developing cultivated, not-caught, has secured pre-seed funding of US$2.4 million.
With the goal of creating healthy, sustainable seafood without sacrificing animals or the oceans, Umami Meats has secured funding to further develop its plant-derived growth serum and low-cost production system for cultivated seafood. Umami Meats is paving the way for Singapore to host the leading technology platform for minimising the cost of large-scale cell-based manufacturing.
Mihir Pershad.
The pre-seed funding round was co-led by Better Bite Ventures, an APAC-focused alt protein VC, and Genedant, a VC investing in early-stage, deep-tech biomedical and agri-food startups in Asia. Further participants in the round include CULT Food Science, Impact Venture, Katapult Ocean, Plug & Play Ventures, Prithvi Ventures, The Yield Lab Asia Pacific, and Venture for America.
Umami Meats will utilize the funding to further advance its low-cost, scalable production system for cultivating fish by establishing robust and production-ready cell lines from multiple fish species, leveraging its growth serum to enable production at price parity, and maturing production processes ahead of product demonstrations and taste tests.
Mihir Pershad, Founder and CEO of Umami Meats commented: "We are delighted to have partnered with this group of like-minded investors who share our vision for sustainable seafood. Seafood is a $180 billion industry faced with growing global demand and supply that is increasingly volatile and under threat from climate change, overfishing, and ocean pollutants".
Umami Meats are developing delicious, affordable, healthy cell-cultured seafood that provides conscious consumers with a more sustainable alternative to wild-caught and farmed fish.
"Our investors' commitment to a safer, healthier, and more sustainable food system, combined with deep industry knowledge in agri-food and alternative proteins, will be a valuable resource in establishing cultivated seafood as a viable, sustainable solution to the growing demand for seafood while reducing pressures on ocean ecosystems."
Umami Meats is set to be a pioneering force in sustainable seafood. With over 2 trillion fish caught every year, their 'not caught' approach brings together the brightest minds in conservation, food science, cell and marine biology and gastronomy to cultivate the best, freshest, and most nutritious seafood available.
Umami Meats is cultivating a sustainable seafood future by producing delicious, nutritious, affordable cultivated seafood. Umami Meats' cultivated, not-caught seafood offers equivalent nutrition to traditional seafood and provides a delicious culinary experience that is free from heavy metals, antibiotics, and microplastics.
Umami Meats has also been recognized as a Semi-Finalist in the XPRIZE Feed the Next Billion competition, Fi Global Startup Innovation Challenge finalist, member of Forward Fooding's 2021 FoodTech 500 list, and as the Best Emerging Sustainable Seafood Company – Southeast Asia in the 2021 Global Green Business Awards.
Source: Umami Meats
[email protected]
www.seafood.media
Information of the company: