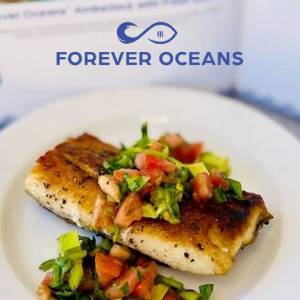 Forever Oceans is a food company that provides nutritious and delicious recipes straight from the ocean to their kitchen.
Forever Oceans Yellowtail: The Finfish of the Future.

(UNITED STATES, 2/28/2022)
Species fatigue among consumers has restaurant operators and retailers in search of the next great finfish and consumers are ready for the next great finfish on their plates.
That is the opportunity buyers now have with Forever Oceans Yellowtail (Seriola Rivoliana). Ocean-raised in pristine deep ocean enclosures, the sashimi-grade finfish is ready to become the next great finfish for many reasons and new research proves that the market is ready. Recently completed research conducted by Technomic confirmed that 60% of restaurant operators and 54% of consumers are ready to try Yellowtail.
Forever Oceans™ Yellowtail is raised off-shore through automated technology.

Forever Oceans has a great story to tell in the launch of its Yellowtail. Engineers and biologists have leveraged advanced technologies to build an infrastructure that assures a fish of high quality that is rich in Omega 3s. Its sustainability story is strong by perfecting deep ocean enclosures that are constantly monitored for fish health, growth, and purity that is away from contaminants. The company is also helping to spark new economies and careers in remote locations across the globe to build better lives.
With so many health benefits associated with including fish into your regular diet, Forever Oceans™ is giving you the tools to get started.
Leading chefs across of America have tasted Forever Oceans Yellowtail and who have heard the amazing story say the time for adding sustainably delicious seafood is now. Best of all, the light buttery flavor of the Yellowtail is extraordinarily versatile for multiple applications.
Forever Oceans' technology-enabled solution allows them to grow fish in a healthier way.
The company's global footprint includes operations in Indonesia, Panama, and Brazil. This year, Forever Oceans signed the largest concession to a sustainable seafood company in history. The 20-year agreement authorizes the company to ocean-raise fish within automated enclosures in two zones, located (4.3-9.3 miles) off the Brazilian coast covering 64,200 hectares. Thus, a consistent supply of sustainable delicious seafood is assured.
Forever Oceans' Yellowtail is a fish that is flaky, buttery, high in omega-3s and unbelievably delicious.
About Forever Oceans
Forever Oceans revolutionizes mariculture, using advanced engineering, biology, and husbandry. The company provides integrated, automated, and eco-friendly solutions on scalably producing high-quality fish. They are seeking to transform the aquaculture and seafood industry through its innovative farming techniques, novel biological processes, and comprehensive licensing business model.
Forever Oceans' technology-enabled solution allows them to grow fish in a healthier way. A way that is aligned with the natural environment. A way that produces high-quality fish. A way that scales to make production as affordable as possible. The company deploys its solutions far offshore in deep waters where they enable the cultivation of high-quality fish in a clean, healthy, and natural environment.
Forever Oceans production is focused on high-value, sustainable species in warm water regions.
Source: Forever Oceans
[email protected]
www.seafood.media
Information of the company:
Address:
800 Washington Street, SW, Suite 150
City:
Blacksburg
State/ZIP:
Virginia (VA 24061)
Country:
United States
E-Mail:

[email protected]

More about: